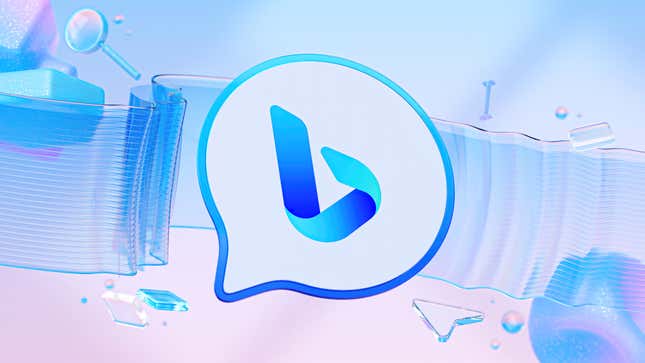 Microsoft opened its ChatGPT-powered search engine to the public Thursday, removing the waitlist and likewise granting free access to its AI-enabled Edge web browser. The move makes Microsoft the first company with a major, freely-accessible AI search engine, a change that could have a dramatic impact on the future of the web. The elder tech giant beefed up Bing chat's capabilities as well, with features including a chat history that lets the AI remember your previous conversations and a handy Bing chat tool in the Edge sidebar.
Google's Antitrust Case Is the Best Thing That Ever Happened to AI
"Today I'm thrilled to share we are moving to the next generation of AI-powered Bing and Edge to transform the largest category of software in the world — search — by greatly expanding the vision and capabilities we think of as Your Copilot for the Web," said Yusuf Mehdi, chief of consumer marketing at Microsoft, in a blog post. You can try it for yourself at Bing.com.
The announcement includes a long list of changes. The new Bing isn't done yet, but the AI search engine and its related tools are now in "open preview" and available to the public without a waitlist. Microsoft says Bing's chat and search results will also include more visual elements such as charts and graphs, rather than limiting responses to text. The company expanded Bing Image Generator as well, a feature similar to DALL-E integrated with Bing chat, to work with over 100 languages.
Microsoft is working to move its chatbot from an isolated product to something integrated with the wider web. As part of Thursday's announcement, the company said it will soon introduce a new "actions" feature for Bing and Edge that let outside developers build features on top of Bing. Microsoft says this will allow users to complete more tasks without navigating to a new page in the web browser. For example, Bing might recommend a restaurant and then offer to book you a reservation on OpenTable, according to the company.
Of course, this is a business play, and part of the company's strategy is onboarding new users by forcing you to make a Microsoft account before you access the new Bing and Edge features. Bing surpassed 100 million users in March.
The most significant part of Microsoft's announcement is the simple fact that it makes chatbots easily accessible. Right now, the biggest roadblock holding AI back from mass adoption is the fact that there's no simple user interface. OpenAI's ChatGPT is free to use, but there's no official app, the website is clunky, and it sort of seems like the company wants it that way. The actual ChatGPT tool isn't even the first result that comes up when you Google ChatGPT—it's an OpenAI blog post introducing ChatGPT—something OpenAI could fix in an afternoon if it wanted to. That's likely because the company doesn't see ChatGPT as finalized, and it's waiting for the perfect moment to roll out a truly consumer-facing tool. But where OpenAI is moving slowly, it's involved with a multibillion dollar partnership with Microsoft, a company that's charging ahead as fast as possible.
The largest generation of AI technology is so transformatively new that no one's sure how it's going to be used, but experts agree that search engines are almost guaranteed to change. Google Search is, above all else, the doorway to the internet for most people. However, it's due for an overhaul, and perhaps a reckoning. Google Search has become less useful (and more frustrating) as the amount of content on the internet grows exponentially and site owners game the system by optimizing their webpages to rank higher in search results. Large language models like ChatGPT, Bing, and Google's Bard promise to do better because they have the respond the meaning of both user questions and the content of web pages that get offered up as a result. (Whether ChatGPT and other chatbots understand that meaning is another debate.)
If you've ever had to sit for a second and think of the perfect way to phrase a Google search, you'll understand the problem. In theory, you'll be able to ask Bing or Google's Bard or any other AI search tool a question using the same language you used to ask a human friend. Not only that, but AI search could actually give you the best result, rather than the result that's optimized to show up first—if AI tools live up to the hype, that is.
That's a big if. AI chatbots are tuned to sound as though they're giving you accurate information, but accuracy isn't the top priority. Chatbots often make up results entirely, a phenomenon AI researchers call "hallucination." This and other shortcomings have drawn criticism from some AI experts, including Princeton computer science professor Arvind Narayanan, who famously called ChatGPT an overblown "bullshit generator."
Narayanan told Gizmodo that Microsoft's announcement speaks to larger concerns about the technology. "As chatbots get rolled out more and more widely, transparency into how they are being used is critical. How many people are using these tools for tasks like medical diagnosis? How often do chatbots provide inaccurate information to users, especially inaccurate information about people?," Narayanan said. "Right now we have no idea, and that's a problem."
Microsoft's deal with OpenAI has given the aged computing giant a suddenly renewed relevance in the tech landscape. However, its entry into the world of AI had major stumbling blocks. In February, Bing's AI chat went off the rails, telling users about plans for world domination, revealing company secrets (including an internal codename and alternate personality) and most disturbing of all, prompting one user to use an antisemitic slur. Microsoft lobotomized Bing shortly thereafter, dialing back its capabilities and limiting responses.
Still, Microsoft is hellbent on using its souped up Bing as a springboard to take on Google, one of its biggest competitors. Its changes to Edge are part of an ongoing, decades-long browser war which Google is thus far winning by a mile. In the latest petty chapter in browser history, Microsoft intentionally broke a Chrome feature that made it easier to change your default browser on Windows.
Somehow, Google's AI progress has been stilted as well. The company was seemingly caught off guard by ChatGPT's meteoric rise, which reportedly spurred a "code red" situation at the company and pushed it to release Bard, which seemed nowhere near ready for public consumption. Just this week, the researcher and so-called "godfather of AI" Geoffrey Hinton quit working at Google so he could speak freely and warn the world about the dangers of artificial intelligence.
To many, it might seem silly to believe rickety old Microsoft could take on Google, the undisputed king of the internet. But Google's in uncharted territory, and Microsoft is a behemoth with deep pockets, a bigger market capitalization, and a head start. In the AI race, whoever reaches the finish line first and gets their product in the hands of consumers might just be the winner.
Want to know more about AI, chatbots, and the future of machine learning? Check out our full coverage of artificial intelligence, or browse our guides to The Best Free AI Art Generators and Everything We Know About OpenAI's ChatGPT.