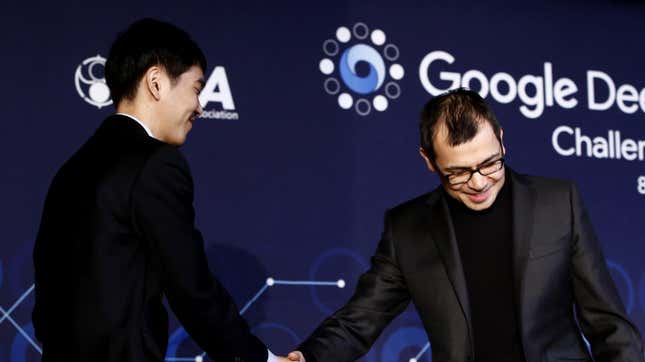 Talk about a meeting of the minds. In another bid to add some NOx to its sputtering AI development, Google announced late Thursday that it plans to combine its two major AI teams, once kept separate, under one banner called Google DeepMind.
Generating Video Via Text? | Future Tech
The Google Brain team and DeepMind staff have been separated in areas of expertise and by thousands of miles. The London-based DeepMind is a research laboratory acquired by Google (now Alphabet) in 2014. It works on creating neural networks and machine learning systems. Brain researchers are centered in Silicon Valley in California and previously worked under the Google AI research division. That team's past work has been integral to current transformer AI models that have led to our current language models and chatbots like ChatGPT. The team's latest claim to fame was Google's text-to-image AI Imagen model.
DeepMind CEO Demis Hassabis will effectively become the grand poobah of all of Google's AI operations. The CEO publicly shared a letter to employees about the merger of divisions on Thursday. He said that the move would give the team access to more computer infrastructure and resources. The company scheduled an internal town hall set for Friday to discuss the changes with staff.
Google engineer of nearly 24 years Jeff Dean, former lead of Google Brain, will now head up Google Research as chief scientist reporting directly to CEO Sundar Pichai, according to the announcement. Effectively, Dean will direct all future AI research projects. The CEO said this move was to "ensure the bold and responsible development of general AI." Pichai did seem to regularly put extra stress on the "responsible" part of its AI development.
Pichai seems to be trying to get in front of criticisms for the increased pace of its AI rollout. Earlier this week, Bloomberg laid out a massive report citing dozens of former and current Google staff who were more than a little concerned about the pace of AI development. Staff members were asked to take time out of their day to test Google's Bard AI chatbot system. According to the report, workers thought Bard was "worse than useless" and "a pathological liar" that was more than likely to spit out false data. Staff begged Google to hold off on launching the AI chatbot, but Google has since talked about sticking the generative AI tools into most facets of its business, including its office apps and its massive advertising arm.
According to Bloomberg's report, Google leadership including the company's AI ethics lead Jen Gennai overruled team members who wanted to hold back Bard. In January, Google laid off 6% of its global staff, equivalent to about 12,000 jobs, but the company tried to reassure staff that there were more opportunities ahead thanks to AI. Microsoft has already beat Google to the punch by putting an AI chatbot directly into its browser app. Pichai said his company plans to put Bard into its bread-and-butter Google Search, though he has yet to offer a date.
Google has struggled to maintain the image that it cares about ethics and AI. In 2020 and 2021, Google fired multiple members of its artificial intelligence research teams who were tasked with pumping the breaks on obtuse AI applications. One of those ex-Google researchers, Margaret Mitchell, wrote on Thursday that there were positives to this merging of the minds. She claimed that since she and her fellows were fired, Brain has struggled to both hire and retain its research staff, adding that the "Brain" brand has taken too many hits as of late.
As there seems to be more competition for AI than ever, Google is acting less like the leader in AI research it had been and more and more like a college kid who woke up too late and is now cramming for a test. Time will tell if this merge can do anything to speed up its AI development, no matter the cost.