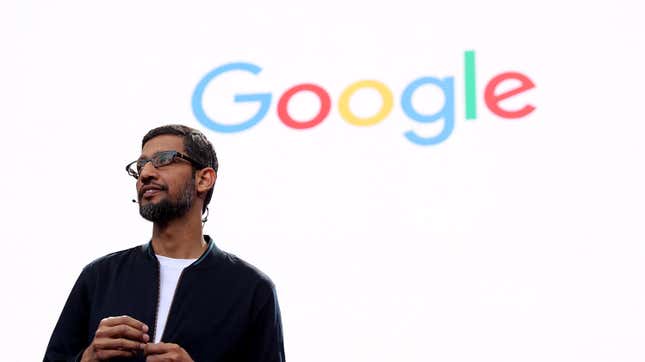 Following in the footsteps of competitor Microsoft—which added the same tech behind ChatGPT to Bing earlier this year—Google is on its own path to include a chatbot in its own search engine. When? Well, CEO Sundar Pichai was delightfully vague on the timeline.

Google's Antitrust Case Is the Best Thing That Ever Happened to AI
In an interview with The Wall Street Journal earlier this week, Pichai spilled the beans on Google's intention to bring a chatbot to Google search, but remained tight-lipped on details surrounding when we might expect to see the tech. Pichai also told the Journal that the company is working on several different AI-based search products—including one that allows users to ask follow-up questions after punching in their query—that could help Google move away from the link-based search that it popularized. The move comes as Google-competitor Microsoft has been pouring billions of dollars into a deal with ChatGPT's OpenAI.
"The opportunity space, if anything, is bigger than before," Mr. Pichai said in his interview with WSJ earlier this week. He added: "Will people be able to ask questions to Google and engage with LLMs in the context of search? Absolutely."
Microsoft seized the moment before the AI chatbot wave even began to pick up momentum, showing interest in OpenAI as early as 2020. Now Microsoft is shoving the AI into Bing search as fast as it could with mixed results while also scrapping its ethical AI team. Bing, once a punchline to many consumers, could now be a genuine competitor against Google search—but not before Bing's AI gets some serious fine tuning.
Google is not completely unarmed in its fight against Microsoft, however, as the tech giant has been working on AI in the form of large language models for some time now. Google even unveiled Bard, its answer to ChatGPT, this past February. That said, Bard still has some kinks to work out, as evidenced during a demo, when the AI spewed incorrect information about the James Webb Telescope. Google is clear on the fact that Bard is not Google Search, indicating that a separate, not yet revealed project will likely be integrated into the search engine.
Want to know more about AI, chatbots, and the future of machine learning? Check out our full coverage of artificial intelligence, or browse our guides to The Best Free AI Art Generators, The Best ChatGPT Alternatives, and Everything We Know About OpenAI's ChatGPT.