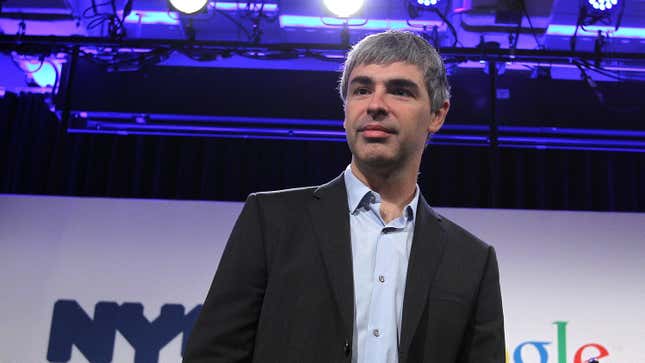 Where in the world is Larry Page?

That seems to be one of many lingering questions in an ongoing lawsuit concerning dead sex trafficker Jeffrey Epstein and banking giant JPMorgan Chase. The plaintiff in the case, the U.S. Virgin Islands, has been hunting for the former Google CEO in the hopes of serving him papers related to its legal action against the bank. However, it doesn't seem to be able to find him. Barring the possibility that Page suddenly pops up, the government recently suggested to a U.S. federal judge that a subpoena instead be sent to Alphabet, Google's parent company, to serve Page through the company that he co-founded.
Twitter Is Shifting Right | Future Tech
The Virgin Islands has alleged that JPMorgan facilitated and directly benefited from Epstein's sex trafficking of underage girls prior to 2019, when the billionaire was found dead of an apparent suicide in a New York prison cell. The lawsuit accuses Chase of "knowingly, recklessly, and unlawfully" providing and pulling "the levers through which Epstein's recruiters and victims were paid" and has said that the bank was "indispensable to the operation and concealment of the Epstein trafficking enterprise." The lawsuit also accuses the bank of financially benefiting "from the deposits made by Epstein and Epstein controlled entities located in the Virgin Islands and from the business opportunities referred to JPMorgan by Epstein and his co-conspirators in exchange for its known facilitation of and implicit participation in Epstein's sex trafficking venture."
In addition to Google's Page, the Virgin Islands has already subpoenaed a host of other big names in connection with its legal action, including current CEO of Goldman Sachs Jamie Dimon, a former Disney executive, Michael Ovitz, and real estate billionaire Mort Zuckerman. Google's other co-founder, Sergey Brin, has also been subpoenaed.

Just what Page has to do with Epstein's ties to JPMorgan isn't entirely clear. A recently submitted court document only characterizes Page as a "high-net-worth individual who Epstein may have referred or attempted to refer to JPMorgan," but clarity on just what that means within the broader scope of the lawsuit is lacking at this point.
What is clear is that it's been difficult to pinpoint where Page is, exactly. A recently filed court document states that despite what it calls "good-faith attempts," Virgin Islands officials can't seem to find the secretive tech billionaire. The government claims it even hired an investigative firm to scour public records databases for addresses tied to Page. A number of addresses were visited by a government official but didn't lead to the billionaire. "Our process server attempted service at the addresses identified by our investigative firm, but discovered the addresses were not valid for Mr. Page," the document states.
Because the Virgin Islands can't seem to track Page down, the government has instead suggested subpoenaing Alphabet—the parent company of Google and a company that Page also co-founded—as a viable alternative. "The Government has made good-faith efforts to obtain an address for Mr. Page and to serve a subpoena upon him personally...In these circumstances, the Court should in the interest of securing just and expeditious resolution authorize the Government to provide alternative service by serving Mr. Page by service upon Alphabet Inc.'s registered agent," the document states.
Gizmodo reached out to Alphabet for comment on this development and will update our story if it responds.
Prior to his death, Epstein was a billionaire and money manager for the world's elite and, despite suffering a conviction for child sex crimes in 2008, seems to have gotten along famously with pretty much everybody. From high-ranking government officials to Hollywood celebrities to tech's biggest tycoons to figures of renown in science and academia, Epstein apparently had a very wide circle of friends and acquaintances.
Epstein was also a client of JPMorgan from 1998 through 2013 and is alleged to have enjoyed close ties with former bank executive Jes Staley, who previously ran various divisions of the bank. Staley stepped down from his position with the financial giant in 2021 after an investigation into his ties with Epstein. In a recent court filing, JPMorgan alleged that Staley had "thwarted" repeated efforts by the bank to cut ties with Epstein, and accused him of engaging in "sexual activity with young women procured by Epstein." An Epstein accuser has claimed Staley raped her on Epstein's private island, though Staley denies the claims. Staley has admitted to having a friendship with Epstein and apparently exchanged as many as 1200 emails with the disgraced billionaire between 2008 and 2012.