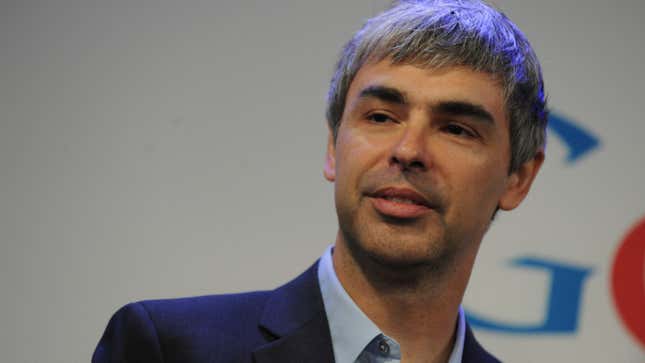 Google co-founder Larry Page can be served with court papers related to a case over Jeffrey Epstein's sex trafficking, a federal judge ruled on Thursday. The U.S. Virgin Islands filed a civil lawsuit against JPMorgan Chase, where Epstein was a longtime customer, claiming the bank knew of his sex trafficking of numerous women.
Google's Antitrust Case Is the Best Thing That Ever Happened to AI
Information regarding Page's involvement in the Epstein case has not been released, but CNBC reported the docket said, "USVI has leave to file for alternative service of Larry Page by no later than noon" Thursday, suggesting the Virgin Islands had attempted to serve Page using conventional means such as through a process server or his own legal team, but was unsuccessful.
JPMorgan is being sued separately by the Virgin Islands and a woman who says Epstein sexually abused her, both of whom claim the bank knew what was happening but did nothing. The complaint says the territory's Department of Justice investigation "revealed that JP Morgan knowingly, negligently, and unlawfully provided and pulled the levers through which recruiters and victims were paid and was indispensable to the operation and concealment of the Epstein trafficking enterprise," NPR reported.
The docket entry did not clarify what the Virgin Islands intend to serve Page in the lawsuit, CNBC reported, adding that the legal papers are still pending. Page was not the only person who might have been affected by the JPMorgan Chase suit, as the Virgin Islands had reportedly planned to subpoena Page's Google co-founder Sergey Brin, former Disney executive Michael Ovitz, Hyatt Hotels executive chairman Thomas Pritzker, and billionaire real estate investor Mort Zuckerman. JPMorgan CEO Jamie Dimon is scheduled to be deposed later this month. 
The suit accuses JPMorgan of ignoring evidence for "more than a decade because of Epstein's own financial footprint, and because of the deals and clients that Epstein brought and promised to bring to the bank." It added that the bank allegedly "facilitated and concealed wire and cash transactions that raised suspicion of — and were, in fact, part of — a criminal enterprise whose currency was the sexual servitude of dozens of women and girls in and beyond the Virgin Islands," according to the complaint.