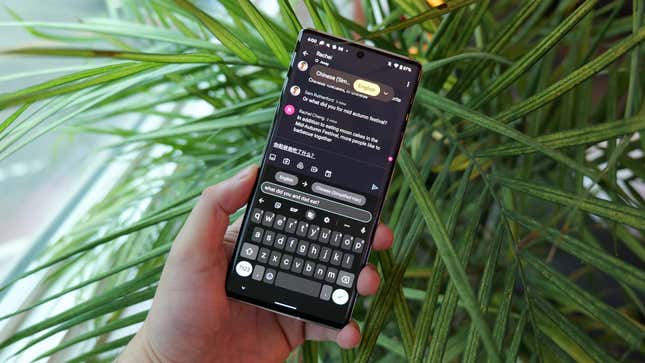 After nearly two years, Chrome browsers may soon finally get a feature that has thus far been restricted to Google Pixel phones. On Thursday, Reddit user and Chrome Canary beta tester Leopeva64 posted several screenshots and GIFs on the r/chrome subreddit showing off an upcoming Live Translate caption feature coming to Google's browser.
Why Banning TikTok Won't Protect Our Privacy
On Chrome, the live translation will show up as a caption box that will cover up a part of the screen. It then transcribes whatever audio you're playing in its original language before slowly translating the speech into the user's native tongue. If the release version keeps the same UI, then the caption box can be minimized or pinned to a certain part of the screen. Google has been beta-ing its translate feature in Chrome Canary, the company's restricted early-access version of the browser, for several months now. Even as it seems the feature is making headway, there's still no official word when we could see a final release.
Leopeva64 had posted about the planned live translate feature in November and October last year, though this is the first we've seen of the new UI in action. It seems from their post that there's five language packs other than English available to translate from, including French, German, Italian, Japanese, and Spanish. Users should be able to translate the audio of any of those six languages into their native tongue, as long as that native tongue is on the list of supported languages. After last year's Google I/O, the company bumped the number of Google Translate languages to 133, so there's definitely room for this feature to grow in the future.
According to images and GIFs posted by the redditor, the latest version of the Canary UI includes the ability to add and delete language packs. Users can toggle whether Live Translate will automatically generate captions for the target language, and it should automatically appear next to videos or audio in a different language.
Google has been working on Live Translation since at least 2020. The company first introduced Live Translate with the Google Pixel 6 back in 2021, and we've been twiddling our thumbs for two long years waiting to see the feature show up in the Chrome browser. This beta version of the UI is similar to how users can select Live Translate languages on Pixel phones. The mobile version has been updated since release and now supports 22 languages for automatic chat translation, though it still only supports the same six for interpreting audio or video.
Of course, this isn't the finalized version of what could finally show up in Chrome browsers. Considering just how poor and inaccurate YouTube's automatic transcription closed captioning is, and has been for a long time, it would be nice to have some easy translation service built directly into browsers. We're just looking forward to when we no longer have to hold a Pixel phone up to our speakers for any kind of quick, automatic translation on a laptop or desktop.
Automatic translation services are perhaps one of the most beneficial use cases for wearable tech, as well. Google has already promised that its still-conceptual AR glasses will have the ability to live translate speech, though there's no real word on when we'll ever see a true return of long-dead Google Glass. We've recently seen other similar live translate software running on early versions of augmented reality glasses. With these use cases, hopefully Google can expand its audio language translation capabilities to even more vocabularies in the near future.