As you know, Google's freebie turn-by-turn navigation app for Android 2.0 surfaced this week. After driving around our patented testing track for a few days, I can tell you what's great—and what's surprisingly bad—about it.
The Game Changer
Brian already went through the details when he broke the news, all the features you need to know about. On paper, this baby sounds like it has everything the $100 apps have, and it's free (for Android 2.0 users). I won't go over all of the features again—live traffic, over-the-air maps, multiple visual layers, search along routes, etc.—so I encourage you to read that. This is what it feels to use the thing day to day, the wheels-on-the-ground perspective, and though it's certainly as powerful as billed, the experience itself is a little more sobering.
On Android 2.0, on the Verizon Wireless Motorola Droid I've been testing, Google navigation is part of the Car Home suite, an easy-to-read, easy-to-reach set of apps including map, turn-by-turn navigation, voice search, text search and contacts. However, as you can probably guess from reading that lineup, the lines are so blurry it can get confusing fast. The sane place to start is voice search.
G/O Media may get a commission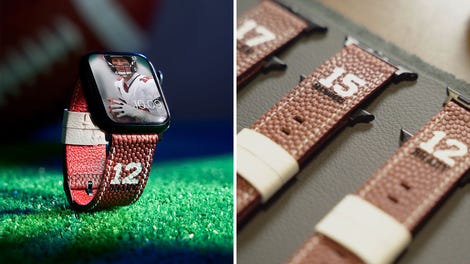 Official NFL PRODUCTS
Official NFL Apple Watch Bands
Voices In, Voices Out
The surprise hit of Google's new software is the voice command. I said "Navigate to Cloud City" and it quickly launched the navigator, showing me a few options with "Cloud City" in the name. On top was my wife's favorite coffee shop (home of my favorite BBQ pulled-pork sandwich). I tapped it and got on my way. I have done this with street addresses, store names and categories like simply "barbecue" and it's worked fine. It's only when I tried text searching that things got iffy.
But voice command isn't the only voice feature that's awesome on this. The turn-by-turn lady may be a tad robotronic, but that's because she tells you everything, including street names and numbers. Text-to-speech is considered a bit of a premium among the iPhone apps (many have it or are getting it, but not all do), so to find it for free is impressive.
Searching Highs, Searching Lows
As I mentioned, the text search is not as smooth as the voice-activated stuff. That's because there are several different places to search, and at times they overlap in ways that make my head feel light. There's the basic directions view that iPhone users are used to seeing, where you type a destination with no predictive guessing on the app's part. Once you finish typing, it picks the most likely destination or offers you some options. Then there's the true "Search" window that gives you a keyboard and lets you type whatever you like, and tries to anticipate what it is you're typing by showing you similar past searches. And then there's a screen of all your past searches, that you can only get to by backing out of the main Search window. It's strange, and took me a while to figure out how to return to this little Narnia of a helpful screen.
If that's not chaotic enough, well, take away any browsable POI menus, any "go home" preset address feature, and any multi-stop trip planning tool. Scared yet? At least its only a few taps to your contacts—which you can fill up with all your favorite destinations—but only if you remember what those taps are.
Street View Blues
One of the things I was super excited about when Brian came back from his secret Google meeting was the Street View feature: When you came to a tricky intersection, Google would show you the actual intersection, and you would know just where to turn. Well, I live in Seattle, one of the biggest cities and certainly one of the most high-tech, and though I've driven with this thing on a few outings this week, I haven't once been shown a photo of an intersection. (Note: Brian says you have to tap the screen to see the picture as you approach an intersection, to which I reply, "Sounds suicidal, I'll pass.")
I do, however, see the photos pop up when I reach my destination, and without exception they've looked awful. Sure, you can flick them around once you've stopped, but I think this highlights the major trouble with Street View on a mobile platform.
Steady As She Goes
The driving directions are, for the most part, just fine. Re-routing is fast when you make an unscheduled turn, and the Droid phone appears to track the road as well or better than an iPhone. I have heard others talk of reliability issues, but frankly, that kind of evaluation takes weeks or months, and results can differ from location to location. Nobody outside of Google knows exactly what the reliability weak points are, especially since Google is using (from what I can tell) its own map data.
When you've navigated, you can pull up layers—traffic view, which shows you where the trouble's going to be; satellite view, which looks neat but I don't know how practical it is; and POI layers, like where the nearest gas or parking is. There's some customization you can do to this, but only in the 2D bird's-eye view.
The power comes when you select the Route Info screen (shown above), by popping up a menu while in your navigation screen. There you can see an icon with a solid arrow and a broken arrow, indicating alternate routes. Tap that icon, and you'll see your route plus two ghostly alternatives. By selecting one of the alternatives up top, you can re-route. The Route Info screen also contains the all-important turn-by-turn list, buried a bit more than I'd like, but clear and readable nonetheless.
Tooling around northeast Seattle has been fine. My gripes about the driving interface are mostly cosmetic: You can see the time till arrival, in hours and minutes, but you don't see a time of arrival, which I prefer. On other navigators and apps I've gotten used to seeing my speed in MPH and even posted speed limits, and Google doesn't show those either.
But at least the screen is clean and easy to read. If the screen stayed like this, I'd live.
Someday We'll Meet Again?
I spent a lot of time telling you what's wrong with the Google navigation app, but that's mostly because I get the feeling we'll all be experiencing it one way or another soon enough, be it on this exceptional Motorola Droid, other Android handsets or even on the iPhone. It's an extremely powerful program, but the execution isn't the best. Not by a stretch.
Still, if this was built in to the iPhone's Google Maps, or offered as a free download at the App Store, damn would it steal customers like a mofo. You might still see the occasional sale of a Navigon or a CoPilot, because of particular necessary features and because of the onboard map databases (which people who go off-grid prefer), but really, this thing would—and probably will—swallow the GPS app market alive.
Because of that, I am hoping Google's developers pay close attention to this review, too. The app is still in beta, but there's a lot of user-interface work yet to be done. Google: If you're going to knock everyone else off the mountain, at least give us an app worthy of a king.
Amazing voice recognition engine


Live traffic and alternate route planner


Text-to-speech


Good routing and fast re-routing


Satellite view and other views not always useful


Text search features are overlapping, confusing


Interface overall needs better flow


No POI category browsing or "go home" feature


No multi-stop trip planner