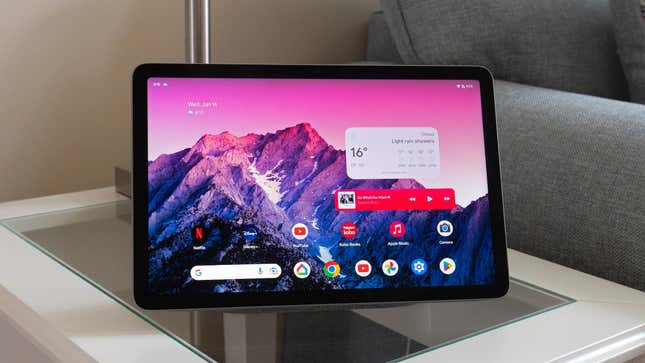 Google and its partners are offering more options for users to fix their busted products at home. iFixit has expanded the number of Google devices users are able to take apart and fix at home to include the Pixel Tablet.
Is Google's New $1,800 Pixel Phone Worth It? | Gizmodo Review
As first noticed by 9to5Google, iFixit released new Google Pixel Tablet repair kits this week, including replacement guides for the tablet's battery, screen, speakers and more. Like always, the parts will cost you a fair bit, such as the $200 Pixel Tablet rear case kit or the $207 screen replacement. That's all to fix a device that starts at $400 if you went for the 128GB version, so it will come down to each individual if the Pixel Tablet was worth it in the first place.
A battery replacement costs $60, while a new USB-C port or speaker replacement costs $25 each. Each part costs slightly more if you go for the ful Fix Kit for all the additional tools, depending on availability.
When it was released earlier this year, we found the Google Pixel Tablet was a solid Android-based tablet with a great dock and Nest Hub connection, though in all-in-all it was rather average device in an already pretty crowded market. While we didn't find any obvious hardware faults with the Pixel Tablet at launch, having this service as a backup in case of failure is nice, so long as you can bear the finicky process of opening it Google's newest tablet to replace its parts.
The portal for Pixel Tablet repair guides offers step-by-step instructions for tearing apart the tablet. Part of the process includes heating up a portion of the tablet screen to remove the adhesive there. iFixit recommends using a hair dryer, heat gun, or hot plate—if not using the company's own heating pad—to pry the screen from the back plate loose, which is a pretty frightening proposition for most amateur self-fixers, but it's the only way to access the device's internals. Once inside, the process is still involved, but your average repairs involve unscrewing and unplugging the various components.
The move continues Google's commitment to offering parts for home repair. Last year, the tech giant finally unveiled repair kits for Pixel phones ranging from the Pixel 2 up through the Pixel 6 Pro. Those repair kits now include the Pixel 7 series as well as the Google Pixel Fold.
Microsoft, Samsung, and Apple have also committed to new repair kits, and so far the companies have kept true to their word to support home repair for newer devices. Let's hope the trend continues.