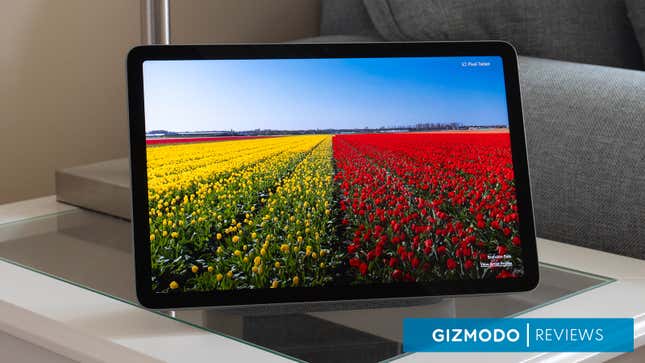 Google has by now notched a significant history of hardware just as good as its namesake search engine, including the Pixel 7 smartphone and its industry-leading camera. The company's hardware efforts have, however, struggled when it comes to tablets, taking what we've previously described as a "try, try again" approach. The Pixel Tablet, available today, is the company's latest attempt to challenge the iPad by once again putting Android on a big-screen mobile device. Its most compelling feature, though, isn't sitting between its bezels. The Pixel Tablet's best feature is a dock that turns it into a better version of Google's smart home hubs.
Is Google's New $1,800 Pixel Phone Worth It? | Gizmodo Review
Back in the aught-teens, we were big fans of Google's Nexus devices, like the Asus-built Nexus 7 in 2012, which brought the flexibility of Android OS to a compact tablet device a bit larger than a smartphone. We weren't as impressed with the HTC-built Nexus 9 two years later, and the last Google tablet to use Android would end up being 2015's Pixel C, which was positioned as a productivity tool. It failed to deliver much productivity, however, because of the limits of its mobile-focused OS.
Google eventually switched gears on its tablet pursuits with the excellent Pixel Slate in 2018, which ran Chrome OS, the same operating system that Chromebooks use, which translated perfectly to the tablet. Unfortunately, Google also has a weird history of cancelling even successful products, and less than a year after the Pixel Slate debuted, Google's hardware team announced it was abandoning tablets altogether. But as companies like Samsung have shown, there's still a demand for Android tablets, so three years after the death of the Pixel Slate, Google's tablet aspirations have risen from the dead with the Pixel Tablet. Android OS has likewise matured in the meantime, adapting to smartphones with ever-growing screens.
Although I have long-preferred Android-based tablets over the iPad, that's not why the Pixel Tablet, which Google has been teasing since last year, piqued my curiosity. My family uses Google's Nest Hub devices all over our house—as nightstand alarm clocks, as desktop digital picture frames, and as an assistant in the kitchen where the larger Nest Hub Max, the control center, sits perched on the counter. We all love it, but when we find ourselves awkwardly hunched over it while searching for a recipe, we also frequently wish the Nest Hub Max was more portable, and that's how I think the new Pixel Tablet is going to Trojan Horse its way into many households.
The Pixel Tablet's Best Feature: the Dock
The Pixel Tablet is definitely going to appeal to Android users who are looking for a cheaper alternative to Samsung's offerings but who still want hardware that feels like corners haven't been cut. Remember, you can find an Android tablet at Walmart for less than $100, but you get what you pay for. Where the Pixel Dock could potentially woo users away from Apple's iPads is with the included dock accessory that expands the tablet's usefulness when not in hand, so let's start there.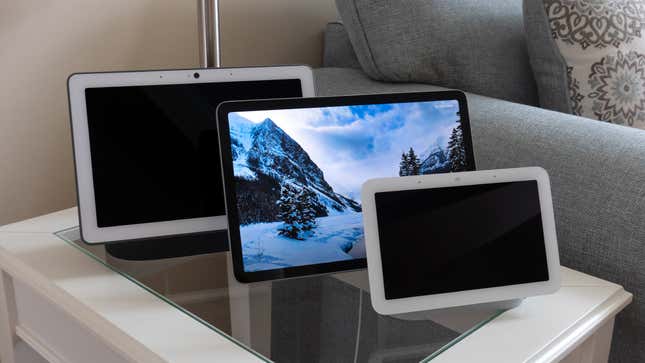 When more details about the teased Pixel Tablet were revealed at the Made by Google event in Brooklyn last October, everyone was quick to compare images of it attached to its dock to Google's Nest Hub devices, which is what my family immediately assumed it was once I got it up and running. Sitting on its dock, the Pixel Tablet is comparable in size to the Google Nest Hub Max, because while its 10.95-inch screen is an inch larger than the Max, the Pixel Tablet also features smaller bezels. They're not as small as Apple has managed to shrink them on various iPad models, but they're on par with other premium Android tablets.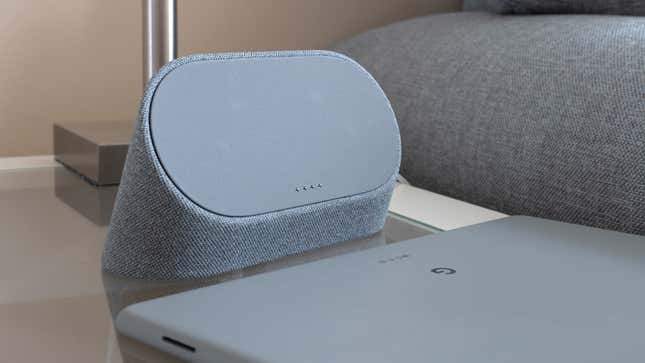 The Pixel Tablet, seen here in the subtle green "Hazel" option that's the only one featuring a black bezel around the screen, attaches to the dock the same way Macs do to MagSafe accessories: through the use of strong magnets. Four metal pins make contact with the Pixel Tablet when attached to the dock to facilitate charging and connectivity. When connected, music or videos will immediately switch to playing through the hub's speaker, while also automatically activating a Hub Mode that emulates some of the functionality of the Nest Hub devices.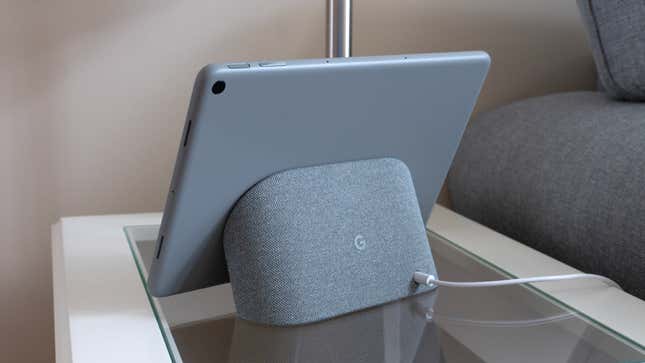 Removing the Pixel Tablet from the dock is easy enough; grabbing its top edge provides enough leverage to pry it away even one-handed, although it would be much easier if the dock had more weight to it. But putting it back on, and consistently lining up the magnets so they properly grab the tablet and securely hold onto it, was still a challenge after a week of use. On several occasions, it felt like the dock's magnets had a strong enough hold on the tablet that I could let it go, only to have it fall off, resulting in a few scuff marks on the back panel already.
Part of the struggle to attach it has to do with how low the Pixel Tablet sits on the dock, much lower than the Nest Hub screens appear to. My brain assumes the bottom edge of the tablet needs to align with the bottom edge of the dock's flat face, but that's not the case. If the Pixel Tablet survives to a second iteration, I think a lip or a shelf added to the dock for the tablet to sit on, in addition to the magnets, would help make the docking process much easier and more intuitive. (And if we're talking about wish list features for the Pixel Tablet's dock, I've long struggled with the fact that the Nest Hub devices don't have a base that swivels. It's less of an issue here, since the Pixel Tablet can be physically removed and used separately, but being able to simply turn either a Nest Hub or the Pixel Tablet from side-to-side when docked would be another welcome improvement.)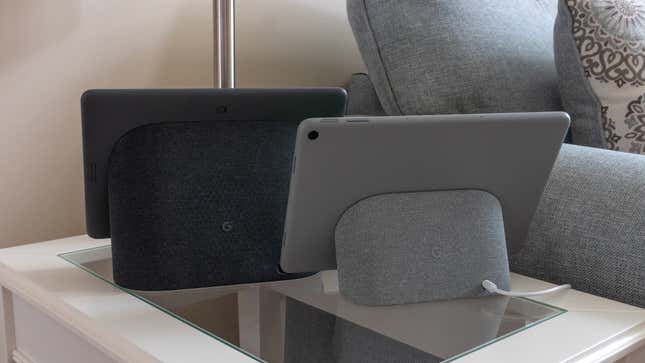 Where I find the Pixel Tablet's dock most disappointing is with its sound quality. The Nest Hub Max has long been the device we rely on for playing music in our kitchen and dining room. With a pair of stereo speakers in the front and a three-inch woofer in the back, the Max's sound has always been surprisingly good for its size. By comparison, the Pixel Tablet's dock uses just a single 1.7-inch "full-range speaker," which sounds more on par with the smaller Google Nest mini devices. The audio experience here is disappointing, and the Pixel Tablet will not be replacing the Nest Hub Max as one of the devices we listen to music on.
A Streamlined Smart Home Hub When You're Not Watching Movies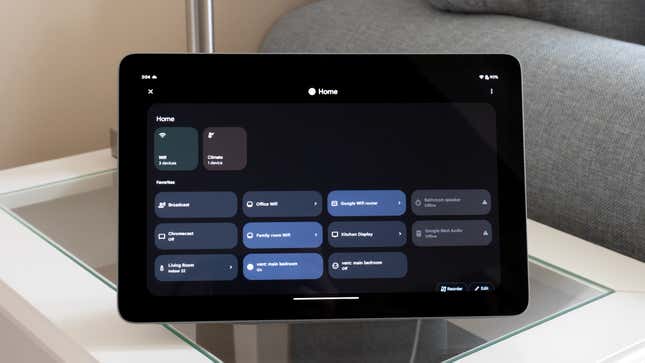 When docked, the Pixel Tablet immediately starts charging at 15W to 90% capacity to help prolong its battery life, although if you plan to grab it every morning when you head out the door, you can instead have it charge to full capacity each time. Despite the weak sound, I did really like how the tablet would immediately pipe music through the dock's speakers when attached, and automatically activate Android's new Hub Mode. The automated switch over wasn't always immediate, though, and sometimes took as long as several minutes, which I've chalked up to some pre-release bugs.
As the name implies, Hub Mode makes the Pixel Tablet function more like Google's Nest Hub products while it's docked. Users can set up a screensaver that displays art, satellite imagery, or random shots from a Google Photos album, while also displaying the time, weather, as well as other information like notifications, unless you've locked that info away from prying eyes. We mostly use the rest of our Nest Hubs around the house for making Google Assistant queries, setting timers and alarms, or for controlling smart home devices through Google Home. The Pixel Tablet's Hub Mode replicates all of that functionality, including smart home controls that can be made accessible even while the tablet is protected with a password. Yes, that means an intruder in the middle of the night could turn off our air conditioning using the tablet, but sometimes you have to accept a few risks when using technology.
Screen, Sound, and Build Quality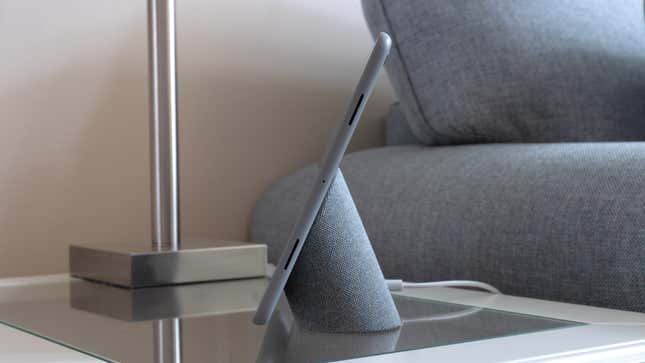 Measuring in at 7.62 millimeters thick—which is a bit thicker than Apple's thinnest iPads—the Pixel Tablet is powered by the Google Tensor G2 processor paired with the company's Titan M2 security coprocessor, with 8GB of RAM and either 128GB or 256GB of non-expandable storage. Unfortunately, there's no microSD card slot here. At 493 grams, the Pixel Tablet is also heavier than even the 11-inch iPad Pro, even with a rear panel made of plastic. It's bulky by comparison.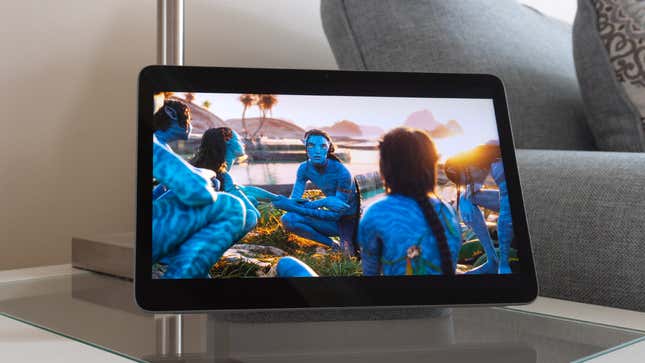 The Pixel Tablet's 10.95-inch screen has a 2,560x1,600 resolution, which sits somewhere between 2K and 4K, and while that gives it a PPI of 276 (much less than the Pixel 7's 416 PPI display) everything on screen, even small text, looks sharp and crisp. Color saturation and black levels both look very good, and while it's a huge improvement over the LCD displays Google uses for its Nest Hub products, the Pixel Tablet not using an OLED panel is quite noticeable. HDR10 content is supported, but in bright, blown out areas, details are almost completely lost. Using an LCD has helped keep the price of the Pixel Tablet down, but tablets are, first and foremost, still media consumption devices, and watching movies or TV on the Pixel Tablet could be a much better experience.
With four built-in speakers—two on each side when used in landscape mode—the sound on the undocked Pixel Tablet is surprisingly okay. I expected worse. It's more than adequate for making video calls with a group of people huddled around the tablet, but when watching videos, or listening to music, you'll still want to stick with a pair of headphones, as the sound can get occasionally get distorted and over driven with the device at full volume.
Camera Quality and Photo Samples
Although smartphones have come very close to completely replacing standalone digital cameras, cameras on tablets still feel like an afterthought, and you still look silly using them.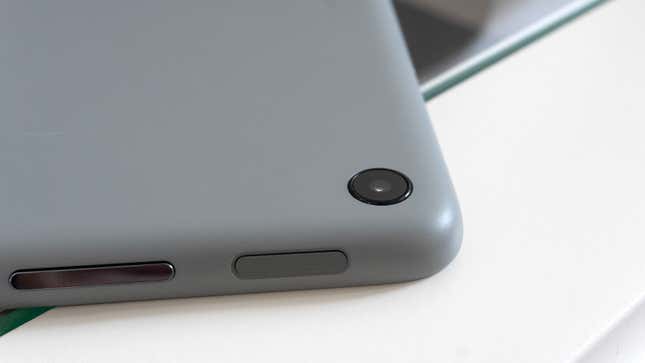 The Pixel Tablet features the same 8MP, ƒ/2.0, fixed-focus camera with a quarter-inch sensor and an 84-degree field-of-view on the front and back, and while it's completely adequate for making video calls, snapping a document you want to digitize, or feeding an image to Google Lens, that's about all you want to do with it. It's a useful productivity tool but a disappointing creative one.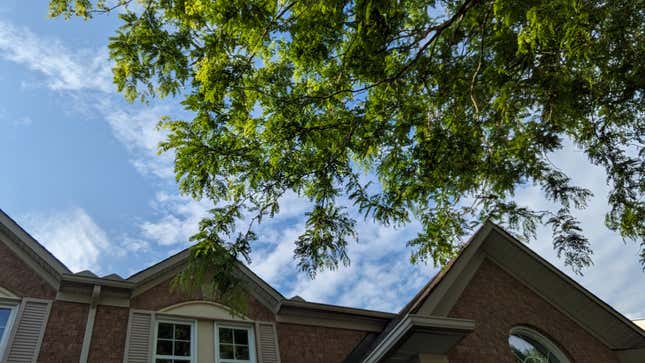 Even on a bright sunny day, the lush green leaves on the tree in our front yard come out disappointingly desaturated through the Pixel Tablet's rear camera, and despite ample light and an ƒ/2.0 aperture, a light breeze blowing through the tree resulted in many areas of leaves turning out blurry as a result of their motion.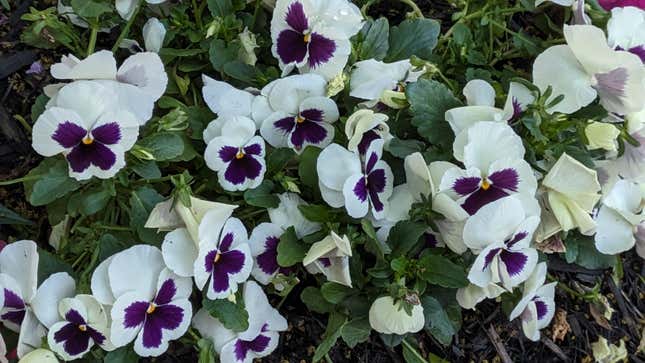 Close-ups didn't turn out much better. These white and purple flowers look incredibly vibrant in real life, but through the Pixel Tablet's rear camera, they lose all of their saturation and vibrance. And because of the camera's fixed focus, this was about as close as I could get to them without the results being completely blurred.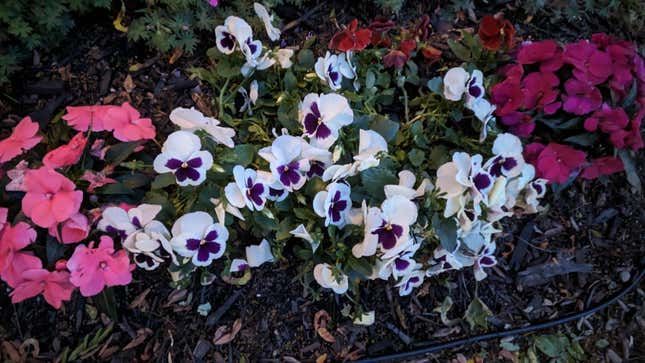 If there was one saving grace to the Pixel Tablet's camera, it's that it can take advantage of Android 13's AI-powered image editing and enhancement tools. Given how poorly it performed on a sunny day, I wasn't optimistic about the Pixel Tablet's capabilities in the dark, but using the long exposure Night Sight option, photos of those same flowers turned out quite passable after the sun had set. Certainly not results I'd ever print and frame, but it still delivered a useable image for other purposes.
A Good, But Not Great, User Experience
Even after just a week of use, it's clear that Google didn't set out to make a tablet that would have companies like Samsung or Apple scrambling to up their game. Google's Pixel smartphones have evolved into mobile devices that can go head-to-head with the best Android devices on the market, but the Pixel Tablet feels like it's currently at the point where the Pixel smartphones started: solid hardware running a refined mobile OS that's reasonably priced to leave users satisfied, but not wowed.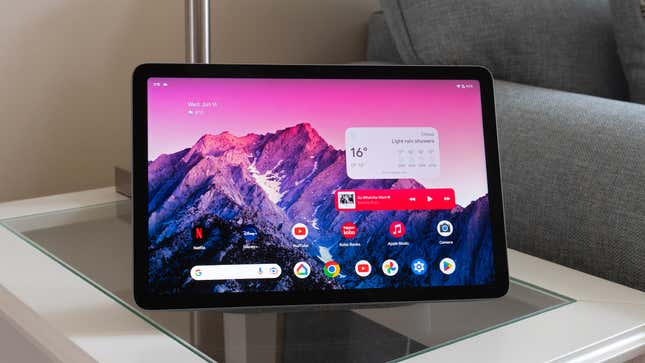 Thanks to a slow rise in popularity of folding smartphones that can open to reveal larger screens, Android 13 has learned to take better advantage of a large display's extra real estate, which on the Pixel Tablet sometimes feels more spacious, but at other times, a little cramped. Being able to run two apps side-by-side in split screen mode makes multi-tasking easier on the Pixel Tablet, including being able to drag some items, like photos, between the two, but it's also not an experience that will replace a laptop or a true desktop operating system any time soon.
The tablet's 10.95-inch screen starts to feel a little crowded with two apps open on screen at once, and I was disappointed to find that when adjusting the position of the vertical screen divider, the two apps didn't adjust their layout in real time as they're being resized, only after I lifted my finger off the screen. Kudos to those who've found ways to use a tablet as a productivity tool, but the Pixel Tablet isn't the device that's going to convince me to give up my laptop.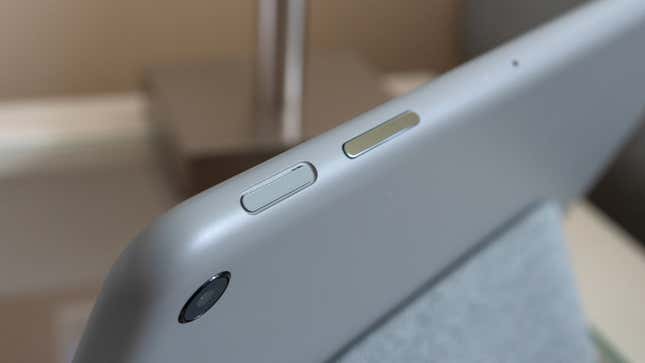 Although Google doesn't yet have as robust facial recognition software as Apple's Face ID, the Pixel Tablet does have a fingerprint reader built into its lock/power button. It reliably unlocks the tablet with a quick press, but registering a fingerprint was somewhat of an ordeal, requiring over 10 minutes of trial and error to make the registration process happy with how I was pressing and adjusting my finger on the button. I got so frustrated I was very close to abandoning it as an unlock option altogether.
There are three specific types of users who I think will be happy with the Pixel Tablet, even with all the quirks and issues that come with what is basically a first-generation product. (Google's on-again-off-again tablet pursuits notwithstanding.)
1) Devoted Android users, familiar with all the ins and outs of its recent iterations, who have long wanted Google's mobile OS on a bigger screen device without spending a small fortune on a premium Samsung offering. The Pixel Tablet delivers solid hardware for $499, and could be an even better deal if Google ever sells it without the bundled, $129 dock.
2) iPad users who use Apple's tablet as primarily a media consumption device but have struggled with the limits of iPadOS and Apple's walled garden. Before streaming apps like Netflix and Disney+ allowed content to be downloaded and watched offline, Android tablets provided some much needed sanity on long road trips for our family because I could easily side-load video content to keep our little one distracted. When it comes to tablets, I prioritize the flexibility to customize and use it exactly as I want. I'm an avid retro gamer and rely on apps like RetroArch and other emulators. That's what Android provides.
3) Devoted Google Nest Hub Max users who have always wished the smart hub wasn't permanently stuck on a side table or kitchen counter. Running back and forth to check a recipe on the Nest Hub Max's screen while cooking in the kitchen gets old fast, but with the Pixel Tablet you can grab the tablet and take it with you as needed. It's far more convenient, and it makes a big screen smart home hub device far more useful around the house.