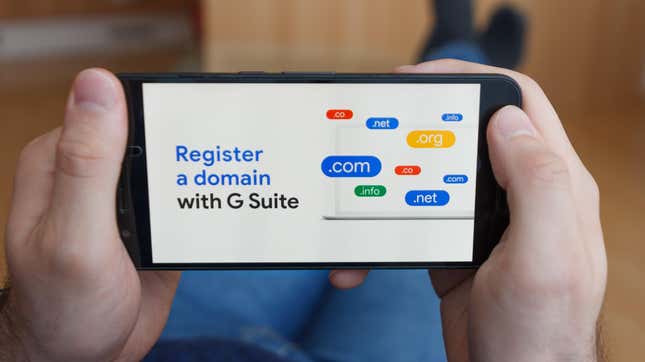 For once, the tech conglomerate that is Google is getting smaller, and by its own volition no less. Google said it is extricating itself from the domain name business. Its massive bank of domain names and the millions of customers who pay for them will soon be placed in the hands of Squarespace. The webpage creation service explicitly said it will use this opportunity to try and get former Google customers to switch their sites over to a Squarespace template.

Hey Google, Where Did My Watch's Battery Life Go?
Late on Thursday, Squarespace announced it was buying up all the assets from Google Domains, the tech giant's massive domain name registrar started back in 2014. According to a press release, this deal will include approximately 10 million domains hosted on Google's platform. Squarespace will become the exclusive provider for anyone purchasing their domain name through their Google Workspace subscription.
The companies did not reveal how much Squarespace is paying for the registrar, but Bloomberg reported, based on an anonymous source familiar with the deal, it's coughing up around $180 million. The companies said they expected the sale to go through in the third quarter of this year if it manages to clear regulatory approvals. If everything goes to plan and the Federal Trade Commission accepts the Squarespace buyout, then customers will likely start to feel the change in 2024.
VP of Merchant Shopping Matt Madrigal said in the release that the sale is part of an effort to "sharpen" Google's focus. The company will be working to support a "smooth transition" of customer accounts over to Squarespace in the coming months. Customers should see their renewal prices honored for the next 12 months following Squarespace's final acquisition.
For all those web developers who have tried to avoid Squarespace's webpage building options, the company said it will "provide additional incentives" for customers to transition their sites onto Squarespace. Google Domain used the company's cloud infrastructure and Workspace for much of its functionality. In a support document released Thursday, Google said that all the Workspace and G Suite subscriptions will be eventually managed by a Squarespace account instead. And what should you do if you don't want to be managed by Squarespace? Google said you can still transition your domain to another registrar.
"Squarespace can provide an integrated experience of purchasing and managing domains along with offering other tools that these customers may need to build their online presence," Madrigal said.
A "sharpened focus" could be another way to say trimming itself of less profitable businesses during lean times. Earlier this year, the company axed more than 12,000 jobs, close to 6% of its global workforce. Like several other big tech companies over the past year, Google blamed its dramatic, unsustainable growth during the pandemic years for why it was cutting back now. CEO Sundar Pichai had previously told employees those cuts were an attempt to get back to priorities like its shuddering push into user-end AI.