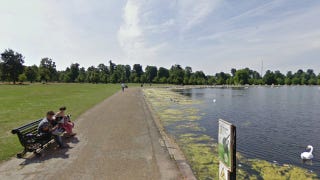 Google has once again added a stack of new Street View images to its amazing voyeur tool, bringing a selection of the world's most popular city parks to its database.
As you can see from the idyllic portrayal of urban life in the image above, London's Kensington Gardens is one of the new hotspots now available in Street View, with other parks from New York, Tokyo, New Zealand and the US captured by Google's camera equipped tricycle.
Of particular interest is the New York High Line Elevated Park, which is a crazy strand of grass built atop one of the city's derelict raised railway lines. [Parks of the World via Google via Gizmodo UK]
---

Our newest offspring Gizmodo UK is gobbling up the news in a different timezone, so check them out if you need another Giz fix.