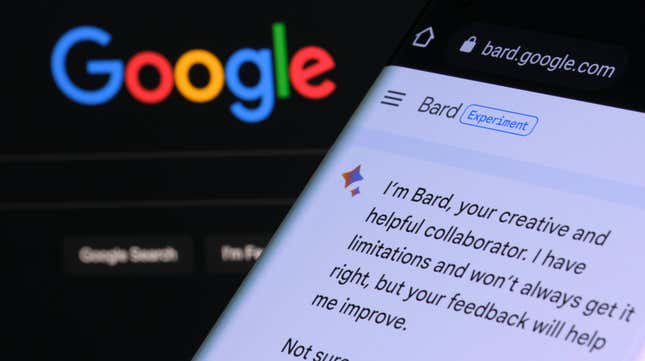 As Google continues to refine its own AI chatbot named Bard, its parent company Alphabet Inc. has a clear directive for its employees: Be careful around chatbots, even Bard.

Google's Antitrust Case Is the Best Thing That Ever Happened to AI
Four sources close to the matter told Reuters that the massive tech giant has advised employees not to enter confidential information into chatbots like OpenAI's ChatGPT or Google's own Bard over fears of leaks. Alphabet is reportedly concerned with employees inputting sensitive information into these chatbots since human reviewers may sit on the other end reviewing chat entries. These chatbots may also use previous entries to train themselves, posing another risk of a leak. That risk is warranted, as Samsung confirmed last month that its own internal data had been leaked after staff used ChatGPT.
Google did not immediately return Gizmodo's request for comment on the employee directive.
In January, an Amazon lawyer urged employees at the company not to share code with ChatGPT. The lawyer specifically requested that employees not share "any Amazon confidential information (including Amazon code you are working on)" with ChatGPT, according to screenshots of Slack messages reviewed by the Insider.
Last month, Apple pushed a similar injunction onto its employees. Internal documents obtained by The Wall Street Journal showed that Apple forbade employees from using ChatGPT and the Microsoft-owned GitHub Copilot, an AI code writer. Sources also told the Journal that Apple, like every big player in tech, is interested in building its own large language model, and Apple purchased two AI startups in 2020 for $200 million and $50 million, respectively.
Google released Bard, its ChatGPT competitor, in March. Bard is built with Google's own in-house artificial intelligence engine called Language Model for Dialogue Applications, or LaMDA. A little over a month before Bard's release, a leaked memo revealed that Google CEO Sundar Pichai asked Googlers across the company to test Bard for two to four hours during their day. This week, Google delayed the release of Bard in the European Union after Irish regulators cited privacy concerns. The Irish Data Protection Commission claims that Google and Bard do not comply with the Personal Data Protection law.
Want to know more about AI, chatbots, and the future of machine learning? Check out our full coverage of artificial intelligence, or browse our guides to The Best Free AI Art Generators, The Best ChatGPT Alternatives, and Everything We Know About OpenAI's ChatGPT.