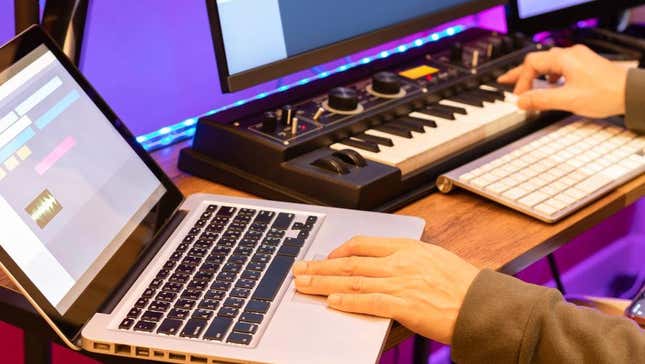 Universal Music Group and Google are in discussions to license artists' voices and melodies for AI-generated content. The two companies are considering developing a tool that people can use to create AI-generated music, otherwise known as deepfake, with popular artists' voices, the Financial Times reported.
Google's Antitrust Case Is the Best Thing That Ever Happened to AI
Under the licensing deal, the relevant copyright owners would be paid for the use of their likeness and would have the option to opt in to give UMG and Google permission to license AI-generated music using their voice, per the FT. Deepfake songs can convincingly mimic a singer's voice, though they recently have been used to replicate established artists without their consent.
Google and UMG are in the early stages of negotiations over creating the deepfake tool, and there aren't currently any plans to immediately launch it. Robert Kyncl, the CEO of Warner Music Group, voiced his opposition to deepfake technology in a conference earnings call on Tuesday, saying artists should always have a choice if they'll allow their likeness to be used. "There's nothing more precious to an artist than their voice," Kyncl said in the call, "and protecting their voice is protecting their livelihood and protecting their persona."
Google and UMG's proposed licensing agreement comes even as some artists including Drake and the Weeknd, both of whom are signed with (UMG), have been outspoken about deepfake music after a TikTok user posted AI-generated songs using vocals resembling the two artists. Drake called the release of the deepfake song combining his and rapper Ice Spice's voices "the last straw," in his Instagram story in April, Billboard reported. The fake Drake/Weeknd collab was pulled from streaming services. UMG said the music was "infringing content with generative AI."
Yet some artists have supported the development of AI-generated music, including Grimes, who told Rolling Stone that anyone can use her voice to create songs "without penalty" provided she receives a 50/50 split on royalties. In June, Paul McCartney announced that AI would be used to create a new Beatles song by extricating John Lennon's voice from a 1978 demo tape to create "the final Beatles record."
Rosie Burbidge, intellectual property partner at Gunnercooke LLP, told The Guardian: "If the music itself is AI-generated then we are in clearer copyright infringement territory and, provided it is possible to prove that the AI that generated the music was trained using particular copyright works and there are similarities in the music or lyrics, there is a greater ability to prevent such use as it is likely to be a copyright infringement."