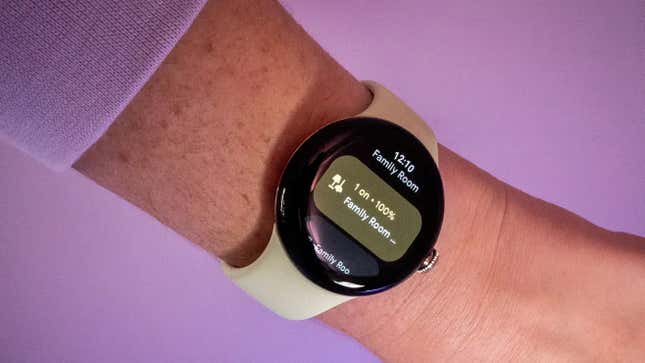 Don't drop your Pixel Watch. Just don't, because if you do, Google won't offer any kind of help fixing it if your screen cracks or the watch breaks in any other way. Google has finally made it clear Pixel Watch users' are on their own if they accidentally crack the screen on their Pixel Watch. Not only is there no option for at-home repair, but Google itself doesn't have any repair centers, service centers, or parts available to fix the company's premiere smartwatch.
Is Google's New $1,800 Pixel Phone Worth It? | Gizmodo Review
The Verge was the first to confirm that Pixel Watch owners' greatest fear appears to be true. A Google spokesperson told the outlet that "at this moment,' there are no repair options for a Google Pixel Watch. If your watch gets damaged, you'll have to contact Pixel Watch Customer Support for a potential replacement.
When buying a watch through the Google Store, there's no extended protection option beyond the standard 12-month limited warranty. The language of that warranty notes that the warranty does not cover normal wear and tear, accidents, misuse, neglect, disassembly, alterations, or servicing by anybody but a Google technician—which, to reiterate, does not currently exist. In essence, your options for first-party repair of a Pixel Watch are somewhere between zip and nadda.
Gizmodo didn't find any obvious issues with the Pixel Watch's sturdiness in our review, but that doesn't mean accidents can't happen. The waterfall design to the front screen means there's potentially less protection for the screen during a tumble. Users on Google's support forum have asked about help with their watch face after they noticed it was cracked, but they were told their only option was to purchase a new watch or go through their credit card company for a refund.
It comes just days after Google started offering repair kits for the Pixel Tablet through iFixit. Last year, Google announced repair kits for its Pixel phones going back all the way to the Pixel 2, and even though it's been nearly a year since the Pixel Watch first released, we've seen neither hide nor hair of any official customer support. We reached out to Google to see if the company has any plans for repair options in the future, but we did not immediately hear back.
The lack of support comes as more and more U.S. states have passed individual right-to-repair laws. New York requires companies to make diagnostic and repair information available for its devices. California's legislature just this week passed staggering new legislation that would require device makers to provide parts, facilities, and documentation to repair their electronics. California's bill still needs Gov. Gavin Newsom's signature, and it will take time for the law to go into effect, but as of now, Google seems to be lagging behind supporting its latest wearable compared to its other tech.
As The Verge was first to point out, iFixit's own teardown of the Pixel Watch does seem to show users can remove the screen without too much fuss after heating the adhesive and prying the screen from the body. However, there's no real way to source a new screen to replace the old, broken one.
Google could be announcing a Pixel Watch 2 later this year at the same time it shows off its new Pixel 8 phones during an Oct. 4 event. The Watch 2 could have better battery life and more Fitbit-like features, but all signs point to the next watch being a relatively small iteration on the first launch. Any new watch could definitely benefit from a more thorough repair program, or perhaps a redesign to make the screen not so easy to scratch or break.