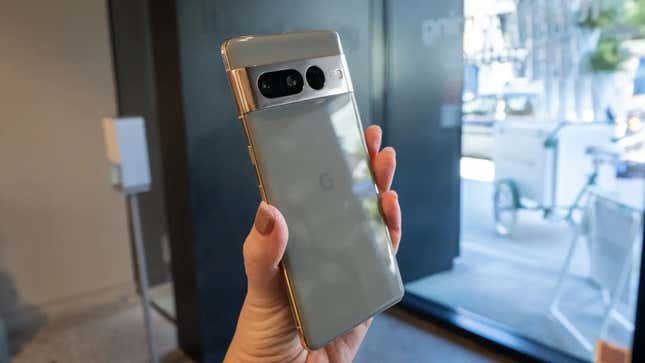 Not one to let Apple hog the buzz of phone launch season, Google declared Wednesday it's planning to host its own big phone announcement extravaganza soon. Called "Made By Google," the event will include a livestream keynote where the company is expected to unveil its Pixel 8, the Pixel Watch 2, and more hardware.
Is Google's New $1,800 Pixel Phone Worth It? | Gizmodo Review
Made By Google will take place at 10 a.m. ET Oct. 4 in New York City. If last year's big Pixel announcement is anything to go on, the company will livestream the event on YouTube. It's very likely that Google will unveil its Pixel 8 and Pixel 8 Pro then. Just as well, the sequel to the Pixel Watch may finally make its debut after a rather simple and pared down initial outing.
Though we didn't get any real hint at the Pixel 8 at Google I/O earlier this year as the company focused on its AI initiatives and the Google Pixel Fold, there have been plenty of leaks to fill the void. One leak has even come directly from Google, albeit inadvertently. The Pixel 8 Pro should include the company's Tensor G3 chip, the third in the line started back with the Pixel 6. Leaks from Android Authority have hinted that the G3 chip will include nine CPU cores and a performance boost to go along with it. The graphics on the Pixel 8 are expected to be similarly enhanced with 10 GPU cores running at 890MHz compared to the Tensor G2's 7, according to the rumors.
Otherwise, the Pixel 8 should see some improvements to its camera array with the introduction of a 64 MP ultrawide sensor. The new phone might go back to its older, more curved corners, and—according to 9to5Google—feature colors found on the Pixel Fold. These include Porcelain, Obsidian, plus some sort of "Sea" blue hue.
As far as the Pixel Watch 2 goes, 9to5Google reports that the sequel smartwatch should make the switch to the Qualcomm Snapdragon W5+ Gen 1 chip. The watch should also get a much improved battery life compared to its older brother, with rumors pointing to 24 hours of operation with its always-on display turned on. It will also likely sport Wear OS 4.
On Tuesday, Apple declared it will host its "Wonderlust" event Sept. 12, and Google is hot on its competitor's heels. Last year, Google also offered a peek at its Nest Wifi Pro, its Nest Doorbell, and a few other odds and ends. It's unclear if we'll see anything like a new Google Pixel Tablet, especially considering the first outing arrived just last year to little fanfare. There's still the lingering possibility of new Nest devices, but there's been little to no rumors on that front compared to Google's phone and wearable lines.
---
Want more of Gizmodo's consumer electronics picks? Check out our guides to the best phones, best laptops, best cameras, best televisions, best printers, and best tablets. If you want to learn about the next big thing, see our guide to everything we know about the iPhone 15. Click here to save on the best deals of the day, courtesy of our friends at The Inventory.