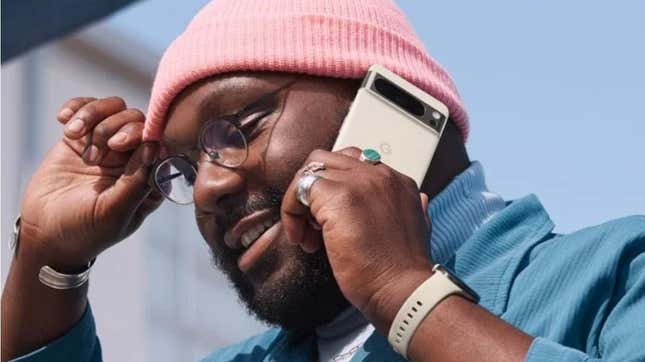 Sometimes, product leaks feel like shots in the dark, dependent on sources of dubious nature who have all the motivation and ability to fake people out. And then there's Google, who seems a little bit too willing to drop hints of its still-unannounced Pixel 8 Pro phone. The tech giant accidentally uploaded an image of the Pixel 8 to one of its product pages, and though it's gone now, eagle-eyed tweeters managed to snag it.
Is Google's New $1,800 Pixel Phone Worth It? | Gizmodo Review
Android leaker Mishaal Rahman posted an image he said was, for whatever reason, published to the Google subscriptions and services page. The picture seems to contain a Pixel 8 phone in porcelain color. The leak was originally spotted by the Twitter account Android Setting.
Okay, but it looks very similar to the current Pixel 7, so how do you know it's a Pixel 8? Well, the image's alt-text reads "A person takes a call on a Pixel 8 Pro phone in Porcelain." The image has since been removed from the page. Rahman speculated it could have been a simple mistake of a Google working choosing the wrong asset from a media gallery. Either way, the image doesn't give us much indication of what's happening with the next Google phone. The camera bar is in the same place, and the "Porcelain" color is the same as one of the current selections for the Google Pixel Fold, but not the Pixel 7. Google did not immediately offer comment on the leak.
Earlier rendering leaks show the Pixel 8 is much rounder than the Pixel 6 or Pixel 7 were with metal siding akin to earlier iPhones. Otherwise, the main screen is also completely flat compared to the slight curves of the previous edition. The latest leak doesn't give us a look at the left side of the phone, but some of the latest rumors have hinted the Pixel 8 could become a full eSIM only device akin to the iPhone 14.
The camera array for the Pixel 8 Pro is contained in one large pill compared to the two cut-outs on the Pixel 7. Inside, there's three sensors that, according to leaks from Android Authority, will include a 50 MP wide, a 48 MP telephoto lens, and a 64 MP ultrawide. That latter sensor is a major upgrade from the 7 Pro's 12 MP Sony IMX386 at 12 MP. The leak also notes these sensors should support 8K video at 30 FPS among a host of other HDR and software upgrades.
That camera bar may also include an infrared heat sensor useful for gauging skin temperature or environmental heat. It could indicate Google is pushing more health or wellness features for its phones, something that both Samsung and Apple have been similarly interested in as of late with their watch brands. A phone-based temperature sensor may seem like a niche inclusion, but in the phone rat race gimmicks like that might just give them an edge during this current smartphone sales slowdown.
As Apple is already planning to reveal its iPhone 15 Sept. 12, Google will likely keep to its usual timeline of revealing its next hardware sometime in October. With all these leaks, Google jobs might just be confirming what we all already know.