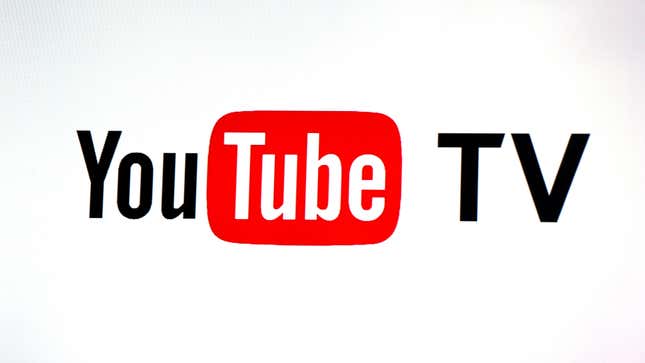 I'm not a sports fan, but I know the necessity of keeping up with more than one game at a time, particularly during playoffs. I have seen friends juggle a smartphone, a TV screen, and a tablet in pursuit of tuning into multiple streams at once. They'll be relieved to hear YouTube TV is making this easier with a new multiview feature.

Vizio's Latest TVs Go All Quantum
Multiview lets you stream up to four channels simultaneously while watching on a smart TV or streaming dongle. Google's support page mentions multiview will eventually work for both "sports and live shows," so the reality TV or cable news-obsessed (why?) can also keep tabs on more than one channel with their YouTube TV subscriptions. However, for this initial rollout period, the feature will only work with sports content. Multiview isn't available on the service's mobile apps.
The multiview feature is currently in its "early access" stages, meaning only a select few users will be able to access it in time for March Madness. To open multiview, you'll have to select it as a streaming option when you start playing a live game from either the Home or Live tab. Multiview lets you switch between audio sources and captions by highlighting the stream, essentially bringing it to the foreground. If you decide to focus on one particular stream, you can switch back to full screen by using the Select button on your remote or controller. Note that whatever you watch in multiview will show up in your YouTube TV watch history.
Some sports fans are disappointed they don't have access to this feature yet, as Google is slowly rolling it out. It is basketball's high season in the U.S., with March Madness kicking off in mere few days. YouTube is telling folks on Twitter to reach out to its automated service system to try to get multiview fast-tracked to a particular YouTube TV account.
Multiview has been floating around for a while. According to a few stray posts on Reddit, Google started initial testing of the ability around the holidays late last year. One sentiment echoed throughout the comments is about how multiview will make sports-watching a more effortless experience for devoted fans. FuboTV, a sports-centric streaming service, offers multiview mode on Apple TV. It was also a feature on the gone-but-beloved PlayStation Vue service.