The idea of a smart home console is exciting. A little screen where you can turn all your lights on and off and turn on the TV and see who's at the door and crank the oven up to 500-degrees to roast that garlic and broccoli for dinner? That's cool! It's also what Google promises with the new Home Hub. Google doesn't not deliver. But the new Home Hub also falls short of the magic gadget I'd hoped for. At least not right now.
Vizio's Latest TVs Go All Quantum
It is a good gadget, though. The $150 Home Hub comes out of the box like a lovely little tablet on a handsome stand. The base includes speakers that aren't really good enough to play music but suffice for playing YouTube videos. The 7-inch display doesn't knock your socks off with image quality, although the new Ambient EQ function that adjusts to your lighting to create a more analog-looking screen is nice. The camera, well, there is no camera, so you don't need to be paranoid about hackers breaking into your device and watching you walk around your house naked. That also means you can't do video calls, but I'm not sure you'd even want to.
For most people, the Home Hub is a great way to look at the weather forecast and to turn down the lights. For many, it's an extremely handy way to look at recipes. For a select few, it's a limited internet browser, something you can swipe to see Google News headlines or Google Calendar appointments.
I'm one of the recipe people. This thing is awesome for cooking. You can say, "Hey Google, show me a recipe for chicken parmesan," and it pulls up a few cards with the recipe you need. Tap on one or speak the title, and you get a simplified version that displays each step. A swipe or a "Hey Google, next step" command will walk you through the process of making a delicious dinner. (Note: the Home Hub is quite compact and so light, I found myself moving it around on the counter if I swiped too hard.) It's an added flair that Google puts an image of each ingredient as the background to each step. It's also tremendously helpful that I can tap the screen to see the next step—or turn on my lights or pause my music—because I don't always want to bark "Hey Google" at my new kitchen assistant.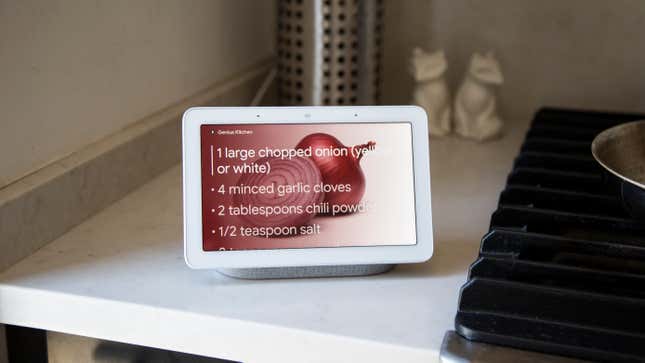 That's kind of the theme of the Home Hub. Everything you do with it is a little bit easier and a little bit nicer than it would be otherwise. You can look up recipes on a regular tablet, but you can't talk to it as easily as you can the Home Hub. You can ask a regular Google Home device about the weather, although you won't get the forecast at a glance. You can also control your connected light bulbs from a smartphone, even though it's annoying to find your way to the app and select the right options. The Home Hub makes everything a little bit slicker, but there are some present limitations (and bugs) that might spell its downfall.
My gripe is that the Home Hub is not quite perfect. That's a fair criticism of any device, but it's particularly salient with this one because Google gave me hope that it had solved the smart home dilemma when it announced the Home Hub. Historically, controlling a house full of connected gadgets has been an awful pain. There have always been products, like Philips Hue lights or anything made by Nest, that worked really well on their own but got messy outside of their own apps. Even then, you'd have to pull out your smartphone to do basic things, like turn on your lights. There's never been a central console for the smart home that lets you easily do everything from turn down the heat to pull up an evening movie. According to Google's initial pitch—especially the bit about one view where you can control all of your devices—the Home Hub is supposed to be that console.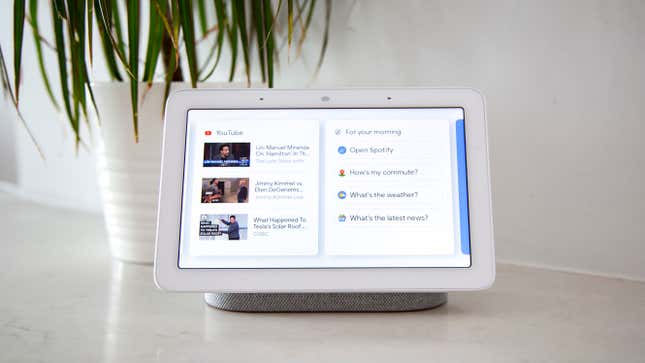 It's not, yet. The Home Hub very much feels like the first, problematic iteration of a gadget I could really love. For everything it does flawlessly (recipes), it struggles with another (watching TV). Let me walk you through my experience.
When I first plugged in the Home Hub, my apartment was full of a small number of disconnected smart home gadgets. I really had the bare minimum of things that would make having a console like the Home Hub make sense: lights, smart plugs, a smart TV, and wireless speakers. In order to get my stuff to work with the Home Hub, I had to add everything to the Google Home app. Well, actually, I had to set up my Philips Hue bulbs independently and then connect my Hue app to the Google Home app. This irksome extra step is necessary, in part, because the Home Hub doesn't offer Zigbee or Z-Wave support, so some devices will require an independent hub. So setting everything up was a little bit annoying, but it was over quickly enough.
Everything basically worked, once I got it set up. Adjusting the Philips Hue lights was no problem, which wasn't a surprise because they also work great with a regular Google Home. My smart plugs worked, too, but again, they should because they're designed to work with Google Assistant. But I started to get frustrated when I tried to watch videos. The Home Hub is too tiny to do much more than watch some YouTube videos while you're waiting for some water to boil. Easy access to YouTube also comes in handy if you like watching cooking videos, which the Home Hub nicely integrates into the recipe feature. However, as soon as you venture outside of Google's ecosystem, things fall apart.
The Google Home Hub really wanted to work with my Vizio TV, which has Chromecast built in. Sending a YouTube video from the Home Hub to the TV? No problem. Pulling up a Netflix movie on the Home Hub. Nothing but problems. First of all, you can't watch Netflix content on the Home Hub's display at all—not that you'd really want to. You can cast the videos to a TV, but this process seemed bulky and buggy. There's no way to browse, for instance. You simply can't say, "Hey Google, show me some comedies on Netflix." The Home Hub makes you request a specific movie or program, and you also have to clarify in the command that you want to watch it via Chromecast. If you just say, "Hey Google, play Devil's Advocate on Netflix," the device will just remind you that it can't play Netflix movies on its display. "Hey Google, play Devil's Advocate on Netflix on Chromecast," worked for me but not on every single try.
Listening to music on non-Google devices was even more discouraging. My current home audio setup includes two Sonos speakers and a Vizio soundbar system. The Sonos speakers don't currently work with Google Assistant—even though Sonos said they would at some point this year—so that was a nonstarter. The Vizio soundbar system could work, if I told the Home Hub to cast the music to the TV. There must be a weak link in this chain, though, because I couldn't get it to work dependably. "Hey Google, play Spotify on the TV," worked sometimes, but it usually didn't. The Home Hub often didn't recognize the command.
I'll chalk some of these problems up to buggy software. The Netflix stuff seems like it could disappear with the first Home Hub software update. I'll also guess that my music-listening issues would have been avoided if I had a Google Home Max speaker instead of a Sonos Play:5. As for other connected devices, I saw some pretty impressive demos with Nest devices at the Home Hub announcement, but I can't install a thermostat or a video doorbell in my Brooklyn apartment. Nest products ought to work perfectly with the Home Hub, too, since Google builds them. Again, in my experience, all Google-made products and services play nice with the Home Hub. They should!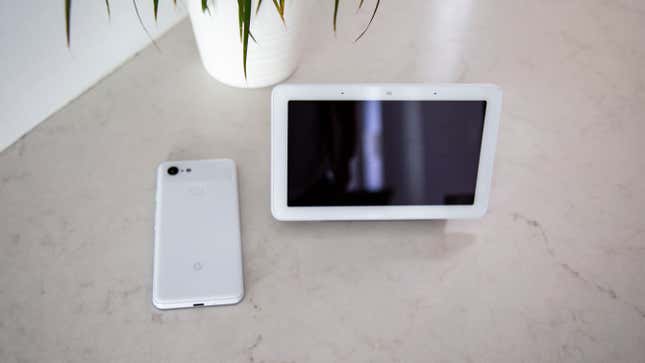 All this adds up to a curious value proposition. There are other voice-activated speakers with displays that also double as home hubs. For $230, the second generation Amazon Echo Show does a lot of the same things as the Home Hub and also comes with Zigbee and Z-Wave built in. I haven't had the chance to test it out yet, but the reviews have been largely positive. There are also a couple of Google Assistant-powered devices built by third parties. We reviewed and liked the $200 Lenovo Smart Display earlier this year. At just $150, the Google Home Hub is the cheapest of the lot. It's also just $20 more than a regular Google Home. So if you're thinking about buying a Google Home, it's almost a no-brainer to spend the extra money to get the screen and all the additional functionality.
Let me make a prediction: you want the screen. The extent to which people really like using voice commands to do things around the house is limited, in my opinion. Sometimes, I just want to tap a screen to do something. And as I've said before, you can turn off the microphone on the Home Hub, and just use it as a handy tablet on a stand. Me, I used to prop up my iPad while cooking, using my greasy fingers to scroll down on any given recipe and wondering when I'd drop the damn thing in the dishwater. The Home Hub would be worth it, just to avoid that clumsy situation in the kitchen.
So if anything's clear, it's that the Home Hub is a great chef's companion. I also love it for basic smart home stuff, like lights and smart plugs. The home entertainment side of things needs some work, and Google might handle with a software update. That said, this gadget still feels like the future, as frustrating as tomorrow sometimes seems.