The long-awaited (and long-rumored) Nexus 6, the 6-inch (technically 5.96) monster phablet, is finally, officially here. The Nexus 6, like its predecessors before it, will be the first device in the world to ship with Android's new operating system, Lollipop. It's the purest vision of what an Android phone should be. Apparently Android phones should be huge.
As all those rumors suggested, the Nexus 6 is basically a super-sized and super-spec'd Moto X, which Motorola released this the summer. It comes with a simply massive 5.96-inch 2K screen, a speedy Snapdragon 805 processor, 3GB of RAM, and 32GB of onboard storage (a 64GB version is also available). The device weighs in at about 6.49 ounces with a 10mm thickness, making it one of the thickest phablets you can buy. That bulk could be due in part to Google continuing the awesome tradition of wireless Qi charging in its devices. The Nexus 6 is powered by a 3,220 mAh battery, supported by Motorola's Turbo Charger ability to get 6 hours of battery life after only 15 minutes of charging.
Besides its Kaiju-esque size, the Nexus 6 retains many elements of the Moto X's design. Google keeps the same dual speaker set up, aluminum chassis and the ring flash on the back. The camera itself is a 13-megapixel sensor (2 megapixel on the front), also like the Moto X, but with optical image stabilization for better low-light images and HDR+. Samsung's new Galaxy Note 4 and Apple's own phablet, the iPhone 6 Plus, also came with OIS, so it seems like a big phone requirement at this point.
G/O Media may get a commission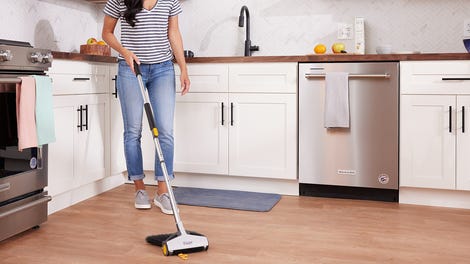 BOGO 50% Off
Flippr - BOGO 50% Off
As for Lollipop, it will be available stock on the new Nexus 6 and HTC's Nexus 9 tablet, which was also revealed today along with the Nexus Player, a collaboration with ASUS that "is a streaming media player for movies, music and videos," according to Google. Lollipop will arrive for Nexus 5, 7, and 10 and Google Play edition devices within a few weeks.
Google's decision to team up with Motorola was motivated, in part, by their actual breakup. When Google sold off Motorola to Lenovo earlier this year, the split allowed Google to turn around and work with Motorola on new devices and completely avoid first-party favoritism among manufacturers.
It's clear from the Nexus website that Google believes the Nexus 5 to be an integral part of the family as a low-cost, small-sized (in comparison) option for customers not ready to accept the phablet way of things. However, Asus' Nexus 7 tablet appears to be facing extinction as every version of the device is out of stock on the Google Play Store and isn't part of the official Nexus lineup. After all, do you really need a 7-inch tablet when you have a 6-inch phone?
Motorola says the device will come in two colors (pictured above) called Midnight Blue and Cloud White. The Nexus 6 has an Americas-specific SKUs, meaning any device should work across any carrier. Pre-orders will be available on October 29th for $650 ($700 for 64GB) through the Google Play Store and shipping will begin in November. Unlocked versions will be available in the Play Store and carrier versions from AT&T, Sprint, T-Mobile, U.S. Cellular, and Verizon. [Google Official Blog]