The Nexus line is Google's Android champion, the annual display of Android in its purest form. As we get closer to this year's refresh, rumors are beginning to flesh out what the Nexus 6 is going to look like. Here's what you can expect from the next great Android phone.
Much like its predecessors, the next Nexus will most likely showcase the very latest Android build. In this case, that's Android L (or whatever it ends up being called), Google's 5.0 (4.5?) OS release that brings a design overhaul and added tweaks. That much is obvious, but what about the hardware that goes with it?
Who's making it?
All renders and rumors suggest that Motorola will be making the Nexus 6. Considering Google's decision to sell off Motorola Mobility to Lenovo in January this year, while also retaining many of the company's patents, this comes as a minor surprise. Originally, many thought HTC would take up the design reins once it was hinted that LG, makers of the popular Nexus 5, wouldn't be involved. Instead, it looks like HTC got the nod for the Nexus 9 tablet. The Lenovo sale was part of the reason why Google was able to work with Motorola on the new Nexus at all, as The Information reports:
Separately, Motorola is also getting a boost from working on an undisclosed phone-tablet project with Google—the type of initiative which, ironically, it could not pursue as a Google subsidiary due to concerns about favoring the house-owned Android vendor over others.
Once you get past the corporate back-and-forth, tapping Motorola for the new Nexus begins to make a lot of sense. Motorola's impressive design chops with the new Moto X makes it just as an appealing choice compared to HTC or LG. Also, Motorola has a history of running a damn near stock version of Android on its own handsets already—with exception of a few genuinely great add-on apps—so the company is by no means in unfamiliar territory.
What's it called?
For the sake of clarity, I've opted to use "Nexus 6" throughout this roundup, but that name isn't 100 percent. The device has been called "Shamu," or Moto S, depending on who you talk to, but those are either just code names, much like Hammerhead was for the Nexus 5, or the Moto S is a reference to a likely Verizon-exclusive Droid-variant of the upcoming Nexus.
G/O Media may get a commission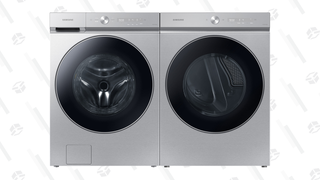 Get $500 back in credit
Last Chance: Samsung Bespoke AI Washer and Dryer Preorder
Strangely enough, it's been suggested that Google might shake up the naming convention because of the movie Blade Runner (and the novel it's based on), which features replicants known by Nexus-6. Google drew ire from estate of Philip K. Dick for using the word Nexus in the first place, so the possibility that they'd try to avoid more trouble actually seems plausible. Then again, they might feel pretty apt at dealing with it at this point.
The most popular replacement for Google's numeric tradition is to simply call it Nexus or even Nexus X. This last one could also work on two levels, by also referring to Motorola's Moto X and also as nod to the device's actual design, which leads me wonderfully to my next point.
Design
We all know the phrase "if it aint broke, don't fix it." Well, it seems Google is adding a small addition to the time-tested truth: "If it ain't broke, don't fix it, but maybe go ahead and make it gigantic anyway."
The best bet we've seen so far is Android Police's render (featured at the top of this article), which pulls together all known rumors into a single image. All these leaks make a pretty convincing argument that the Nexus 6 will just be a very big and badder Moto X. Coming in at a rumored 5.9 inches, this smartphone would be the biggest Nexus and the biggest Motorola smartphone ever made.
Updated: The Wall Street Journal confirms that Google's next Nexus will be 5.9-inches and will most likely release sometime this month.
Rumored 5.9-inch 'Shamu' next to a 5.5-inch LG G3.
More speculation says that Google might consider releasing two separate Nexus devices—a 5.9-inch and a 5.2-inch, but the rumors about any smaller version have been remarkably thinner than those about its big brother. Phone Arena reports what Google finally decides to do could depend on how well the Moto X does once sales numbers start pouring in. However, it seems unlikely that Motorola would want to put the Nexus 6's rumored specs (which we'll get to in a second) into a 5.2-inch size, because it would cannibalize the hell out of its own 5.2-inch Moto X. Instead, it's possible that this smaller device will just be the Moto X Google Play Edition.
Apart from its hand-tiring size, Android Police says the Nexus 6 will carry over many of the same Moto X design elements, including its aluminum frame and front-facing speaker setup. However, we should all be prepared for some light to moderate design tweaks. The Nexus 5 was a variant of the LG G2 but dropped the glossy finish on the original for a soft-touch matte material.
One of Moto X's main draws is Moto Maker, the smartphone's dedicated customization site that lets customers pick specific colors, accents, and materials. However, Google is possibly planning its own Nexus-based design tool that can personalize your phone to an even greater degree with your own photography or maps of specific places. However, no official release plans have been announced about the new design platform or if it will be a Nexus 5-only affair.
Update: The Nexus 6 has possibly been spotted in the wild, according to Android Police. Take a look.
Update: Evan Blass, aka evleaks, also leaked a pretty convincing image of the upcoming Nexus. The placement of the bottom speaker seems a little suspect, but the overall image gels with what we've been hearing from other rumors.
Specs
Not surprisingly, the Nexus 6 may be getting a serious spec bump compared to the new Moto X. That's partially because of necessity. Since there's more room to pack in bigger and better everything, phablets have been the first to adopt hi-performance QHD screens, massive batteries, and the most powerful processors. Leaks say that the Nexus 6 has all that and more, including a QHD (496 ppi) display, a 3200+ mAh battery, and a 2.7 GHz quad-core Snapdragon 805 as well as a whopping 3GB of RAM. No word on whether we'll see expandable storage or a removable battery, but the current Moto X doesn't have either. Also, if past Nexus devices are any indicator, that answer would be a pretty firm "no." But on the plus side, Nexus 6 will reportedly also benefit from Motorola's Turbo Charger, which can give your device 8 hours of battery life after just a 15-minute charge.
As for the camera, unofficial reports are saying that we'll see the same 13 megapixel, rear-facing sensor as seen on the Moto X but with optical image stabilization for steady shots and better low-light images. The camera on the front will stay the same at 2 megapixels.
If even half these rumors hold out to be true, the Nexus 6 will be high-powered, capable, and staunch competition against current phablet superstars (and even ones that have yet to be announced).
Update: The Nexus 6 has possibly been spotted at the FCC with a few more specification details. The report would appear to confirm the next Nexus' gargantuan size and also support for AT&T and T-Mobile frequency bands.
Price
Historically, Nexus devices have come with the reverse of your common sticker shock, often seeming much cheaper than what the specs and user experience would demand.
The only price leak we've seen is a relatively sketchy one from TKTechNews, who reportedly spotted a listing for a Nexus X device for €420 ($420) for 32GB and €450 ($450) for 64GB off contract. It's likely that Google won't adjust euro prices into USD because when the Nexus 5 launched it arrived in Europe and the US for the same price.
A $420 or so price point, while more expensive than the Nexus 5, would still be a shockingly low once factoring in the phone's size, display, and processor, and would continue Google's tradition of cheap yet powerful devices. However, this leak hasn't been followed up with any kind of substantial info, so it's still somewhat up in the air.
Availability
The Nexus 6 will most likely be available in stores at AT&T, T-Mobile, and Sprint with Verizon availability questionable since Verizon hasn't had a Nexus in ages. Phone Arena believes that Verizon will instead get the Moto S instead of the Nexus 6, since Verizon has always been left out of the Nexus party. Motorola is possibly making two devices for Verizon—the Moto S and Droid Turbo. From leaks claiming to show these phone's back panel, the Moto S looks more visually akin to the Moto X (and in turn, the upcoming Nexus).
Update: One leak says AT&T will have an on-contract asking price of $50, which is incredibly cheap considering the phone you're getting (if these rumors are true, that is.) However, Nexus 5 was, in the long run, was more expensive if you went the carrier route since Google subsidized its phones in the Play store. We'll have to see if the Nexus 6 follows a similar strategy.
Google doesn't tend to make much fan fare regarding its Nexus releases. Last year, the Nexus 5 got a press release and a silent-yet-immediate rollout in the Google Play store. We can expect a similar tactic this time around with the release date being near the end of October.
So yes, you'll be able to buy your unlocked Nexus 6 through the Google Play store as always, and if these rumors end up being true and you're in the market for a phablet, you very well might be.
Top image by Android Police.