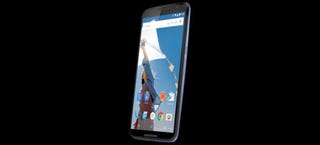 It appears AT&T has revealed its pricing and manufacturer for the Nexus 6 a little early. If you go to the AT&T website and look up the LG G3 Vigor, an image and pricing details for the Motorola Nexus 6 appears under "People Also Viewed." The Nexus 6 is listed at $50.
If you click through, there's no page. AT&T had no comment when we asked for clarification.
The phone image is an LG Vista, not the actual Nexus 6, so there's a good chance that AT&T will swap out the price along with the image. (Even the photo I posted above is an unconfirmed image, so we still don't know for sure what the Nexus 6 looks like.) (Update: we know what it looks like now and it's a lot better than the LG Vista.)

It's no surprise that Motorola is making the device. Even though Google sold Motorola to Lenovo, they kept a lot of the company's patents. And the $50 on-contract price might sound suspiciously low, but remember that Nexus devices typically have cutthroat price tags.
(Update: Since the Nexus 6 is available for pre-order off contract for $650, it'd be very surprising if it was $50 with a two-year contract, so the price is probably just a placeholder.)
Then again, just like the pricing and image, the "Motorola" could just be something AT&T put in as a placeholder. There's no way to confirm until the Nexus 6 makes its official debut, which should be any day now. [9to5Mac]
Image credit: Evleaks