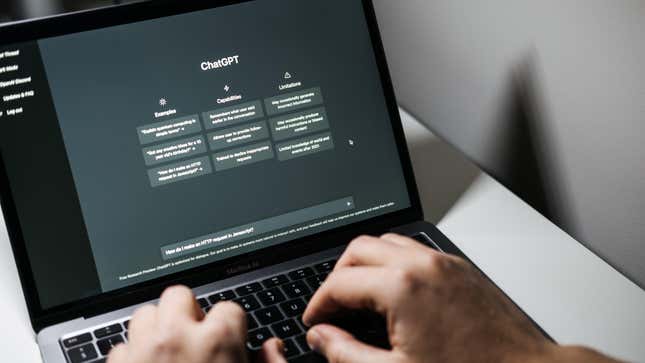 There's a lot of debate about how artificial intelligence will fit into our workplaces, but Akash Nigam—CEO of web3 avatar startup Genies—has apparently opted to spend over $2,000 per month on ChatGPT Plus subscriptions for every employee at the company.

Hey Google, Where Did My Watch's Battery Life Go?
According to Insider, Nigam is spending at least $2,400 per month to make sure that all 120 employees at Genies have access to ChatGPT Plus according to receipts obtained by the outlet. As Insider reports, Nigam began championing the chatbot to his employees in every department, from finance to engineering to research and design, in March. The CEO believes that access to ChatGPT can help employees automate monotonous tasks as well as improve the company's profits. Nigam further claimed that he's already seen work accelerate with the help of ChatGPT, despite his workforce only using the AI for a month.
"I'm a pretty frugal, stingy person," Nigam said to Insider. "But in my mind, this is for the health and growth of the company."
Genies and Nigam did not immediately return Gizmodo's request for comment.
Nigam told Insider that the company's research and development team, for example, has been using ChatGPT to debug code. On the contrary, tech giant Amazon previously warned its employees not to share company code with ChatGPT for fear it could leak and/or be used to train future iterations of the chatbot. For Genies, ChatGPT has apparently been the most useful in generating an outline of company strategy, as the AI has cut down the brainstorming hours, which Nigam told Insider could take "hours and hours." While the entire company has access to the tech, Nigam said that some employees are passively integrating the artificial intelligence into their workflows.
While Nigam has been paying $2,400 per month for ChatGPT from OpenAI, some have found a clever (and free) workaround. A European computer science student who goes by the alias Xtekky has developed a GitHub repository called GPT4free that allows users unfettered access to ChatGPT Plus by funneling queries through websites like You.com and Quora. But there's no such thing as a free lunch, and according to Toms Hardware, OpenAI is threatening Xtekky with a lawsuit if he doesn't wipe the project from GitHub.
AI like ChatGPT could have a spot in our workplaces as another tool to help people complete tasks. New research from Stanford University and Massachusetts Institute of Technology has found that 14% of employees that used ChatGPT in their workflow saw an increase in productivity—with the least experienced and least skilled workers completing tasks 35% faster. At the same time, OpenAI CEO Sam Altman revealed earlier this month that the company is not releasing ChatGPT-5 anytime soon.
Want to know more about AI, chatbots, and the future of machine learning? Check out our full coverage of artificial intelligence, or browse our guides to The Best Free AI Art Generators, The Best ChatGPT Alternatives, and Everything We Know About OpenAI's ChatGPT.