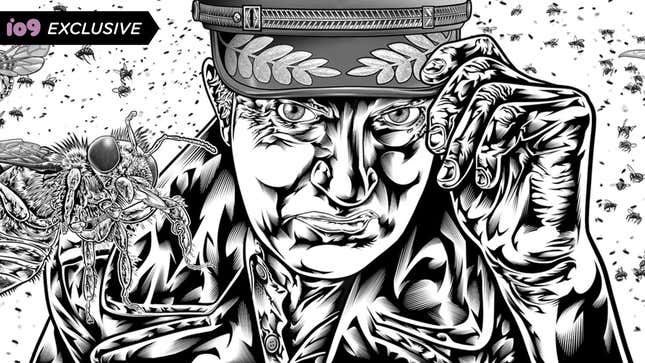 Grant Morrison is responsible for some of the greatest comics of the modern age, from their legendary turn on New X-Men, to the likes of Green Lantern, All-Star Superman, Doom Patrol, and many, many more. But after dipping into the world of prose fiction last year with their novel Luda Morrison is back in comics... with a prose twist!

Meet Microsoft's New Surface Laptops
To celebrate the 5th anniversary of the indie comics pub Ahoy Comics, the publisher has rallied a veritable murderers' row of writing talent to write a new, thirteen part anthology called Partially Naked Came the Corpse!. With each chapter written by a different author—including, alongside Morrison, Alex Segura, Carrie Harris, Kirk Vanderbeek, Lisa Jonté, and more—the serial will appear across 13 issues of Ahoy's books over the next 3 months, celebrating Ahoy's tradition of including short prose as backfill material across all of its titles. Partially Naked will also feature accompanying art from illustrator Jon Proctor.
The serial kicks off next week with an extended chapter from Morrison themselves in the new series Project: Cryptid, a new mystery monster anthology series from a host of writers and artists, beginning with Paul Cornell, Mark Russell, PJ Holden, and Jordi Perez. But first, check out an exclusive preview of Morrison's opening chapter of Partially Naked Came the Corpse! making its debut right here on io9!

---
THE ALL-STAR ANNUALLY CONVENING COZY DETECTIVES CLUB IN
PARTIALLY NAKED CAME THE CORPSE!
AN AHOY COMICS FIFTH ANNIVERSARY EPIC SERIAL
PART ONE by GRANT MORRISON
1. Try Stopping Me Now!
The facts in the case were all too obvious; Murder had strolled in like it owned the joint, pulled up a chair and made itself very much at home.
Some of the sweeping swathes of blood on the walls seemed so suggestive of a secret assassins' alphabet they were crazy dead ringers for graffiti tags, thought Detective Jim "James" Toledowski. He'd already thrown up once into a cheery, accommodating trash can and would do so five more times until only dry retch and stringy bile acids remained to vex him.
Say, does that look like "I2LUVu2"? said Special Detective Rince Cormoran in charge of Violent Crime. How the hell do I explain something like that to the DA's office, let alone my wife and mistress?
Your wife and your mistress are one and the same? Police Sergeant Emo Verbiage interjected in that broad ham and pastrami accent he had no control over, emphasizing his point with a bright jagged clash of the brass cymbals he kept for such occasions. That's crazy talk, chief! We're looking at a psycho who likes to vandalize living human meat with specialist tools! There's no getting away from it, this poor dismantled asshole's blood and brains got swiped across the wall by a wiper as long as, or most likely longer than, Betty Grable's fabled legs.
Now that was the kind of image that could stick in "James"Toledowski's brain like a thorn in his big paw and because of that it did. All the damage was done that day, his first on the job in the Big Apple, as Fort Wayne, Indiana was known long before New York. At least as far as he was concerned.
"James" hadn't known then who the hell Betty Fable was, and he didn't care to know now neither. All he knew for certain was he'd been thinking about those damn grabled legs of hers for decades since that day when the Osiris Killer's gory work had motivated the queasy lawman to display for inspection his radically deconstructed lunch with its parmesan stink of butyric acid.
Why the Osiris Killer? Something to do with how the god Set cut his brother Osiris's body into pieces was all Toledowski could separate out from a steaming mess of speculation.
The shot glass rattled nervously in his hand the way the anxious bell above the door of a General Store does. How long had he been talking to himself anyways?
Legs shuttling and back and forth, the 30-denier of her expensive sheer stockings squeaking and sweeping a rainbow of brief clarity through a windscreen wet with Missouri raindrops, the kind that fell salt blue with all the tears of all those tender-hearted cowboys like him who rode a lonesome rig on a rhinestone highway!
Try as he might to put it out of his mind, the insistent mental picture of those multiplying lady limbs working in vain to clear an accumulating glass bead dazzle on his windshield would only kick its spurs and dig in deeper, throbbing, until his thoughts were left to limp along distracted as his mind grew feebler by degrees.
He wished some kindly Androcles would one day come along, take pity, and bring the whole damn attenuated metaphor to a merciful end by extracting it completely from his memory, then disinfecting the puncture wound it left with an injection of positive affirmation before PTSD found its way in . . .
—
To be continued in PROJECT: CRYPTID #1
For a complete list of all thirteen writers and installments, click here.
---
Partially Naked Came the Corpse begins next week when Project: Cryptid #1 hits shelves on September 6.

---
Want more io9 news? Check out when to expect the latest Marvel, Star Wars, and Star Trek releases, what's next for the DC Universe on film and TV, and everything you need to know about the future of Doctor Who.