Harrowing new video shows a large great white shark lunging for a chunk of tuna—and then wriggling its way inside a shark-proof cage with a diver inside. Thankfully no one was hurt, but the video is as horrifying as it sounds.

The incident happened near Guadalupe Island off the west coast of Mexico. Shark watchers were baiting the 13-foot great white shark when it came up against the supposed shark-proof cage and just swam right inside.
"What might appear to be an aggressive great white shark trying to attack the cage, this is not the case," wrote the cameraman on YouTube. "These awesome sharks are biting at large chunks of tuna tied to a rope. When a great white shark lunges and bites something, it is temporarily blinded. They also cannot swim backwards. So this shark lunged at the bait, accidentally hit the side of the cage, was most likely confused and not able to swim backwards, it thrust forward and broke the metal rail of the cage."
To the horror of the lone diver inside, the shark made its way in. Footage shows the boat crew quickly springing to action, opening the top door, allowing the writhing shark to squirm its way out of the cage. The whole thing took just a few seconds, but it must have felt like an eternity.

"The diver is a very experienced dive instructor, remained calm, and when the shark thrashed back outside the cage, the diver calmly swam back up and climbed out completely uninjured," noted the cameraman.
G/O Media may get a commission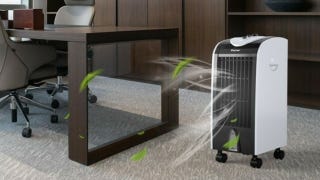 Save $10
Evaporative Portable Air Conditioner Cooler with Filter Knob
The video was posted on Gabe and Garrett, a YouTube channel that chronicles the adventures of two children from California. The video was shot by the father, who wrote, "This is not our usual kids content and Gabe and Garrett did not go on this trip." Probably a good thing.