So long, Philae: You were a plucky little lander, but it's time to say goodbye. The ground control team working with the craft has announced that it's finally giving up hope of hearing anything back from Comet 67P.
Last month, the German Aerospace Agency (DLR) reported that the chances of ever speaking to the probe again were slim—and growing slimmer every day. Now, it's announced that it's finally giving up hope. In a statement, Stephan Ulamec, Philae project manager at the DLR, explained:
The chances for Philae to contact our team at our lander control centre are unfortunately getting close to zero. We are not sending commands any more.
Landing the Philae probe on Comet 67P/Churyumov–Gerasimenko was a frankly mazing achievement. But sadly it didn't quite go to plan: When the lander touched down in November of 2014 it bounced twice and ended up in the dark shadow of a cliff. Without sunlight to charge via its solar panels, Philae quickly exhausted its power supply. Within 57 hours, it fell silent.
While Philae briefly awoke when it saw a little sunlight, it soon fell silent again. The lander's remained silent since July 9th 2015, and recent attempts to communicate with it were unsuccessful.
G/O Media may get a commission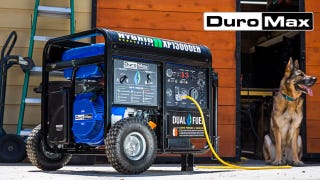 Black Friday Sale
DuroMax Generator Sale
The DLR expects the lander is now covered in dust and too cold to function. Sadly, the comet is now headed for an incredibly cold section of its orbit, where temperatures will drop below -290 degrees Fahrenheit—well below its design temperatures. "It would be very surprising if we received a signal again," condluded Ulamec.
[ESA]
Top: Artist's concept of Philae on the comet, via ESA