Someday your friend who's always strumming the guitar or singing in the shower or tapping his hands at the dinner table might become a rockstar. Help him, and make sure he remembers you when he's bigtime, with these guaranteed awesome gifts.
1. Saga Guitar Kit, $180: You can't jump into professional guitar lessons without understanding what a guitar is made from first. So gift a guitar kit! More often than not, building one will cost you a smidgen less than buying a normal one, plus you'll gain the invaluable knowledge of why guitars are built the way they are. And dude, it's pretty badass to build your own rig. [Amazon]

G/O Media may get a commission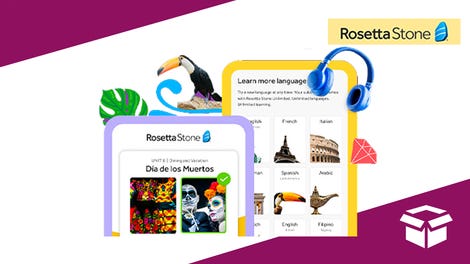 Extra 20% off
Rosetta Stone Lifetime Subscription - All Languages
2. Pick Punch, $25: Why let your friend continue to buy guitar picks when he could simply punch em out from various club cards? Being green and recycling totally vibes with musicians these days too. [Pick Punch]

3. Alesis DM6 Electronic Drumset, $392: Real drums are awesome but let's face it, they're fucking loud. And though purists may cry about stripping the soul of drums by going electronic, the neighbors of your Travis Barker-in-training won't. [Amazon]

4. AmpliTube iRig, $40: Let your musician friend mix up his guitar riffs with an iPhone (or iPad) through iRig. It's an adapter and iOS app that let's you plug in your guitar and headphones to the iPad and with the app, gives you control of stompbox effects, amps, cabinets and microphones. Plus, the app looks rad. [AmpliTube]

5. iTab, $200: The iTab, an electric songbook, clamps onto the guitar to give you GPS-like instructions on the song you're playing. If your musician friend is just starting out and will do whatever it takes to learn how to play the guitar (even look like a tool), it's a start. [Amazon]

6. Vestax VRX-2000 Vinyl Cutter, $14k: A budding musician would go ape shit to hear his own music on vinyl. Be the friend of a century by gifting him the Vestax VRX-200, an all-in-one vinyl cutter machine, so he can realize his dreams of listening to himself on wax (and pretend he's made it). [HTFR]

7. Polytune, $91: Even if he sings off tune, he needs his instruments in tune. The polytune can analyze a full strum all at once and tell you which strings need tuning. It's accurate +/- 1cent and more importantly, incredibly fast and easy to use. So you know, he can get back to making music. [Amazon]

8. Shure Super 55 Deluxe $250: It's a modern version of the mic that Elvis used and just looking at its vintage styling will bring the musician out of you. And since it's also a pretty damn good mic itself, it'll bring out the voice of your future rock star friend (or at the very least, make him feel like one). [B&H]

9. Life: Keith Richards, $16: Let your musician friend see the world of music through the words of perhaps the nuttiest rock star of them all, Keith Richards. His autobiography paints an incredibly detailed portrait of his legendary career, combining brutal honesty with rare insightfulness. Sex, drugs and rock and roll, no one did it with more out of this world flair. $16 [Amazon]

The burning sensation that comes from holiday shopping isn't from rubbing against the unwashed masses at malls: It's trying to pick out presents for everybody on your list. Gizmodo's daily gift guides and best gadgets list are the all-natural, non-smelly cure.