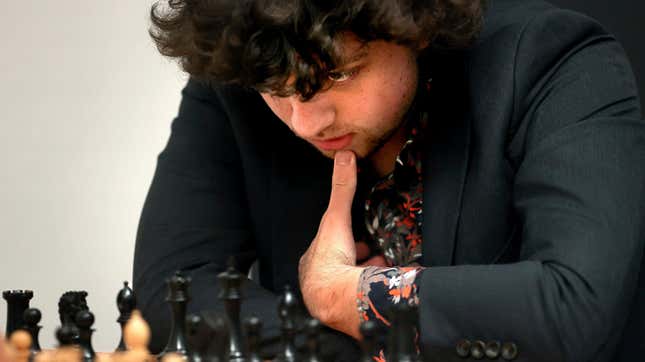 One of the greatest chess dramas of the 21st century hasn't ended with the bang of a chess-cheating vibrator hitting the floor but with the whimper of an arbitration agreement. On Monday, Chess.com and young "chess prodigy" Hans Niemann reached a settlement that will end the chess player's $100 million lawsuit in exchange for allowing him to again compete on the biggest online chess platform.
Taylor Lorenz Talks "Extremely Online"
This chess feud has been ongoing for nearly a year ever since world champion Magnus Carlsen accused Niemann of cheating after he lost in a game against him at the in-person St. Louis Sinquefield Cup chess tourney. It led to months of ludicrous takes and speculation about how the 20-year-old Niemann was cheating both online and in person, including the not-so-serious speculation of a vibrating butt plug informing Niemann of the best move. In a blog post update, Chess.com said it reached this settlement agreement alongside chess grandmasters Carlsen and Hikaru Nakamura that would put an end to any talk of litigation. With that, Chess.com said it will let Niemann back in to participate in more of its future events.
The 32-year-old Carlsen released a statement that didn't admit he was wrong, but that he was going to have to abide by the arbitration. He said he acknowledged Chess.com's "statement that there is no determinative evidence that Niemann cheated in his game against me at the Sinquefield Cup," further saying he would play against Niemann in the future, should they be unfortunately matched.
After the Sinquefield Cup, Carlsen would go on to resign against Niemann just two moves into a follow-up game at a separate tournament in protest. The world champion went on to make subtle and overt claims that Niemann was cheating. Chess.com then released its own findings in a massive 75-page report where the site said Niemann had been caught cheating in more than 100 other games of online chess prior to him becoming big on the world stage.
Chess.com claimed this settlement would allow them "to put our differences behind us" and go forward without any more talk of lawsuits hanging over their necks. Niemann's statement provided by Chess.com also signified he was going to "look forward to competing against Magnus in chess rather than in court."
Essentially, nobody is admitting they were wrong, and everything goes back to the status quo we had before the cheating scandal lit a fire that burned far beyond the rather insulated barriers of the chess world.
In a statement posted to his YouTube channel, Nakamura said he felt he was "dragged into the lawsuit" after he posted several videos and hosted several streams where he repeatedly claimed he thought Niemann had been cheating. He further said, "I don't think anyone's opinion is going to change at this point in time."
Niemann's original lawsuit didn't just contend the grandmasters and Chess.com were defaming him. He also alleged the site and Carlsen—through the chess champion's Play Magnus brand—were performing an illegal boycott of him using an anti-competitive monopoly because Chess.com was buying out Carlsen's brand.
In June, Missouri district Judge Audrey Fleissig agreed with Chess.com and the two grandmasters to dismiss the case, saying "individual chess players are not Chess.com's competitors." The judge further said that Niemann's ban was "not plausibly tied to any anticompetitive intent or effect" and there was no proof his ban "adversely affected competition among the professional chess tournaments."
Though Niemann filed an appeal, with the end to arbitration Niemann is dropping any attempt to relitigate. Chess.com, for its part, said Niemann "will be treated no differently from any other player" at all online tournaments and events.