David Fincher explains the appeal of 20,000 Leagues Under the Sea... and why he won't film it in IMAX. Doctor Who could have multiple fiftieth anniversary specials. Plus check out new images from The Dark Knight Rises, Prometheus, and The Hobbit!
Spoilers from here on out!
Top image from The Hobbit.
The Avengers
Stellan Skarsgård, who is reprising his Thor role of Erik Selvig, praises the movie while saying he basically just has a bit part in it:
"That [over]turns the idea of those big event movies. Because it's not enough to blow up cars. It's not enough to have gigantic special effects. Marvel has understood this and cast very good actors in their superhero movies. [I have a]very small role – there are a lot of people in funny costumes fighting for space there."
Here's an interview with Scarlett Johansson for her new movie We Bought a Zoo, in which she also discusses her role as Black Widow in The Avengers.

It's the same basic poses we've seen before, but here's another round of character posters. [IGN]
G/O Media may get a commission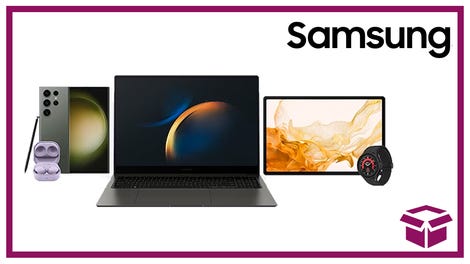 24 hour deals
Discover Samsung - Daily Deal
---
The Dark Knight Rises
Here are high resolution versions of the photos originally released in Empire Magazine. [Comic Book Resources]
---
Thor 2
Stellan Skarsgård says he's not sure if he will be back for the sequel, but it sounds like a distinct possibility — perhaps hinting Erik Selvig will survive the events of The Avengers:
"[It's] not decided because they haven't got a script yet. They're working on that, they've been talking about it but it could go the other way as well."
---
Ender's Game
Harrison Ford has reportedly been cast as Colonel Hyram Graff, who is in charge of training Ender Wiggin and the rest of the recruits. Abigail Breslin of Little Miss Sunshine and Zombieland fame has reportedly signed on as Ender's older sister Valentine Wiggin, and True Grit's Hailee Steinfeld is now all but confirmed as Petra Arkanian, Ender's most trusted ally, which means we're a Chloe Meretz short of this movie featuring every major child actress currently working. The rest of the child cast has reportedly been filled with Rendition's Aramis Knight as Bean, Hannah Montana costar Moises Arias as Bonzo, Let Me In's Jimmy "Jax" Pinchak as Ender's eldest sibling Peter Wiggin, Suraj Parthasarathy, Away We Go actor Conor Carroll as Bernard, and Khylin Rhambo as Dink. [Variety via The AV Club]
---
Prometheus
Here's two more brief sneak peek teasers counting down to the release of the trailer later today. They're light on new footage, but they should tide us all over until the trailer's official release. [First Showing]

And here's a new promo photo feature Michael Fassbender as David, who may or may not be a forerunner of later Alien androids like Ash and Bishop. [Empire Online]
---
The Hobbit: An Unexpected Journey
Here's a couple posters for the first half of Peter Jackson's Hobbit adaptation. [IGN]
Here's a bunch of set photos from the filming in the North Island of New Zealand, some of which are of wooded areas for the outskirts of the Shire, while the rest show mountain locations used for an unknown part of the story. You can read a full report at the link, most of which recounts the fascinating interplay between filmmakers and local Maori tribes for use of sacred lands for the movie. [Ain't It Cool]
---
The Adventures of Tintin: Secret of the Unicorn
Director Steven Spielberg explains how he took advantage of working in a computer-animated format:
I stuck the camera in places that would be impossible to stick it on a live-action film. I did long, continuous shots. There's a three-minute chase at the end of the second act that I never could have done in one continuous shot without a lot of digital tricks in a live-action movie to get it to seem like it was one shot. Here, I was just able to do a real-time chase. It took about a year and a half to get it on film. But it was worth it. Because of the medium of animation, suddenly my imagination wasn't limited by the exigencies of physical outdoor production. All the production was from the imagination right to the computer and there's nothing better than that.
---
20,000 Leagues Under the Sea
Director David Fincher explains what appeals to him about adapting Jules Verne's legendary novel:
"The idea of a post-Civil War version of science fiction and the notion of being able to breathe underwater was so radical in its thinking. That's pretty cool. If you're going to do big tent-pole teenage PG-13 summer movies, it's kind of cool that it would be this."
Speaking of which, don't expect Fincher to shoot this or any of his other future films in IMAX:
No. They're going to have the digital equivalent of IMAX very shortly. I don't like the idea of changing fidelity in the middle of a movie just to say, "Here comes some big sh–!" Whatever Brad Bird or Chris [Nolan] do is fine by me. I normally think in terms of homogenization. I want to be able to count on a kind of resolution and depth of field. I never saw "The Dark Knight" in IMAX. I could definitely see a difference in fidelity of the IMAX sequences. But to each his own.
[MTV]
---
The Darkest Hour
Here's a viral video showing a Russian reporter broadcasting from the middle of Moscow, right before a bunch of aliens show up. Judging by its title, "Reporter Killed on Camera", it doesn't end well for him. [Shock Till You Drop]

---
Cloud Atlas
Here's a behind-the-scenes set photo of directors Tom Twyker, Lana Wachowski, and Andy Wachowski along with the film's producers, original author David Mitchell, and a bunch of props from their adaptation of Mitchell's novel. Click the link for a full breakdown of where these props likely fit into the movie. [/Film]
---
Ray Gunn
Fresh off the success of directing Mission: Impossible - Ghost Protocol, Brad Bird gives an update on his plans for this traditionally animated film that he has described as "an action movie film noir with a sci-fi edge, but it was the future as imagined in the 1930's." Here's where the project stands:
"It's not like I can do them without Warner Bros.' cooperation, but I would say that regimes change and one of the nicest things about making movies is that hopefully you un-scare people. There's a lot of fear in the movie industry because of the amount of money and resources that are involved and your goals are as elusive as what's going to entertain people of all different shapes and sizes. If you think about it in a logical way, it's an impossible job. You just kind of go forward and say, 'I'm going to make a movie that I want to see, and I hope people will join in'. [Then] I think you have a chance at doing something. Hopefully I've un-scared people about handling a live action film and I would dearly love to have more opportunities to make them."
---
Hansel and Gretel: Witch Hunters
The movie in which Jeremy Renner and Gemma Arterton play grown-up versions of the fairy tale characters who go around as witch-killing vigilantes — which is a real thing that actually exists — has moved its release date from reasons unknown. Paramount has reportedly moved the movie from March 2, 2012 to sometime in the fall. [Fangoria]
---
John Dies at the End
Here's a poster and bunch of promo photos for this film from Bubba Ho-Tep and Phantasm director Don Coscarelli, in which a pair of college dropouts try to stop a new street drug that hideously mutates all who take it. The supporting cast includes the like of Paul Giamatti, Doug Jones, and Lex Luthor/The Kurgan himself, Clancy Brown. [Fangoria]
---
Doctor Who
Steven Moffat talks up the plans to celebrate the fiftieth anniversary in 2013, suggesting there may be multiple episodes devoted to marking the big anniversary:
"Why talk in the singular? The plans are at an early stage, but we have some very clear ideas about some of the things we're doing, and I think Doctor Who fans and kids will think it's the best thing ever. We've got a load of very big plans – the mere fact that we're talking about this two years before the event should tell you how seriously we're taking it."
Elsewhere, Moffat suggests that the stress of the job as executive producer is such that he will have to step down sooner rather than later, perhaps as soon as the seventh series and fiftieth anniversary specials are wrapped up:
"I never find any time to relax. ll the stuff that surrounds it can be relentless. I haven't got a plan but I am definitely going to be handing it to someone else."
Of course, it's no big secret that running Doctor Who is extremely time-consuming, and that isn't even the only show Moffat is running. This could just as easily be a brief bit of griping as any serious indication he is leaving anytime soon. For what it's worth, he later tweeted, "Re: the Mirror - I'd like to assure you all I'm absolutely fi"... and then just stopped there, so make of that what you will. [The Daily Mirror]
And here's one more interview with Moffat. [Life, Doctor Who, and Combom]

---
Chuck
Here are two sneak peeks for this Friday's Christmas episode, "Chuck vs. the Santa Suit", including our first look at Stan Lee's cameo as a spy version of himself. You can also check out the link for some additional analysis. [BuddyTV]

Here's a short synopsis for episode ten, "Chuck vs. Bo", in which eighties sex symbol Bo Derek guest stars as herself:
Chuck and Sarah must go to Vail on one last mission, where they get some help from Bo Derek; Jeff and Lester continue their mission.
[ChuckTV]
---
Once Upon a Time
[gallery 5870238] Here's a bunch of promo photos for the midseason premiere, "Desperate Souls." [BuddyTV]
Here's a list of upcoming episode titles:
Episode 1.08 - Desperate Souls
Episode 1.09 - True North
Episode 1.10 - 7:15 A.M.
Episode 1.11 - Fruit of the Poisonous Tree
Episode 1.12 - Skin Deep
Episode 1.13 - What Happened to Frederick
Episode 1.14 - Dreamy
---
Touch
Here's a new promo for Heroes creator Tim Kring's new show, starring Kiefer Sutherland.

---
Supernatural
Here's a synopsis for episode twelve, "Time after Time after Time", which airs January 13:
JASON DOHRING ("RINGER," "VERONICA MARS") AND NICHOLAS LEA ("THE X-FILES") GUEST STAR; DEAN GETS STUCK IN THE '40S - Sam (Jared Padalecki) and Dean (Jensen Ackles) tangle with the God of Time (guest star Jason Dohring), who sends Dean back to 1944, where he is immediately arrested by none other than the one and only Eliot Ness (guest star Nicholas Lea). While trying to figure out how to retrieve his brother, Sam is surprised by the reappearance of an old friend.
---
Sherlock
Here are some more promo clips for the second series of Steven Moffat and Mark Gatiss's Sherlock Holmes adaptation, starring Benedict Cumberbatch and Martin Freeman.

---
Sanctuary
Here are some promo photos for episode twelve, "For None (Part One)." [SpoilerTV]
---
The Secret Circle
Here's a sneak peek for episode ten, "Darkness."

---
Additional reporting by Gordon Jackson and Charlie Jane Anders.