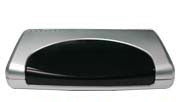 By now everyone's heard of (and is using?) the Slingbox, which takes your home's TV signal and retransmits it to another device, such as your laptop, when you're on the road or just in another room. This idea of "place shifting" has really caught on, at least with the tech savvy crowd, as a means of liberating it from the icy grip of terrible hotel TV. Since success breeds competition (or is it the other way around?), Snappy Multimedia is trying to get in on the "place shifting" action with it HAVA Video Streamer.
Essentially very similar to the Slingbox, the HAVA Video Streamer distinguishes itself from its rivals by offering a number of advanced features that may endear it to power users. For example, in addition to being able to function as a wireless access point, the HAVA can wirelessly connect to routers. This means that if your router's in one room but the TV cable is in another, you no longer have to lay hundreds of feet of ethernet cable in order to retransmit the signal across the Internet. Snappy also claims that its HAVA is able to retransmit signals with DVD-level quality; the fact that it supports MPEG-2 and MPEG-4 certainly lends some credence to this claim.
It's also worth noting that the HAVA supports multiple simultaneous users watching over a home network thanks to super secret Space Age technology. Snappy Multimedia's HAVA Video Streamer is expected to be available on July 17 for $249, though you can grab it for a limited time for $199.
Product Page [Snappy Multimedia via The Red Ferret Journal]