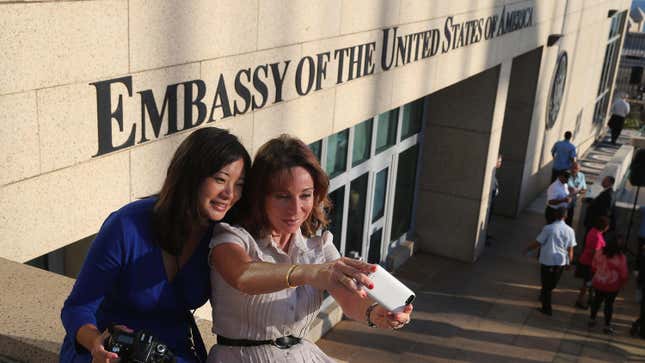 Yet again, another report based on U.S. intelligence sources has re-re-realleged that the mysterious "Havana syndrome" wasn't brought on by some foreign adversary wielding strange energy weapons. As to any other possibilities for hundreds of U.S. officials experiencing a constellation of symptoms while working overseas, the intelligence community still doesn't have any real idea what happened, or why.
Vizio's Latest TVs Go All Quantum
The Washington Post reported Wednesday based on five unnamed sources from the U.S. intelligence community that an internal report concluded it's "very unlikely" an enemy wielding some secret weapon were behind the mysterious reports of Havana syndrome. Since 2016, there's been a swathe of U.S. diplomats and intelligence agents reportedly being hit with damaging injuries after describing piercing sounds or intense pressure in their head. Others have described symptoms of dizziness and fatigue. Hundreds of U.S. officials working overseas have described these issues from multiple different countries, which has led to rampant speculation Havana syndrome is caused by a foreign attack or newfangled surveillance apparatus.
Two unnamed intelligence officials familiar with the government investigation told the Post that seven intelligence agencies, including the CIA and State Department, conducted an internal report, recently finalized. The agencies reviewed approximately 1,000 cases involving officials who claimed a whole host of symptoms. Five of those agencies reported it was "very unlikely" Havana syndrome is caused by a foreign country, whether by accident or on purpose. One other agency hedged only slightly while saying it's "unlikely" Havana was the fault of a foreign adversary. The last agency abstained from providing a final conviction, though all did conclude a foreign actor did not cause the strange symptoms.
According to one of the anonymous intelligence sources, the U.S. had the tools and capability to monitor for any kind of attack targeting personnel, and yet "there was nothing." The agencies also concluded foreign governments having a weapon capable of causing these injuries was "very unlikely."
It follows years of leaked reports on the ongoing investigations into the mysterious symptoms. A 2022 interim report from the CIA also confirmed it wasn't caused by a foreign adversary. In 2021, a leaked scientific review from the State Department concluded it wasn't because of microwave weapons. These agencies are going against the suppositions a panel convened by the intelligence community. Last year, the panel of experts said a foreign power could have used some kind of electromagnetic device to cause the injuries.
Much of the speculation about a "microwave" device involved in Havana syndrome was driven by a 2020 report in the National Academies of Sciences, Engineering, and Medicine though scientists across the world have offered a good deal of pushback. The report writers even noted they were hurt by a lack of information provided by the U.S. government, which originally requested the report. According to the Post's report, the National Academies of Sciences still believes the microwave weapon theory remains "viable." 
The State Department during former President Donald Trump's tenure was shown as incredibly inept in its initial investigation into Havana syndrome. There's been civilian attempts to discover what was behind Havana syndrome, including podcasts investigating those who suffered from symptoms, but the conspiracies linger on.