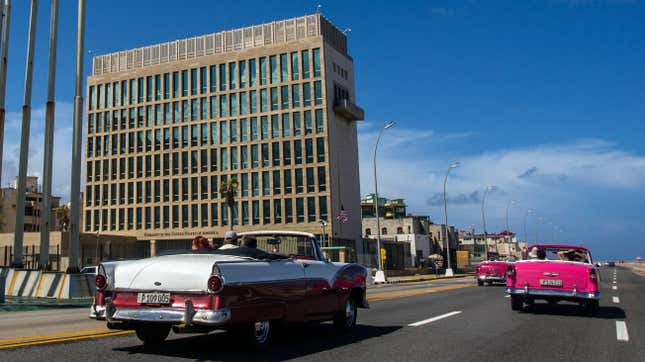 In the summer of 2017, reports of American and Canadian diplomats developing an unusual illness while stationed at their embassies in Havana, Cuba first emerged.

Caleb McLaughlin Wants to Play Static Shock
These cases, which actually began in late 2016, seemed to follow a similar pattern: People would experience acute symptoms like nausea, headaches and hearing loss, which often appeared after they had heard strange noises in their vicinity, and sometimes an accompanying pressure on their heads. Many of these people would go on to have lingering memory or neurological issues, to the point of needing to leave their jobs altogether.
The constellation of symptoms experienced by these people eventually became known as "Havana Syndrome." But over a half decade later, little has been conclusively established about what truly happened about them. Microwave radiation, sonic weapons, and toxic pesticides have been theorized as potential causes, while some scientists have fiercely argued that there might not be a biological explanation at all—that these cases actually represent a sort of social contagion, a shared belief potent enough to induce physical illness. And under the assumption that these people were attacked, various camps have pointed the finger at different culprits, including Cuba and Russia. U.S. government agencies have disagreed with one other about the likely cause or have backtracked from their original theories. Meanwhile, there have been claims of possibly related incidents involving government employees in the years since.
Nicky Woolf, an investigative journalist in the UK, and his team are the latest to step into the fray. In their new eight-part podcast series debuting Monday, The Sound: Mystery of Havana Syndrome, they try to piece together the disjointed clues surrounding these events.
I spoke with Woolf, who has written for the Guardian and the New Statesman and recently investigated the QAnon movement, about his efforts to get the bottom of what happened, the catchy origins of the moniker, and the political fallout that's emerged as a result. This following conversation has been edited and condensed for clarity.
Ed Cara, Gizmodo: We've covered these cases and new developments over the years, as many media outlets have. What drew you to dive deeper into this mystery?
Woolf: Well, it was really hearing the stories of these people, these—we've come around to calling them victims. But their stories are just so stark, and you can see how powerfully this has affected them.
It was very clear early on that something was going on. But in a way, from the outside, I'd sort of made assumptions of this story that quite quickly didn't seem to be true. And so my "What the hell's going on?" response got triggered.
Gizmodo: As you allude to, there've been countless theories and debates about what has happened, both in political and scientific circles. How has it been for you, as an investigative journalist, trying to adjudicate this? Which views deserve a proper hearing or not?
Woolf: The way I had come to look at it is almost like it was a trial, and that I was sort of a lawyer. And so throughout the show, we go through each of these theories that have come out in a sort of Occam's Razor way—to try to test each one out. At one point, we have a physicist friend of mine build a couple of test devices to try out. And we tried to be quite rigorous about it.
There were a few theories that were more easy to knock down than the others. There's the scientific elimination, since some things just aren't physically possible. And then there's the circumstantial elimination, where some things just don't fit with the patterns. So that was the approach we took.
Gizmodo: In my own reporting, I've covered the scientific debates over the phenomenon. But you also highlight the political ramifications, given how the U.S. and Cuba had just started to relax their long-standing tensions. Regardless of the exact cause, how has what happened changed the relationship between these two countries?

Woolf: Yeah, that's the other really stark thing that became clear when we visited Havana—just how huge the impact of this has been. It's devastated the entire country. Because we're talking about people who put their life savings into opening hotels, Airbnbs, for the huge amounts of tourists. But then that all completely went away again. When we were there, there were half-built hotels all over the place, and ginormous cruise ships and docks that were half built. Everything kind of felt abandoned.
There's something fantastic about the way Havana is kind of a time capsule, right? You go in and see the old cars. But for the Cuban people, they've been isolated from the U.S. and from everywhere, in a way, due to the country being on the U.S. state sponsor of terror list, which it was briefly removed from [in 2015] and then put it back on again [in 2021] by the Trump administration. That can even affect Europeans, and my ability to go to the U.S. changed once I'd been to Cuba as well. So that really isolates it from the rest of the world, and it's been heartbreaking to see.
Gizmodo: A theme you touch on several times is the compulsion for people to name the unknown. And obviously here, we're talking about something that's been coined "Havana Syndrome." Why did that name stick? And what sort of downstream effects has that label had?
Woolf: I mean, it's catchy. That's the problem with it. It's got a certain ineffability to it. It sounds mysterious—Havana—it's got that kind of Hemingway vibe to it.
But the theme from almost everyone we spoke to, from the Cuban government, obviously, but also American investigators, the scientists we spoke to, everyone agreed, and we agree, that the name is truly a bad thing. It lays blame. And that's led to a lot of the impact on the relations with Cuba. The power of that name itself has been a big part of the geopolitical impact.
Gizmodo: In the first episodes, you do a great job of planting the breadcrumbs that you're planning to have the audience follow. Without necessarily spoiling the show, do you think listeners are going to be satisfied by where this journey ends?
Woolf: I think so. I want to come back to that idea that we're laying down this case in an almost legalistic kind of way. And it's an incredibly difficult story, because there's so much going on, and so much evidence was screwed up in the initial gathering phase. But I think we've come to a compelling laying of the case.
---
The Sound: Mystery of Havana Syndrome is produced by Project Brazen and PRX, in collaboration with Goat Rodeo. It's available on these platforms.