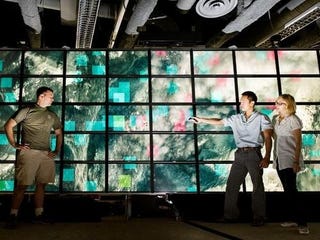 If you're bummed that SETI@home hasn't quite succeeded in pinpointing our friendly extraterrestrial neighbors, National Geographic is offering up another ambitious project you can get involved in at home: surveying the Mongolian region that holds Genghis Khan's tomb.
NatGeo's Valley of the Khans project allows armchair archaeologists to sift through satellite imagery of the region—multispectral shots provided by the GeoEye-1 and Ikonos sattelites—and mark what they think could be ancient roads, rivers, or other anomalies. And that's only one aspect of this high-tech effort.
At the University of California in San Diego, researchers are employing a HIPerSpace (Highly Interactive Parallelized Display Space) wall—seen above—to visualize huge expanses of the Mongolian region, scaling into the billions of pixels.
And then there's the StarCAVE, an Earthquake-proof, 3D visualization room which surrounds researchers with images in better-than-HD resolution—it's a few square feets' worth of Northern Mongolian vista, perfectly reproduced thousands of miles away in California.
You can find out more and join the Field Expedition team for the Valley of the Khans project over on National Geographic's site. And if hunching over your laptop wasn't exactly how you envisioned your swashbuckling archeological adventure, you can always compliment your pajamas with an Indiana Jones fedora. [National Geographic's Valley of the Khans Project]