The spooky month of Halloween (yes, it's a full month now) has come and gone, and gamers are getting ready to bring their new favorite board games and tabletop roleplaying games home to try out with their families and friends. At least, that's what we're doing! In this latest Gaming Shelf, we look at some of the coolest fantasy, sci-fi, and other genre games hitting shelves now, as well as the ones we're looking forward to.

---
News and Releases
Men in Black/Ghostbusters: Ecto-terrestrial Invasion
Last week IDW Games and Sony Pictures Consumer Products revealed the two companies would be developing a new series of tabletop games based on the Ghostbusters and Men in Black franchises. The most interesting product of that partnership is a crossover game, Men in Black/Ghostbusters: Ecto-terrestrial Invasion, that will include detailed collectible miniature versions of Venkman, Zeddmore, Stanz, and Spangler as they team up with Agents J, K, L, and Zed to battle ghosts, aliens, and possibly some kind of intergalactic hybrid of the two. Could this pave the way for a Will Smith cover of the Ghostbusters theme song?
---
Night of the Living Dead
Fans of zombie board games like Dead of Winter will be pleased to hear that CMON has acquired the rights to Night of the Living Dead, George A. Romero's horror classic that inspired the entire zombie genre. The company's plan is to make tabletop games and play accessories, including miniatures. CMON is expected to launch a Kickstarter for the first game sometime in 2019.
G/O Media may get a commission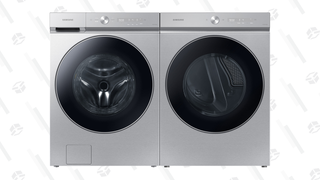 Get $500 back in credit
Last Chance: Samsung Bespoke AI Washer and Dryer Preorder
---
Candy Land: Willy Wonka & The Chocolate Factory
Even if you preferred Monopoly's cutthroat race around the board to gobble up properties, every kid can remember playing the more gentile Candy Land, which had you competing against friends through a sugar-coated utopia. USAopoly, know for upgrading classic board games with modern themes, has given Candy Land a Willy Wonka facelift that has players guiding Oompa-Loompas through the candy magnate's house of horrors—err, chocolate factory. It's available now on Amazon for about $30.
---
Highlander: The Board Game
River Horse has finally released Highlander: The Board Game, a tabletop miniatures game based on the cult fantasy film. Two to six players take on the roles of immortals from the film (or original game creations), preparing for the final battle to win "the prize" by living entire lifetimes, gathering allies, and training. The game features stories by sci-fi and fantasy writer Graham McNeill, with art design by Alessio Cavatore and Jack Caeser.
---
Axis & Allies & Zombies
As if fighting back the Axis nations wasn't already a herculean task for the Allies, a new board game from Avalon Hill puts players in an alternate timeline where fallen soldiers turn into zombies, further complicating the military logistics of World War II. Axis & Allies & Zombies allows two to five players to command one of five major world powers as you strategize to win the war. But each battle can be even more costly because troops who don't survive add to an ever-growing zombie army, requiring a different approach to wartime tactics.
---
Jonathan Strange and Mr. Norrell: A Board Game of English Magic
A strange one indeed. Osprey Games has announced it's adapting Susanna Clarke's alt-history fantasy novel into a board game, called Jonathan Strange & Mr. Norrell: A Board Game of English Magic. Players take on the role of key characters like Jonathan Strange, Mr. Norrell, Miss Redruth, or John Segundus, traveling around England and Europe "attending social engagements and performing feats of magic" in order to gain fame. It's for two to four players, and is set to come out in June 2019.
---
Dead Man's Cabal
It's our party, and we'll raise the dead if we want to! Pandasaurus Games has revealed its latest strategy game is Dead Man's Cabal, where players take on the role of lonely necromancers trying to bring the dead back to life so they can throw the world's most epic party. This one sounds really exciting—we love board games that add a humorous twist to the macabre—especially since it involves collecting skulls and laying them on an offering to revive a fake version of Spuds MacKenzie. Dead Man's Cabal is set to come out in April 2019.
---
Expansions
New California (Fallout: The Board Game)
Fans of Fallout: New Vegas will be thrilled to learn that Fantasy Flight Games has released its New California expansion to Fallout: The Board Game. This expansion includes an expanded map with 12 new tiles and five new characters, including a playable Mister Handy. Because who wouldn't want to be a robot who's struck out on his own because humans are dumb and caused the end of the world?
---
Darkness Falls (Sword & Sorcery)
The second campaign expansion for Sword & Sorcery, Darkness Falls, officially hit stores a couple of week ago. It introduces 20 new undead enemies like Death Knights, werewolves and vampires, two additional master enemies, 14 modular board expansions, and new Act II cards. The game's campaign plays out across seven new high-level quests using Sword & Sorcery's Storybook + Book of Secrets approach to drive gameplay, using story as player's work to complete the larger Immortal Souls campaign.
---
Across the Galaxy Vehicles and Mods Boosters (Star Wars: Destiny!)
More often than not, the vehicles and sidekicks outshine the main characters in the Star Wars universe. So Fantasy Flight Games is introducing a new collection of booster packs for its Star Wars: Destiny! card game called Across the Galaxy that are designed to specifically mod, upgrade, and improve the ships in your fleet with new weapons and abilities—even adding droids, which always seem to have a knack for saving the day.
---
Unbound: A Masks Supplement (Masks: A New Generation)
Unbound is a new sourcebook for the superhero roleplaying game Masks: A New Generation. The sourcebook includes four new playsets, including what can only be described as "the cosmic roadtrip adventure of Apocalypse Sonata." It's recommended that players have a familiarity with Masks before taking on these new adventures.
---
Crowdfunding
Turn: A Tabletop Roleplaying Game
Turn is a slice-of-life roleplaying game with a supernatural twist: All of the players are shapeshifters, trying to navigate their personal lives with their magical identities while living in a small town. Stories run from the mundane day-to-day to the intensely personal. There might be a town election, or maybe a player's family member has fallen ill. But they also have to juggle their supernatural needs, like finding food or avoiding the urge to kill. Turn is on Kickstarter through November 30.

---
The Everrain
The Everrain is a cool cooperative game for one to four players, taking place in a world facing a non-stop downpour—also known as the Everrain—as an ancient god reawakens and decides to flood the world. Players have to find the source of the Everrain and try to stop it before the planet drowns. The Everrain has been fully funded, and will be on Kickstarter through November 23.
---
Girl Genius (Munchkin Steampunk)
Munchkin Steampunk is crowdfunding a new expansion that's based on a webcomic—specifically, the steampunk webcomic Girl Genius by Kaja and Phil Foglio. The expansion includes cards for the series protagonist Agatha and her companions, as well as how to become what the series calls a Spark, which in this case is a special class that's a mix of mad scientist and inventor. Girl Genius has already been funded, and will be on Kickstarter through November 21.
---
Bastion
Bastion is an Afrocentric fantasy roleplaying game that takes place "in the last city at the edge of oblivion." Players take on the role of warriors called Fihranka, roaming the wasteland of a post-apocalyptic world to find survivors and help those in need. And no, it's not based on that other Bastion game, but is something all its own. Bastion will be on Kickstarter through November 21.
---
Reavers of Midguard
Reavers of Midgard is a standalone worker placement game that's set in the world of Champions of Midgard, a popular fantasy game series. It features gorgeous artwork and a lot of audience demand—it was fully funded within the first six minutes. Still, the gaming company has plenty of stretch goals, and will be on Kickstarter through November 20.