Since James Wan is still filming Aquaman, it won't be out for well over a year. Happily Wan sent Jason Momoa from Australia, where the movie is being filmed, to Comic-Con to show fans a little something from the film—but only the few thousand fans who made into the Warner Bros. panel. But that's not going to stop us from telling you all about it.
A couple men are fishing on a boat, as the French song "La Mer" plays. It's a very serene scene, until they catch something—which stars pulling away so fast it actually starts dragging the oat into the water. But finally, the fisherman's pole gets pulled away.
The fishermen look underwater and see a giant ship. The camera cuts up, where there are more ships, and then cuts up again, and where of course there are even more ships. As a weird creature with three fins swims by, the camera dives underwater to show an entire undersea armanda of ships below the surface, along with people riding fish and what looks like an underwater seaport (although it looks a lot like a traditional scifi spaceport).
Cut to Aquaman, who appears to be standing on a broken boat on the bottom of the sea. "You don't want to talk about this, do you?" He asks someone off-screen. When he gets no response, he twirls his sword, and admits, "Neither do I."
Asked later in the panel whose ship it was, Momoa said, "That's Ocean Master's army." That's answer doesn't make total sense, but if this means Aquaman is about to fight his half-brother Oceanmaster and his entire army with a single sword after launching himself the wreck of one of the soldier's ships, I've got no problems here.
G/O Media may get a commission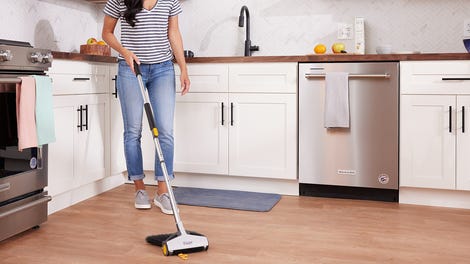 BOGO 50% Off
Flippr - BOGO 50% Off
Aquaman opens December 21, 2018.