It's only been about a year since we were ramping up to the arrival of Marvel's big comic shakeup in "All-New, All-Different"—but here we are, days from the beginning of its next one: "Marvel Now" (not to be confused with the first "Marvel Now" that preceded "All-New, All-Different", mind you!). Not sure what's going on? Neither are we but, we'll try to help.

Marvel's Heroes Stand Divided...
The heroes of the Marvel Universe haven't been seeing eye-to-eye for what feels like ages at this point—first of all, you've got Steve Rogers running around as an active agent of Hydra (although only because his brain's been fiddled with), attempting to undermine everything he and his allies have worked for, and then you've got the currently ongoing Civil War II, which is dividing our heroes into scrapping sides over a young Inhuman named Ulysses.
G/O Media may get a commission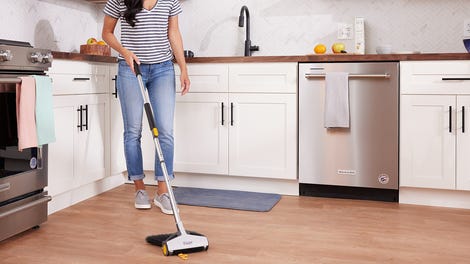 BOGO 50% Off
Flippr - BOGO 50% Off
When the new "Marvel Now" begins, it's set in a period after the end of Civil War II—but while that divisive conflict is over, the wounds it created are not. Carol Danvers and Tony Stark's war will continue to have ramifications for the Marvel universe, with some heroes dead, some teams fractured, and new heroes rising up to fill the gaps. Although apparently a giant monster invasion is on the way to force these embittered heroes to band together once again, for now, the conflict permeating Civil War II will still run deep into the early days of "Marvel Now."
...But We Don't Know Exactly Why
The problem is, with several major new series kicking off this week, we still don't know why those divides still exist, because Civil War II hasn't ended—and now won't, thanks to extensions and delays, end until the very end of the year.
The same happened last year with Secret Wars coming to a close months after "All-New, All-Different" kicked off, but at least then readers knew going in the rough basis for the relaunch: Secret Wars had blown apart most of the Marvel Multiverse, and a new universe had been re-jiggered in its place. However, we don't even really know that about Civil War II. Who "wins"? Are more heroes doomed to die? What actual event will lead to the uneasy status quo "Marvel Now" resides in?
There are series launching this week that this directly impacts—specifically, Champions, which sees several current members of the Avengers quit the team and form their own activist hero group—but it's going to be interesting (and very weird) to see how these new series address the state of the Marvel Universe before we get to see how the incident that brought that state about actually unfold.
My head hurts just thinking about it.

There Are a Bunch of New Books...
A new relaunch means a ton of new books—and sometimes that means heroes we've not seen for a while are getting their own series again, or it means familiar faces teaming up for new adventures together. Marvel is quick to claim that not every series that's part of "Marvel Now" has been revealed yet—several have been announced since their original blast of 60 books was first revealed in July—but for now, we know the vast majority of the new series forming up.
Interesting new series? Well, the young new Wasp, Nadia Pym, is getting her own book, and Jessica Jones is making a long-awaited return with her own self-titled series in the wake of the Netflix show's success. Original Nova Richard Rider is teased to be making a return, while obscure classic characters like Fool Killer, Slapstick, Solo, and even the Great Lakes Avengers are getting spotlights.
...But Not Every Series Is Starting Over Again
Unlike Secret Wars however, not every current, continuing series is getting a brand new number #1—to make "Marvel Now"'s chronology even more confusing, certain titles that are currently ongoing as part of "All-New, All Different" will keep their numbering as if nothing's happening.

Here's the list of what's currently known to be carrying on regardless, just in case you were alarmed to not see a new number one in Marvel Now's ginormous checklist:
Black Panther, by Ta-Nehisi Coates (W) and Chris Sprouse (A)

Black Widow, by Mark Waid (W) and Chris Samnee (W/A)

Captain America: Sam Wilson, by Nick Spencer (W) and Daniel Acuna (A)

Captain America: Steve Rogers, by Nick Spencer (W) and Jesus Saiz (A)

Daredevil, by Charles Soule (W) and Ron Garney (A)

Deadpool, by Greg Duggan (W) and Mike Hawthorne (A)

Deadpool & The Mercs for Money, by Cullen Bunn (W) and Iban Coello (A)

Doctor Strange, by Jason Aaron (W) and Chris Bachalo (A)

Moon Girl and Devil Dinosaur, by Amy Reeder (W), Brandon Montclare (W) and Natacha Bustos (A)

Moon Knight, by Jeff Lemire (W) and Greg Smallwood (A)

Ms. Marvel, by G. Willow Wilson (W) and Takeshi Miyazawa (A)

Patsy Walker, A.K.A.Hellcat!, by Kate Leth (W) and Brittney L. Williams (A)

Power Man & Iron Fist, by David Walker (W) and Sanford Greene (A)

Punisher, by Becky Cloonan (W) and Steve Dillon (A)

Silk, by Robbie Thompson (W) and Tana Ford (A)

Silver Surfer, by Dan Slott (W) and Mike Allred (A)

Spider-Gwen, by Jason Latour (W) and Robbi Rodriguez (A)

Spider-Man, by Brian Michael Bendis (W) and Sara Pichelli (A)

Spider-Man 2099, by Peter David (W) and Will Sliney (A)

Spider-Woman, by Dennis Hopeless (W) and Veronica Fish (A)

Squadron Supreme, by James Robinson (W) and Leonard Kirk (A)

The Mighty Thor, by Jason Aaron (W) and Russell Dauterman (A)

The Totally Awesome Hulk, by Greg Pak (W)

The Unbeatable Squirrel Girl, by Ryan North (W) and Erica Henderson (A)

The Unbelievable Gwenpool, by Christopher Hastings (W) and Gurihiru (A)

Thunderbolts, by Jim Zub (W) and Jon Malin (A)

Uncanny Avengers, by Gerry Duggan (W) and Pepe Larraz (A)

Uncanny Inhumans, by Charles Soule (W) and Kev Walker (A)

The Big New Changes
There is a lot—a lot—we don't know about "Marvel Now" yet, despite the fact it kicks off this week. But we do know about some of the biggest changes coming to the Marvel Universe that are of interest to dedicated followers of Marvel Comics:

Ms. Marvel, Nova, and Miles Morales quit the Avengers. The fact that they were some of Marvel's most popular young heroes was why Kamala, Sam, and Miles being official Avengers for All-New, All-Different Avengers a big deal, but now the teens are rebelling: Disgusted with the way the adult heroes, particularly fellow Avenger Iron Man and Kamala's idol, Captain Marvel, have conducted themselves in Civil War II, the trio rescind their Avengers memberships and set up a new superhero team alongside the Totally Awesome Hulk, young Cyclops, and Viv Vision (from the excellent Vision series).
Tony Stark is gone. We don't know how, and we don't know why, but Tony Stark is not a part of "Marvel Now." He only lives on as an A.I. for another hero. Speaking of which...
There's two Iron Men now. With Tony's absence, two people are stepping up to the plate to take on the Iron Avenger's mantle. Only one of them is an Iron Man, however: Victor Von Doom, who's giving his old suit of armor a Starkian twist to become the star of Infamous Iron Man. Meanwhile, Riri Williams, a young African-American MIT whiz kid (and the one getting the Tony Stark A.I.), will become Iron Heart, Tony's direct replacement in the Invincible Iron Man series.
Thor Odinson is back—but he's not replacing Jane Foster. It's been a few years since the Thor movie viewers know has actually been Thor: ever since he was declared unworthy to lift Mjolnir, he's been virtually absent from the Marvel Universe while Jane Foster became the Goddess of Thunder. He's back in The Unworthy Thor—and while Jane is going nowhere, the Odinson will be on a quest to find his place in the world once more.
The X-Men and Inhumans are going to war. It's a conflict that's brewing since "All-New, All-Different" Marvel began, and it's finally coming. The Terrigen mists that keep creating new Inhumans is poisoning and sterilizing mutants, and with the remnants of Mutantkind facing their last stand, they're striking out to end the source of their current woes once and for all.
There's two Peter Parker Spider-Man series now. The Amazing Spider-Man ongoing is splitting into two different series for now, essentially. One is the upcoming event series The Clone Conspiracy, set in the current Marvel reality following Peter Parker dealing with the clone-crazy villain the Jackal. The other, Amazing Spider-Man: Renew Your Vows, is a continuation of the alternate reality introduced in Secret Wars in which Peter Parker and Mary Jane Watson never sold their marriage to the literal Devil (it's a long story). If you've been itching to see Peter and MJ together again, don't get too excited if you see Renew Your Vows on shelves, because it's not quite "canon." (For now?)