A coalition of 13 different think tanks and advocacy groups penned an open letter to the U.S. House Judiciary Committee on Monday warning lawmakers about two major antitrust bills that lawmakers are set to vote on later this week. Instead of wrangling Big Tech, the letter says, these bills would "dramatically degrade" if not outright break the gizmos and gadgets we love using every day.
"We believe that voters want Congress to fix things that are broken—not break or ban things that they feel are working well," the letter reads. "We strongly encourage you to reject these proposals."
What that letter (naturally) leaves out, however, is how every org that signed this letter is, in some way, being funded by the same companies that would be subject to the provisions of the bills in question.
The two bills were part of the five-bill package unveiled by a bipartisan group of lawmakers earlier this month, that all collectively hope to hamper the steely grip major tech companies hold over the market. The first bill that's addressed in the letter, the "American Innovation and Choice Online Act," was introduced by antitrust subcommittee chair Rep. David Cicilline, and the second is the "Ending Platform Monopolies Act," which is spearheaded by Rep. Pramila Jayapal.
Among other things, Cicilline's bill would make it illegal for a company to sell a service as a condition for access to its (dominant) platform, like the way Google requires advertisers to pay for Google-branded ad products when they're inevitably forced into using Google's ad platforms. This bill would also keep a platform from preferencing any of their own smaller businesses in a way that the platform's customers can't compete with, the same way Amazon repeatedly lied about doing for years.
G/O Media may get a commission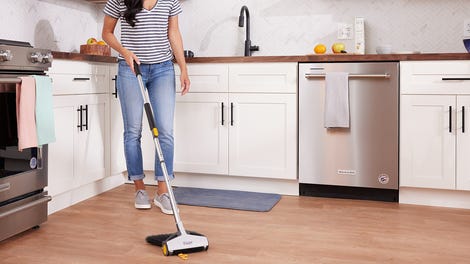 BOGO 50% Off
Flippr - BOGO 50% Off
Jayapal's bill, meanwhile, is similarly meant to dissuade the largest platforms—those with at least 50 million monthly active users in the U.S. and a market cap of at least $600 billion—from owning a business that competes against the smaller operators that use that platform. Amazon and its cavalcade of private label brands would be particularly affected, as would Apple and its app store, among others.
These bills, in other words, appear to be good. They're smart to focus on a few of big tech's major ills, rather than taking the broad swipes that Republican and Democratic lawmakers have argued about in the past. They're smart to target a select few tech companies with outsized influence, rather than literally every tech org under the sun. The coalition behind the aforementioned letter, however, disagrees.
"We share your goal of promoting competition online and protecting consumers, but legislation proposed by Reps. David Cicilline and Pramila Jayapal would dramatically degrade services which hundreds of millions of Americans use every day," it reads.
"Both Rep. Cicilline's 'American Innovation and Choice Online Act' and Rep. Jayapal's 'Ending Platform Monopolies Act' would prevent Apple, Amazon, Facebook, Google, and Microsoft from offering integrated tech conveniences to consumers." As it turns out, these are (just a few!) of the tech companies pouring thousands and thousands of dollars into the letter's 13 signatories.
We've briefly laid out each of their connections to Silicon Valley below:
Chamber of Progress, a tech policy trade group started by ex-Google policy lead Adam Kovacevich that brands itself as "center-left," and lists corporate partners like Amazon, Facebook, Uber, and Google on its homepage. When asked in an interview with Protocol whether he could disclose how much money these partner orgs were contributing on the regular, Kovacevich flatly responded "no," saying that "most associations don't do that."

The Computer and Communications Industry Association, a DC-based lobbying group that's spent a modest few thousand lobbying the likes of Cicilline and other members of the antitrust subcommittee. Amazon, Facebook, Google, and Uber are among the dues-paying members listed on its website,
The Competitive Enterprise Institute, a libertarian think tank that's become pretty tight-lipped about its corporate sponsors in recent years, but has previously reported donations between $25,000 and $50,000 from Facebook and Google, respectively. Amazon, when asked by the New York Times about a $15,000 donation it made to the institute in the past, said the sum was given to "help advance policy objectives aligned with our interests." Yeesh.
The Connected Commerce Council, a non-profit lobbying group that's been known to run op-eds singing the praises of tech company's tools for small businesses, and whose leadership board is stuffed to the gills with current and former lobbyists for Google and Amazon.
The Consumer Technology Association, a lobbying group repping more than 2,000 tech companies, and charging them between $80 to $40,000 per year for that privilege. Its many, many members include Google, Facebook, Amazon, Airbnb, Lyft...
The Developers Alliance, a Virginia-based lobbying group that includes Facebook and Google among its dues-paying members.
The Information Technology and Innovation Foundation, a DC think-tank with a storied history of whining about negative tech coverage. Amazon, Facebook, and Google are among its listed supporters.
NetChoice, a tech-centric trade group backed by the same list of familiar faces (Amazon, Facebook, Google) and a few new ones (Etsy, TikTok).
The Taxpayers Protection Alliance, which is partially bankrolled by two major telco industry trade groups (the Internet and Television Association and the Wireless Association) that would have just as much to lose as some of the aforementioned tech companies.

TechFreedom, a (very loud) tech policy think tank that's among Google's big list of trade groups and advocacy orgs getting "the most substantial contributions" from the company's public policy team.
The R Street Institute, a DC-based think tank that's also on Google's Big List O' Donors.
TechNet, a "national, bipartisan network of technology CEOs" that, naturally, includes CEOs from some of your favorite companies that were already listed in this exact article.
Americans for Prosperity, which doesn't have any outright ties to the big tech companies it breathlessly throws itself behind, but was literally founded by the Koch brothers. Considering how Google and Facebook, in particular, have pretty deep ties to the Koch family's sprawling web of political advocacy orgs, it's not surprising finding another one on this list.