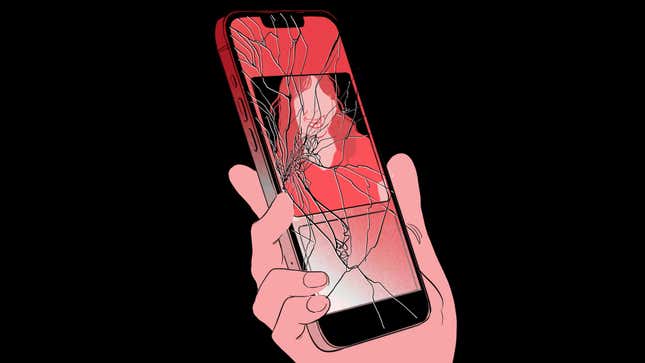 Last year, a friend came to me with a strange tech problem. "The algorithm is screwing me over," he said, peering over a drink at a bar in Manhattan's East Village. Anthony, a 31-year old engineer who asked to withhold his real name, had been on the dating app Hinge for five years. He said he always had a hard time meeting people on apps, but over the course of the pandemic, Anthony noticed a discouraging change that made his experience even worse.
This Giant Company Owns Almost Every Dating App
"Hinge demoted me. All of a sudden, the app stopped showing me attractive people," Anthony said. It was an issue he'd never seen on Tinder, Bumble, or any other platform. "I have to work through 100 profiles to find someone halfway decent."
At first, I didn't believe him. There are a lot of men who feel entitled to sex and love, and the dream of meeting beautiful people—whether or not they're in your league—is key to dating apps' seductive promise. Why would Hinge hide them? But Anthony slid his phone across the table, and I tapped through his Hinge account. His story held up. The typical dating app feed is a mix of people with varying levels of attractiveness. You get the occasional model, some obvious no's, and a lot of ordinary, good-looking people. Anthony's feed wasn't like that. Profile after profile, it was nothing but unflattering pictures, awkward bios, and prompts with glaring red flags. I had to agree with him. I'd never seen anything like it.
Anthony wondered if Hinge decided he just wasn't handsome enough. He told me he showed his account to a dozen people over the course of a few months. Everyone agreed: it seemed like Hinge sorted Anthony into a tier of less desirable users.
"I was shadowbanned," he said.
Shadowbanning is a phenomenon where a tech platform hides your account from others or limits its reach without letting you know. The concept is a rallying cry for conservatives on social media, who swear Big Tech censors their political views (mountains of evidence show that's not true). It is a real thing companies do in some cases, though, and discussions about a new type of shadowban on Hinge have emerged as the app's popularity grows.
A lot of online daters think Hinge and other dating apps are keeping them from seeing or matching with the most appealing singles. Anthony isn't the only one. I talked to another man who said he an identical experience but asked not to be quoted, and it's not just frustrated guys either. Five women who spoke to me for this story swore that Hinge and other dating apps withhold their most attractive prospects. Some said it's their own accounts being hidden from other users. And social media is full of people across the gender spectrum describing dating app shadowbans, sometimes offering tips and techniques to escape the algorithm.
I talked to Hinge users, dating coaches, algorithm experts, and even the leader of a community of "dating app hackers." Everyone agreed that Hinge and other apps judge users' appeal to adjust their individual algorithmic experiences. Some assume it's a benevolent effort to find appropriate dates and eventual mates. Others believe it's a manipulation technique to encourage paid features that promise more matches.
People's beliefs about the inscrutable algorithm are the result of a distinctly modern circumstance. For many, dating apps don't feel optional. A 2019 study found almost 40% of US couples met on dating apps. Hinge declined to share how many people are on the app, but a Pew Research Center survey found about one in five online daters in the US uses Hinge. There are plenty of alternatives, but it's less of a choice than you might think. With the exception of Bumble and Grindr, almost every popular American dating app is owned by a single company called Match Group, including Hinge, Tinder, Match.com, OkCupid, Plenty of Fish, and many others.
Dating in the US is now the domain of one giant corporation and its minor competitors, all of whom run computer programs that dictate one of the most significant parts of the human experience. Presumably, your perfect matches are out there, but one way or another, the algorithm decides who you're going to meet.
Unlucky In Love
A Hinge spokesperson told Gizmodo that the app does shadowban people, but not the way Anthony describes it. The spokesperson said Hinge sometimes handles bad actors by preventing other users from searching for them, seeing them in the feed of potential matches, or receiving their messages. Rule breakers often make new accounts after an outright ban, so the subtle yet frustrating shadowban can be a better way to curb misbehavior. If you're flagged as a bad actor on Hinge, it's possible you won't even notice, at least for a while.
Anthony couldn't think of anything that might have gotten his account flagged. Regardless, Hinge didn't offer an explanation for his experience.
"We do not withhold possible matches from users," the Hinge spokesperson said. "We want our users to match with the people they're compatible with and delete our app."

That depends on your definition of "withhold," though. Hinge uses AI to identify people who are "Most Compatible" with you, and puts them in a special feed where they're harder to contact, among a collection of other "Standout" users described as the app's most desirable. You're only allowed to interact with these high-grade prospects by sending them a "Rose," and you only get one Rose per week unless you pay $9.99 for three more (there's a discount for packs of 12 or 50 as well). Hinge users talk about the best matches being trapped in "Rose Jail," where they're sequestered to coerce you into paying. These ultra-appealing maybe-matches can show up in the app's main feed eventually, but Hinge's goes out of its way to suggest you might never see your Standouts again if you don't shower them in $3.33 roses.
"I definitely feel manipulated. They're using profiles as pawns," said Caitlyn, a 29-year-old writer living in Jersey City. Like the other daters in this story, Caitlyn asked Gizmodo not to use her full name. "You're telling me that they're not using attractiveness to match people in 2023? I don't buy it. How is the app determining if I'm compatible with Joe from Astoria?"
Hinge uses algorithmic recommendations to determine who you see in the regular feed, too. The company says its "algorithms are designed to recommend people with mutual interests to increase the likelihood of a match." That's a laudable goal. There are too many users on apps like Hinge for you to sort through them all, but, by the same token, the app is making judgements about who you're fit to date and vice versa.
"If you're thoughtful about it, you realize that the algorithm is telling you something about your own desirability when it's deciding who to show you," said Liesel Sharabi, director of the Relationships and Technology Lab at Arizona State University. "Dating apps use 'collaborative filtering algorithms.' It's the same type of thing that Netflix or Amazon use to recommend shows and products. But people are not products. Shows don't have to like you back like people do on a dating app. They have to match you with users who are essentially in your league."
Hinge offers a number of perks if you're willing to pay. $9.99 buys you a "Boost" which shows your profile to 11 times more people for one hour. There are subscriptions, too. Hinge+, which costs $14.99 a week, gets you features including unlimited likes, additional ways to fine tune your preferences, and the option to see everyone who's Liked you all at once. High rollers can opt for HingeX at $24.99 a week, which helps you "get recommended sooner," brings your Likes to the top of the pile, and gives you "access to people more your type." There are discounts if you're not afraid of commitment, of course. Six months of HingeX, for example, costs $149.99.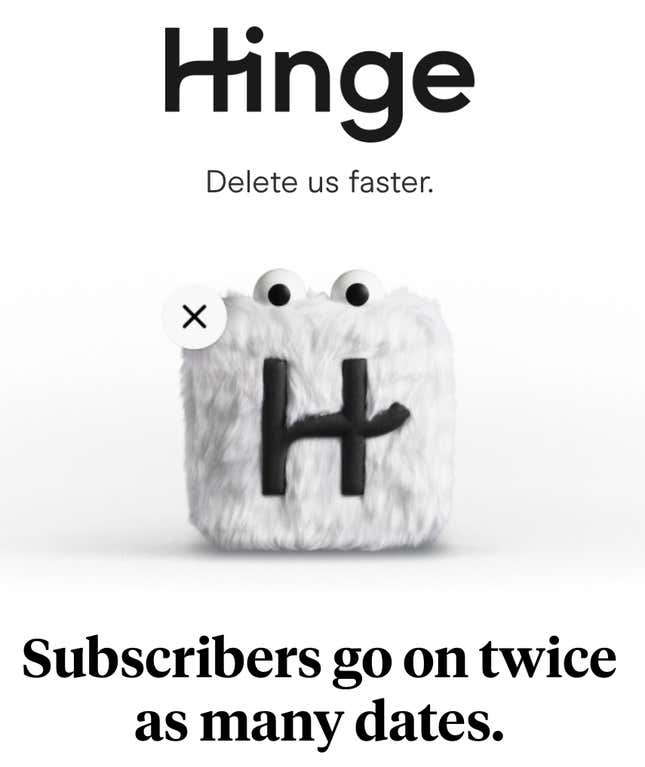 The hotties trapped in Rose jail aren't the only roadblocks Hinge throws at plebes who'd rather save their money. Free users only get 10 likes a day, and a lot of people say the sexiest user in the pile shows up right after you run out. Hinge displays you all the ways paid users can sort potential matches, but keeps the tools to set preferences including height, politics, and drug use trapped beneath a little lock icon. For many, the biggest frustration is on the page of people who've hit Like on your profile. You see a list of names, but the photos are blurred and profiles are inaccessible aside from the most recent prospect. You're welcome to see the rest—if you break out a credit card.

Hinge reported 1.2 million users paid in the second quarter of 2023. According to the company, that number is on the rise.

How dating app algorithms work
Collaborative filtering algorithms like the ones dating apps use analyze your behavior and preferences and compare them to other users. Then they give you recommendations based on what similar users like and dislike. If a certain kind of person loves a particular shirt on Amazon, the site is more likely to recommend that shirt to similar users. The same goes for matches on dating apps. To use an overly simplistic example, if a lot of 25-year-old women who like Star Wars keep tapping "like" on one man's profile, the algorithm might show him to more sci-fi fans in that age range.
"They're very secretive about exactly what they're doing, but we know that there's some kind of scoring system in these apps," said Ignancio Rios, an assistant professor at the University of Texas at Dallas who studies matching algorithms. Rios said he's collaborated with a popular dating app to redesign its algorithm, but couldn't tell me which one due to a nondisclosure agreement.
Years ago, Tinder said that it used an Elo rating system, an algorithm built to match up chess players based on skill. Rather than chess wins, Tinder's Elo rating primarily measured how many people swiped right on you, giving more weight to swipes from the app's most sought-after users. Then the app assigned you an attractiveness score (the company prefers the term "desirability"). Tinder used that score to determine who should see your profile.
"If I'm a five, they're not going to show me tens," Rios said. "I'll see fours and sixes, and maybe they'll show me an eight to keep me engaged, but that's about it. It gravitates around your own score."
Tinder's Elo score disclosure caused public outcry, and since then, the company says it abandoned that system. Tinder claims its current system is far more sophisticated, but the details are vague.
Hinge says it uses a Gale-Shapley algorithm, also known as a propose-and-reject algorithm—seems fitting. The algorithm is a Nobel Prize-winning technique from 1962 designed to predict stable marriages and pair up other elements within complicated data sets. But that doesn't address what criteria Hinge's version of the algorithm uses for these potential pairings, nor does it explain Anthony's situation.
Not all dating apps are created equal. According to Rios, Tinder is optimized for engagement. In other words, it's built to keep you hooked on Tinder. Hinge, on the other hand, calls itself "the dating app designed to be deleted." Hinge says its algorithms are built to help people find matches that lead to real relationships, not keep you staring at its app.
"The incentives are more aligned than you'd think," Rios said. "If you find someone quickly and leave the app, that's good for them. They won't be able to monetize you anymore, but you'll spread the news about Hinge."
Can you hack the dating app algorithm? These guys are trying.
Of course, dating app algorithms aren't measuring you, per se; they're measuring your profile, as well as your behavior and the way others react to you. That means the algorithm can be manipulated, at least in theory.

There are a number of things you can change: your photos, your bio, how often you use the app, who you like, and who you dismiss. These and other factors influence your treatment by the algorithm, but the levers are murky and hard to predict. That hasn't stopped single hopefuls who try to hack the algorithm to get better results.

On TikTok, attorney and content creator Eve Tilley-Coulson has a 29 part series on "Hinge Hacks" for an audience that, based on the comments, appears to be almost exclusively women. Her advice includes dismissing every person the app shows you in the Standouts section, and only considering people who like you first. "The algorithm's gonna get frustrated because it wants to figure out who your type is, but you're x'ing out absolutely everybody," which tricks the app into showing your account to more users, Tilley-Coulson said in one video.

You'll find entire communities of would-be dating app "hackers" on Reddit, where people—most of them men—trade tips and ask for advice. One example is Reddit's r/SwipeHelper.

"There are all kinds of techniques," said Pancake Mouse, r/SwipeHelper's fast-talking moderator, who only agreed to be quoted under his online pseudonym. Some guys temporarily switch their photos to ones of male models and then back to pictures of themselves. Others change their location to cities with less competition. Some even try bots that like profiles or send messages on their behalf just to juice their number of matches. There's also a lot of talk about deleting and reinstalling the app; supposedly, you get a boost in the early days as a new user. "It's all based on raising your score in the algorithm by trying to engineer more matches," he said.
Pancake said he runs r/SwipeHelper because people need dating app advice, but even he admits that most of the techniques people discuss in his forum are a waste of time. "Everyone is looking for a hack, but the only hack is to make yourself a more desirable partner," he said, pausing for a moment. "And get better photos."

Dating apps do everything they can to root out this kind of "hacking," and these techniques are some of the easiest ways to earn yourself a shadowban or get kicked off the app entirely. That's probably why most of the posts in r/SwipeHelper are from men who've been banished from dating apps looking for advice on how to sneak back on.

"You don't understand how difficult it is out there for a lot of people. These algorithms determine who you go out with and who you don't. It raises all kinds of interesting moral questions," Pancake said. "Unfortunately, our world has evolved to a place where you need to be on these apps to have a chance at a dating life."
One of those moral questions: Is it wrong for apps like Hinge to use algorithms to judge your attractiveness in the first place?
"I don't blame the dating apps for trying to program a successful user experience," said Damona Hoffman, an online dating coach and host of the podcast "Dates & Mates."
Hoffman said she's heard lots of shadowbanning stories in her 15 years of coaching. "If you're only seeing unattractive people, for lack of a better word, it's because the apps are showing you people who are similar to those with whom you've had engagement in the past," she said. "It comes down to people not understanding how the algo's work and not knowing how to make an effective profile."
Life under the algorithm
There's an entire industry of people like Hoffman who have built their careers helping people boost their performance on dating apps. "One thing I have people do is swipe more liberally than they normally would, otherwise you're sort of filtering yourself out matches," she said. There are a number of other techniques she recommends, including regularly updating your profile, choosing photos with a pop of color, writing more engaging prompts, and, importantly, working on your communication style.
Hoffman said she'd never seen a case exactly like Anthony's, but Pancake Mouse said he had. "It's an insidious software bug," he told me. "Even if these are the people who are in your league, the algorithm isn't going to do this intentionally to discourage you." Essentially, Pancake said, Anthony's experience was a fluke.
Anthony tried everything to break out of the shadowban. "I had at least ten people look over my profile and give it a makeover," he said. "Both men and women, including people who do really well on the apps. New photos, new prompts… nothing worked."
His experience stuck in the dregs of the app was so depressing that Anthony gave up on dating altogether for months at a time. On occasion, Anthony said, he could escape the shadowban, but only temporarily. If he matched with someone and managed to keep a conversation going, his Hinge feed would suddenly improve and show him a stream of attractive people all in a row. But inevitably, Hinge would plunge Anthony back into the depths. In the darker moments, he told me it felt like success on the apps was reserved for other people, those blessed with better looks and more charm.
Then, around the turn of the new year, things changed. As mysteriously as his shadowban arrived, it disappeared. "I wasn't doing anything differently, but out of nowhere, it went back to normal," Anthony said. "I think they changed their backend algorithm and got some better prediction system or machine learning models, maybe. It's inconsistent though. Some days the feed will be horrible and depressing again, but others it will show me people I want to match with.
His dating app feed improved, but dating itself is still something he approaches with trepidation. "I have to force myself to go on Hinge, it would probably help the algorithm if I log on more" Anthony said. These days he doesn't feel as much pressure to find a date. The more time he spent alone, the more comfortable he felt with the single life. He's happy, if a little lonely sometimes.
Anthony has a lot of theories about his life under the algorithm. He wonders if his feed tanked because he didn't use Hinge often enough. Perhaps he's just an unusual user for one reason or another, and the app is optimized for a different kind of person. "I'm also at a disadvantage because I'm bald," he said, which, according to studies Anthony read, makes it less likely that people would like his dating profile.

"I dunno, I guess I should just go to bars or Meetup groups or something," he said, but it's hard not to be discouraged. "In the meantime, I guess I'm still trying with these apps."

This Giant Company Owns Almost Every Dating App
This Giant Company Owns Almost Every Dating App