These days, Hollywood has a reputation for being politically liberal. But you'd be surprised how many conservatives there are in Hollywood. Or, maybe you wouldn't, if you remember that Hollywood is just like any other major industry in the US. But what about the secret Republicans of the 1950s?

You can probably name a few Hollywood conservatives of midcentury like John Wayne, Jimmy Stewart or Gary Cooper. But I recently came across an interesting document that shows who in Hollywood contributed money to the presidential campaign of Dwight Eisenhower and Richard Nixon in 1952. And a few might surprise you.
This past summer I went to the Warner Bros. archive at the University of Southern-California to do some research on my long term project examining all the movies that the US presidents have watched while in office. When I was there, I came across some fascinating documents in a file from studio head Jack Warner. Warner was a Republican and helped organize all kinds of fundraising events in Hollywood for conservatives causes. One of the documents in particular caught my eye.
Dated November 29, 1952, the document is a simple tally of who in Hollywood gave money to a group called the Entertainment Industry Joint Committee For Eisenhower-Nixon. Since it was after the election (which Eisenhower won, of course) this was probably a document simply kept for tax purposes.
A very abbreviated list of contributors, compiled from the 200 or so on the full list, appears below. For a bit of reference, $1,000 in 1952 roughly translates to $9,100 today when adjusted for inflation.
G/O Media may get a commission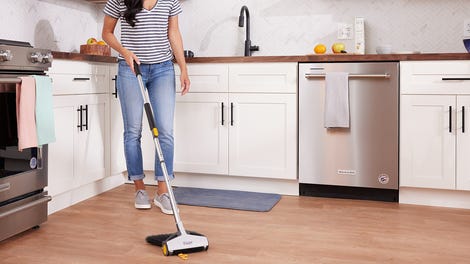 BOGO 50% Off
Flippr - BOGO 50% Off
Even if you somehow knew that every single person on this list was a Republican (and I certainly didn't), it's still interesting to see the difference in how much people gave. Samuel Goldwyn, for instance, was a big spender who donated $5,000. Noted conservative Bob Hope was a bit more stingy. He donated just $20 to help Ike get elected.
Do you spot any contributors that you didn't know were Republicans? Does anything else surprise you from this list?
Earl C. Anthony, donated $1,000 — President of the National Association of Broadcasters
Fred Astaire, donated $500 — actor known for musicals like Top Hat (1935)
Gene Autry, donated $500 — radio, movie, and TV star known as the "Singing Cowboy"
Irwin Allen, donated $20 — Director and producer who created films like The Poseidon Adventure as well as TV shows like Lost in Space and Land of the Giants
Charles Brackett, donated $2,500 — Producer and writer who produced and co-wrote films like Sunset Boulevard (1950) with Billy Wilder
Harry Brand, donated $1,000 — 20th Century Fox press agent, credited with helping create the personas of stars like Shirley Temple and Marilyn Monroe
Harry Cohn, donated $1,000 — President of Columbia Pictures
Gary Cooper, donated $500 — actor best known for films like High Noon (1952) and Sergeant York (1942)
Bing Crosby, donated $500 — singer and actor
Frank Capra, donated $100 — director of films like Mr. Smith Goes to Washington (1939) and It's A Wonderful Life (1946)
Cecil B. DeMille, donated $500 — director of films like Cleopatra (1934) and The Ten Commandments (1956)
John Ford, donated $250 — director known for Westerns like The Searchers (1956) with John Wayne and The Man Who Shot Liberty Valance (1962) with Jimmy Stewart.
Samuel Goldwyn, donated $5,000 — producer and film executive
Bob Hope, donated $20 — comedian and actor who would became famous to some generations simply for his live USO shows entertaining American troops abroad
Edith Head, donated $10 — costume designer of the 1940s and 50s who worked on everything from Double Indemnity (1944) to Roman Holiday (1954). She was also famous for her work with Alfred Hitchcock.
Jerry Lewis, donated $20 — comedian who got his start on radio and TV with Dean Martin
Louis B. Mayer, donated $3,000 — cofounder of the MGM movie studio
Leo McCarey, donated $1,000 — director and writer, famous for his comedies like Duck Soup (1933) and The Awful Truth (1937)
Milton Rackmil, donated $1,000 — president of Universal Pictures
Joseph M. Schenck, donated $2,000 — a founder of the Academy of Motion Picture Arts and Sciences and chairman of 20th Century Fox
Jack Warner, donated $5,000 — studio executive, founder of Warner Bros.
Ann Warner, donated $5,000 — wife of studio executive Jack Warner
Lew Wasserman, donated $1,500 — talent agent and studio executive
John Wayne, donated $1,000 — actor best known for his Westerns and war movies like The Searchers (1956), The Longest Day (1962), and True Grit (1969)
Hal Wallis, donated $700 — producer for Warner Bros., best known for movies like Casablanca (1942), The Fountainhead (1949), Gunfight at the O.K. Corral (1957), and True Grit (1969)
Clifton Webb, donated $500 — actor best known for roles in Laura (1944) and The Razor's Edge (1946)
Herbert Yates, donated $2,500 — founder of Republic Pictures
Virginia Fox Zanuck, donated $2,500 — silent film actress of the 1920s who married studio executive Darryl F. Zanuck
Eugene Zukor, donated $70 — studio executive and son of Paramount founder Adolph Zukor