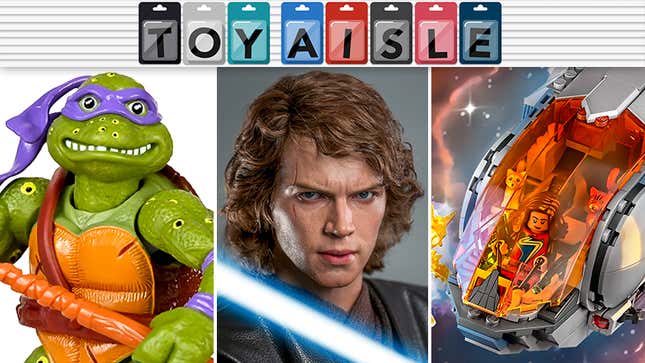 Welcome back to Toy Aisle, io9's weekly roundup of the coolest toy news around the internet. This week, Playmates ensures that the horrors persist with an update to its classic '90s TMNT figures, The Marvels takes flight in Lego form, Hasbro rolls out even more Transformers: The Movie goodness. Check it out!
Breaking the Fourth Wall in Transformers: Rise of the Beasts | io9 Interview
---

Playmates Toys Teenage Mutant Ninja Turtles Classic 1991 Movie Star Turtles
If the original run of Playmates Toys' Teenage Mutant Ninja Turtles figures had arrived after the successful 1991 live-action movie, and not the comic books and animated series, they would have probably looked more like these four-inch "Movie Star Turtles" with additional skin texturing, paint, and big goofy grins. Each of the turtles still includes their iconic ninja weapons, and as with the original TMNT figures, they're all made from orange plastic again. Unfortunately, for all your Raphael haters, the Movie Star Turtles are only available as a $40 four-pack through Walmart.
---

Lego Marvel The Marvels The Hoopty
As excited as we are for the return of Captain Marvel, Ms. Marvel, and Monica Rambeau as Photon in the upcoming MCU film, The Marvels, the first Lego set based on the movie isn't exactly a must-have. The Hoopty might come with Lego minifigure versions of Captain Marvel, Ms. Marvel, Photon, and three Flerkens, but $90 is steep for a spaceship set built from just 420 pieces, even if it has stud blasters, a large opening cockpit, and a detailed interior. It's available for pre-order now from Lego's website, with shipping expected to start on October 1.
---
Hot Toys Star Wars: Revenge of the Sith Anakin Skywalker With Rooted Hair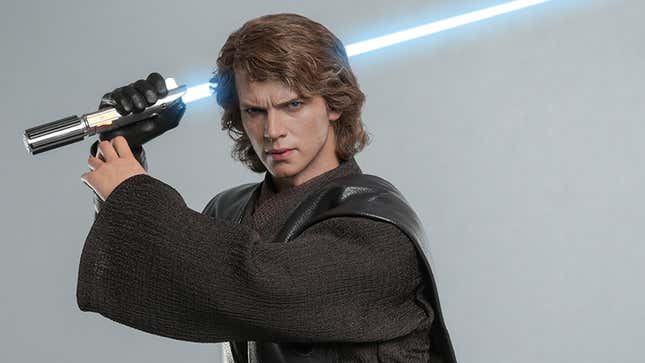 Is this the first realistic Hayden Christensen Hot Toys has ever made? No. Is it the first to accurately capture the flowing locks of Anakin Skywalker circa Episode III with real-rooted hair like he's a Barbie doll? Yes.

Hot Toys first Star Wars release in what it's calling a "DX Artisan Edition" series gives this 1:6 Anakin a major glow up with a new headsculpt including individually articulated magnetized rolling eyes and rooted hair, depicting the Chosen One as he appears in the final movie of the Star Wars prequel trilogy. Aside from luscious locks, the figure comes with the lightsabers of both Anakin and Count Dooku, depicting the climactic moments of their duel in Revenge's first act, both of which can be lit up—the former of which even includes options to use USB power over a battery. There's also of course a removeable Jedi cloak, and the usual assortment of alternate hands. No hairbrush though! The DX Artisan Edition Anakin hasn't been priced yet, but he's set for release in late 2024.
---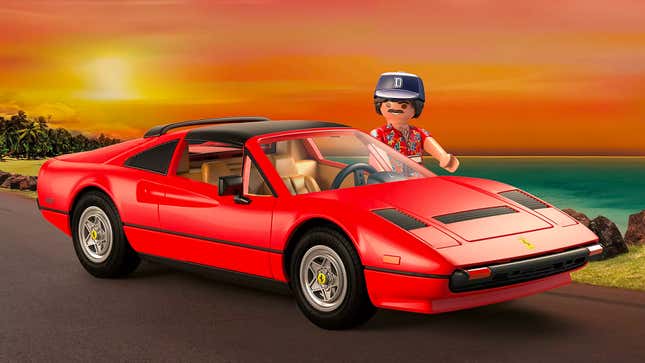 Playmobil Magnum, P.I. Ferrari 308 GTS Quattrovalvole
Playmobil digs even deeper into the classic '80s TV barrel to bring another iconic Ferrari model to its kidult collector lineup. This time it's the Ferrari 308 GTS Quattrovalvole driven by Tom Selleck's Thomas Magnum character in Magnum, P.I. The Ferrari was as much a part of the cast as Magnum himself, and Playmobil's recreation features pop-up headlights, an opening trunk, a removable hardtop roof, plus Playmobil versions of supporting characters T.C., Rick, and Higgins. You'll have to wait until August to cough up the $80 to park this one on your shelf.
---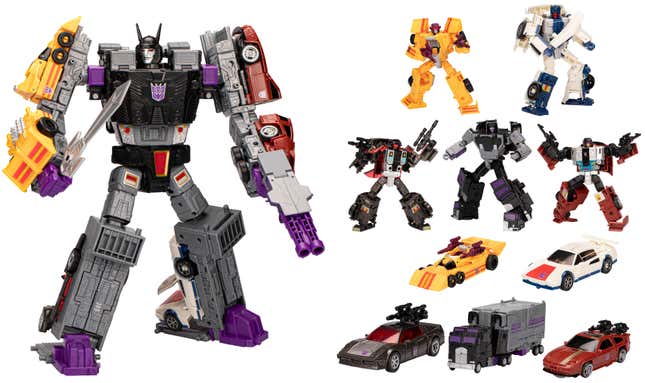 Hasbro Transformers Legacy Evolution Stunticon Menasor Multipack
Introducing towering Transformers that assembled from smaller bots was a brilliant move on Hasbro's part. Characters like Devastator became some of the most popular Transformers in the original animated series, but it was great for toy sales, too, as kids had to buy five or six Transformers toys to assemble these Cybertronian kaiju at home. One of the earliest follow-ups to Devastator was the Stunticons, a collection of high-performance race car, plus a transport truck with trailer, that assembled to become Menasor. Starting on August 1, as part of its updated Transformers Legacy Evolution line, the Stunticons will be available for pre-order through Hasbro Pulse for a steep $190, with availability expected later this year in the Fall.
---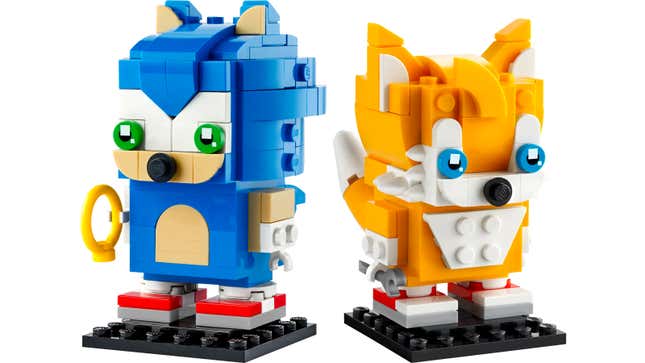 Lego BrickHeadz Sonic the Hedgehog and Miles "Tails" Prower Figures
It's seeming less and less likely that Sonic the Hedgehog is going to get the same treatment that Mario did as an electronic interactive Lego figure with buildable levels. The consolation price for Sega fans is a bunch of smaller Sonic sets featuring ramps and launchers that send a sphere-encased Sonic minifigure blasting across your desk, and a couple of new BrickHeadz buildable figures revealed last week. Oddly enough, the 139-piece Sonic the Hedgehog and 131-piece Miles "Tails" Prower figures aren't sold as a two-pack, despite Lego bundling BrickHeadz characters time and time again. Instead, they'll be $10 each when officially available starting on September 1.
---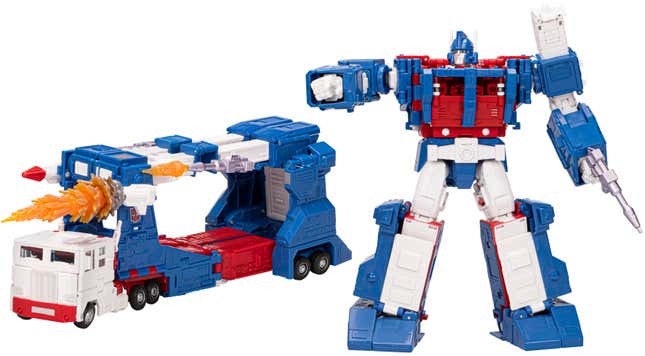 Hasbro Transformers Studio Series Commander The Transformers: The Movie Ultra Magnus
Although the G1 version of Ultra Magnus was essentially a white repaint of Optimus Prime out of the box, the Autobots' second in command managed to differentiate himself from Optimus with a car-carrying trailer accessory that became an added suit of armor for Magnus, making him taller and more formidable-looking than Prime ever was. Based on the character's appearance in the '80s animated The Transformers: The Movie, Hasbro's new Transformers Studio Series Commander Ultra Magnus stands 9.5-inches tall when fully armored, goes from robot to hauler truck mode in 43 transformation steps, and includes four blasters, seven different blast effects, and the Matrix of Leadership that fits inside the bot's chest. Ultra Magnus will be available later this year in the Fall with a $100 price tag.
---

Super7 ThunderCats Ultimates! Cats' Lair
Following a 27-inch long recreation of the ThunderCats' ThunderTank that was revealed back in 2021, Super7 has decided its seven-inch Ultimates! ThunderCats figures need a place to call home, and so has created an almost 37-inch tall Cats' Lair playset. Built into a faux mountain that opens to reveal a detailed interior, the Cats' Lair features a computer command center with glowing, swappable screens, a rotating weapons room that can be hidden away, a maintenance hanger for the ThunderTank, and a council chamber with a table that seats seven figures. With a $650 price tag, Super7 is now accepting pre-orders until September 17, but it will only actually produce the Cats' Lair if 3,000 people pledge to buy one, and at the time of writing it had only sold less than 1,000 pre-orders.
---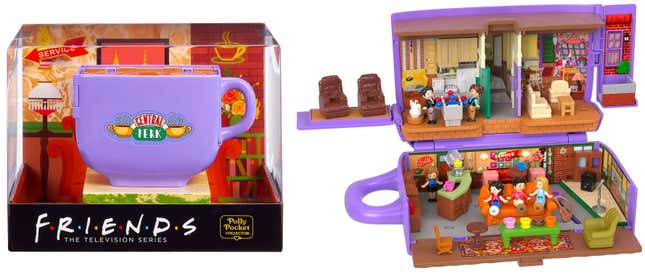 Mattel Polly Pocket Collector Friends Compact
Mattel went hard on the Friends nostalgia last week, but it wasn't the $30 Little People Collector set featuring all six characters "styled to commemorate fan-favorite moments from the series" that had us feeling nostalgic for laugh tracks. What instead caught our eye was this elaborate Polly Pocket Collector playset that transforms from a coffee mug to several miniature recreations of set pieces from the sitcom, including the Central Perk coffee shop, and the impossibly spacious apartments the characters lived in. You also get Polly Pocket-ized versions of all six characters, plus a bunch of accessories. Starting at noon EST on July 24, you can grab one through the Mattel Creations website for $50.
---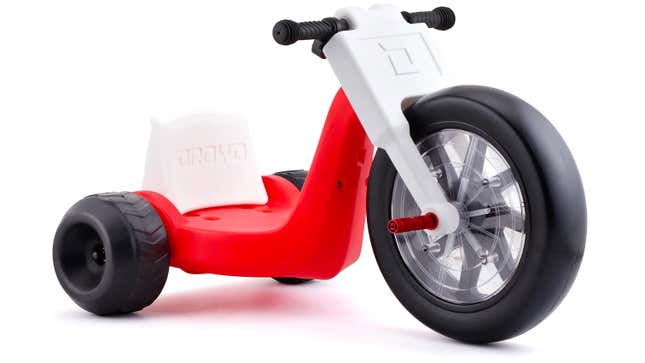 Droyd Romper Electric Tricycle
If your childhood pre-dated tablets and hoverboards, there was a good chance you spent a majority of the Summer cruising around your neighborhood on a low-riding tricycle whose big plastic wheels made a deafening sound as they rolled over pavement. Most commonly known as a Big Wheel (the version that can probably lay claim to being the original) they were a staple of kids who hadn't yet learned to ride a two-wheeled bike, but decades later, kids don't even have to know how to pedal to ride the new Romper from Droyd. It looks like an old school Big Wheel, but it packs a 24V battery and an electric motor propelling it as far as three miles on a full charge, with a top speed of six miles per hour. Unfortunately, the Romper comes with a $140 price tag, and a weight limit of 66lbs.