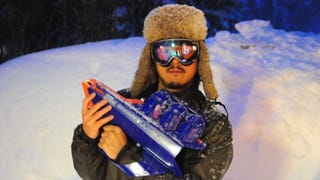 The Gadget: The Wham-O Snowball Blaster is an arm mounted slingshot/cannon thingy for snowballs. It has a mold on top for making three perfectly spherical. UPDATE: Slow motion video added.
At last you can avoid the hassle of taking your Lasonic Ghetto Blaster every single time you go to the park: Now the park will have boom boxes the size of a park bench, with more than 500 watts of high quality ghetto thump. You only need a cellphone with Bluetooth audio support, and the Boom Bench will be yours to…
Die cast metal. That was a stamp of approval all premium toys in the 80s received. But not now. And if there is a modern set of toys that deserves to be metal, its the official line of Hasbro made IRON Man toys: an action figure, nerf machine gun and mask/repulsor glove combo. He's not called Plastic Man for a reason,…
After Vista's release, Creative's Audigy Sound Blaster series lost a lot of their in-built functionality. Developer, good-guy and all around hero, Daniel_K stepped up to the challenge, putting together his own drivers and asking for non-obligatory donations in recognition of his effort. Daniel_K's drivers restored…
Long range laser weapons that do more than make little red dots show up on distant objects have long been a dream of science fiction creators and the military alike. Now it looks like a true, long-range laser blasting weapon may be ready for action within the next five years. The Navy is ponying up cash for three…
We've told you all about our favorite rayguns, blasters, flechette pistols, and laser guns before, but where did they all come from? Laser pistols are as identifiable with science fiction as rocketships, aliens, and robots, even though the first laser wasn't invented until 1960. So what spurred science fiction…
Every now and again a product comes along that makes us question how we ever managed without it. Well, the Wiimote Nerf Blaster has us asking ourselves the same question. Details are light at the moment, but the most amazing technology combination since the touchscreen/phone will include a fully functioning Nerf…
Carajo de boombox de los cojones, brothels! Check out those ghetto colors and speakers in that Lasonic dock-to-go for the iPod, mamasita! Or like they call it, the "high performance music system." Arriba! The 15-pound boombox comes with all kinds of flashy lights and 2 x 15W speakers. Not amazing power, but enough pa…
We knew you could build your own marshmallow blaster gun out of a used Pringles can, tape and a two by four, but what about those of us who are too lazy to build stuff? Well, now you can buy your own pre-made pump action marshmallow gun that shoots those soft confectionaries up to 50 feet. Fifty! That's further than…
Click to viewNew Transformers toys that'll help you turn into Optimus Prime. When I say You, I really mean Me.