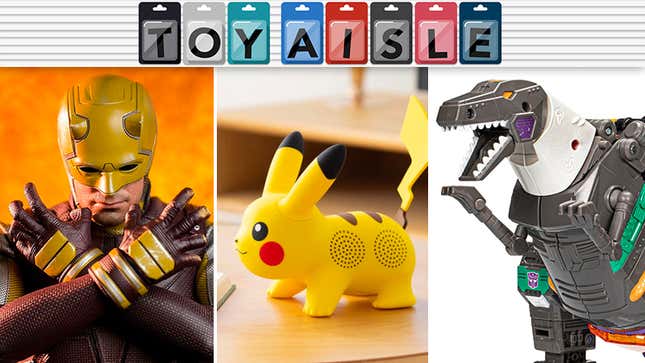 Welcome back to Toy Aisle, io9's regular round up of the latest in toy news. This week: Jen Walters' paramour gets the Hot Toys treatment in more ways than one, Star Wars' Micro Galaxy ships come back for another round, and Hasbro rolls out the Dinobots in two new Transformers releases. Check it out!

---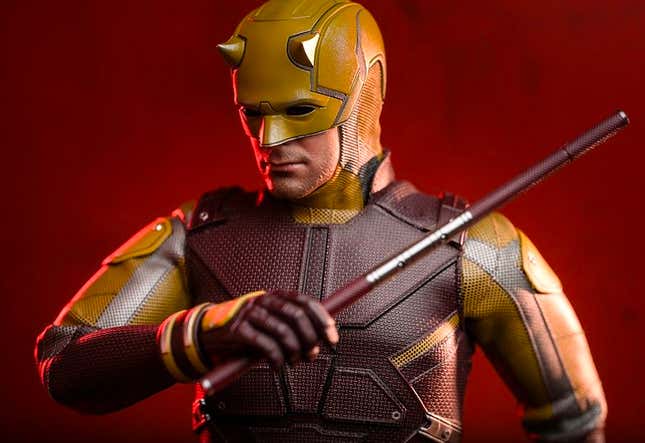 Hot Toys Marvel She-Hulk: Attorney at Law Daredevil Sixth-Scale Figure
Charlie Cox's Daredevil returned to the MCU with She-Hulk, and with him, a new updated and recolored take on the suit he wore in his Netflix series. Hot Toys is celebrating by doing much the same, updating its first Daredevil Hot Toys to reflect Matty's new look for the MCU, in all his mustard and scarlet glory. The figure comes with an alternate unmasked head, which will feature removable red sunglasses, as well as alternate hand sets and three versions of his billy club: one broken down into a pair of sticks; one as an attached, fully extended stick; and a "nunchaku mode" featuring wiring between the two clubs. Sadly no unbooted feet for his post-hookup walk of shame though. The She-Hulk Daredevil is set to release in mid-2024. [Hot Toys]
---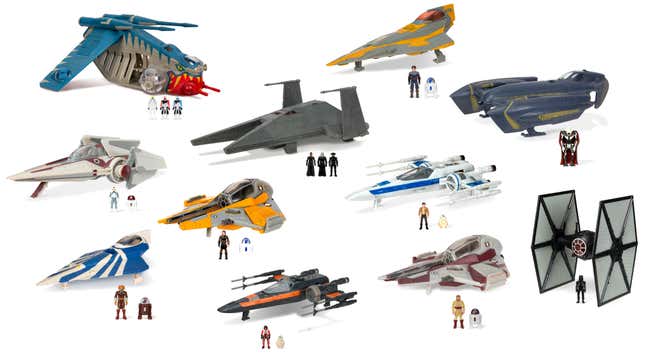 Jazwares Star Wars Micro Galaxy Squadron Wave III
For those who care more about collecting the excellent ships and vehicles from the Star Wars universe instead of the characters, Jazwares recently announced Wave III of its Micro Galaxy Squadron collection featuring some welcome additions to your home fleet. On the larger end of things there's the Starship Class Republic Gunship and Inquisitor Shuttle available now for $30 each, followed by six smaller Micro Vehicles including a First Order TIE Fighter, Anakin's Delta 7B Starfighter, Poe's T-70 X-Wing, a V-Wing, and both Anakin and Obi-Wan's Jedi Interceptors, for $20 each. There's also some smaller vehicles available in blind bag packaging, mostly consisting of various speeder bikes.
---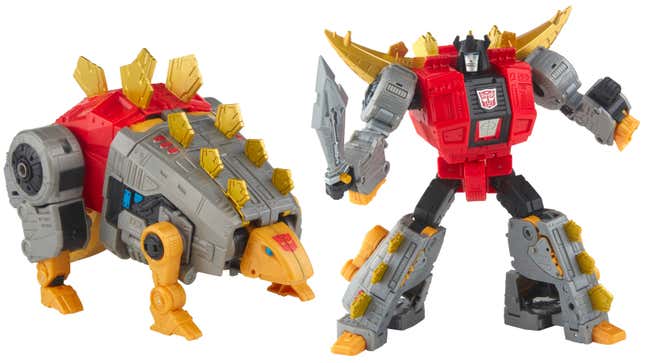 Hasbro Transformers Studio Series Leader Dinobot Snarl
Are we thrilled with getting version after version after version of the same figure we've purchased several times before? Definitely not, but what are we supposed to do when it's a Dinobot, arguably one of the best additions to the original Transformers lineup? Hasbro brings us yet another iteration of Snarl, the mechanized stegosaurus, and while he's missing the shiny gold accents of the original G1 version of the toy, this time we're getting a much better head and face sculpt making Snarl's robot mode feel like less of an afterthough. The transformation process from bot to dino takes 31 steps, and the figure is currently available for pre-order on Hasbro Pulse for $55, with delivery expected in August.
---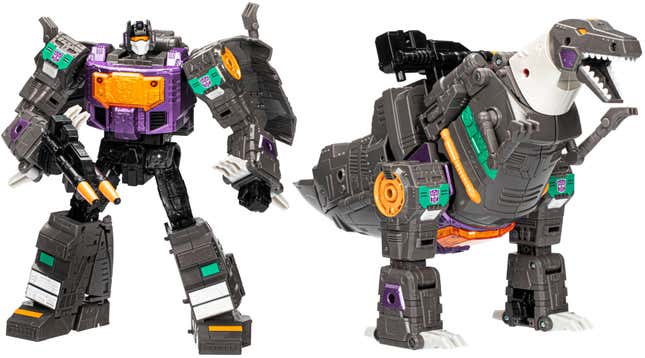 Hasbro Transformers Shattered Glass Leader Class Grimlock
Although it's nothing more than a recoloring of the Studio Series 86 Grimlock, we're all in on this alternative universe Shattered Glass version of the Dinobot leader from a timeline where the Autobots get to be baddies while the Decepticons have a chance to redeem themselves as the heroes. The Trypticon-inspired paint job is easily the best reason to drop $55 on this version of the cyber T.rex that transforms to robot mode in 23 steps when it officially becomes available sometime this summer.
---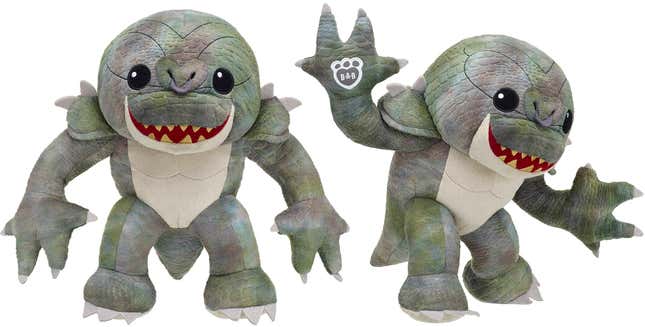 Build-A-Bear Workshop Star Wars Plush Rancor
One of the most terrifying creatures in the Star Wars universe has never looked cuter or more cuddly. The Build-A-Bear Workshop plushifies the mighty Rancor, who's now ready to smother Luke Skywalker in hugs instead of devouring the Jedi. It's available now exclusively through the B-A-B online store for $38, but you can also order it unstuffed if you still want to have the in-store bear-building experience.
---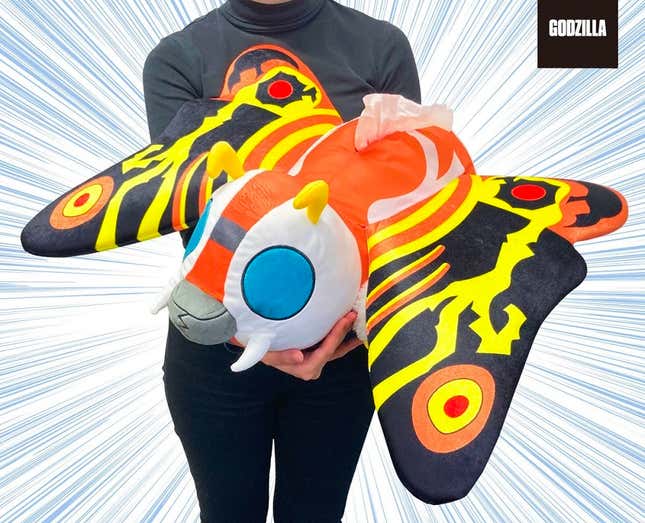 Bandai Mothra Larva Tissue Box Holder
Just about the only thing worse than the arrival of seasonal allergies would be having to wrestle a tissue away from Mothra, one of Japan's most iconic kaiju, second only to Godzilla himself. Thankfully, this version of Mothra is limited to a 26-inch wingspan and is also completely plush, so it should give up a tissue from a box inserted on its underside with little fight. It will be available starting in June but can be pre-ordered now through the Japanese Premium Bandai website for a little over $100, so you may have to jump through some hoops to get it shipped elsewhere.
---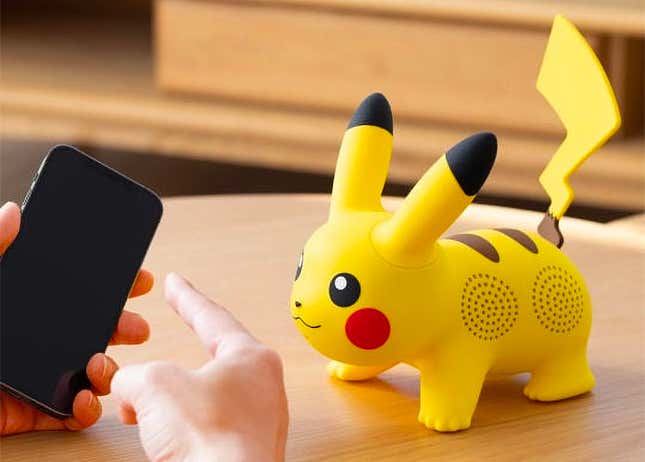 Pokémon Pikachu Bluetooth Speaker
What's perplexing about this otherwise adorable Pikachu Bluetooth speaker is that you have to charge it with a USB-C cable to get roughly eight hours of playback through it, instead of letting the Pokémon itself provide all the power you'd need to enjoy your tunes. That's disappointing to those of us who refuse to acknowledge that Pokémon aren't real, but if you've already come to terms with that, this could be a fun alternative to other Bluetooth speakers if you don't need portability, waterproofing, or any other feature besides it looking like Pikachu. You can pre-order it now from the Japan Trend Shop for $137, with shipping expected near the end of March.
---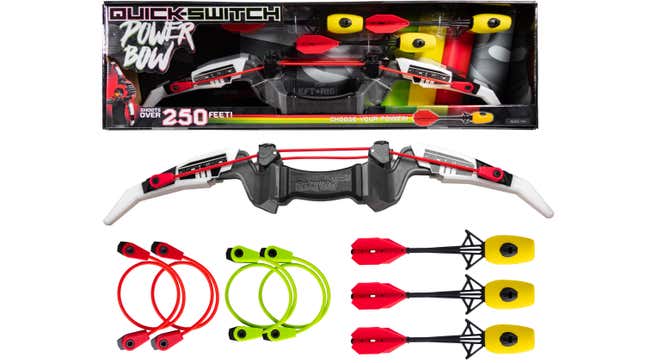 Hog Wild Toys Quick Switch Power Bow
Disappointed in the performance of dart blasters that, even when you're shelling out over $100, don't seem to fling foam very far? Consider going the Hawkeye route with the Quick Switch Power Bow, which launches foam-tipped whistling arrows using industrial-strength elastic cords. The bow gets its name from its ability to quickly swap out the two included elastics: the Rapid Fire option is easy to draw back but limits distances to 150 feet, while the Ultimate Power option promises to send arrows soaring 250 feet. It's probably not an indoor toy unless you live in a warehouse, but for just $30, now available at Target, this could be a great way to get kids out of the house in the summer.
---
Want more io9 news? Check out when to expect the latest Marvel, Star Wars, and Star Trek releases, what's next for the DC Universe on film and TV, and everything you need to know about the future of Doctor Who.