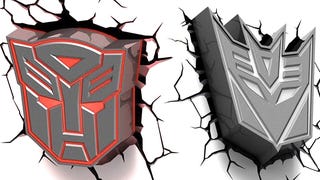 Some might question your decision to decorate your home with light-up Autobot and Decepticon logos that appear to be smashing through your walls, but obviously those people didn't grow up watching the epic struggle between the warring Transformers factions every morning before heading to school.
Nothing says endless love quite like a Decepticon on your ringfinger for all eternity. And we don't just say that because Megatron is a warrior poet who can transform into a handgun. No, the severed icon of the Decepticons looks stunning as an engagement ring. This ring was created by Deviantart user The Boog17 for…
You may have thought, after eons of punching each other in movies with nonexistent plots, that Autobots and Decepticons wouldn't agree on anything. But as proven on Attack of the Show, they both agree that the Pre bests the iPhone.
We've covered how companies in China borrow inspiration from gadget makers and architects, as well as how they can be prissy about obeying copyright laws, so I guess making copycat cartoons is kind of par for the course. Here's the newest trailer of a Chinese TV series called Hyperwiz, a 3D vaguely anime-styled…
Click to viewDarth Vader rocks out with the rest of the original Star Wars cast in this awesome painting by Hugh Fleming. Vader has starred in more than his fair share of offbeat and arresting artworks, but he's not alone — other classic science fiction villains have also inspired some provocative and clever art, from…
Michael Bay promises loads of new robots in his Transformers 2 sequel, promising us they'll be "really unique." You mean more unique than a Xbox 360, a soda vending machine, and a steering wheel transmorgrifying into lame-o- boticons? Just so you don't forget, this movie franchise has already included "unique" robots…
Following up on the soft Transformers plushies from the other day, these Autobot and Decepticon pillows bring the movie straight to your couch. They're shaped like the actual Autobot/Decepticon badge symbols, which means they don't actually change shapes like the actual Transformers.