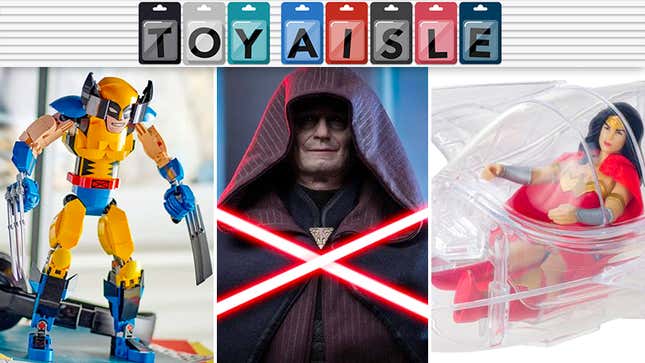 Welcome back to Toy Aisle, io9's regular roundup of the coolest toy news around. This week: Wonder Woman's iconic jet becomes a little more visible, Hot Toys heads back to the Clone Wars for a surprising Palpatine pull, and Lego drops a ton of new reveals. Check it out!

Chris Pratt and Bryce Dallas Howard Nerd Out About Jurassic Park's Returning Heroes
---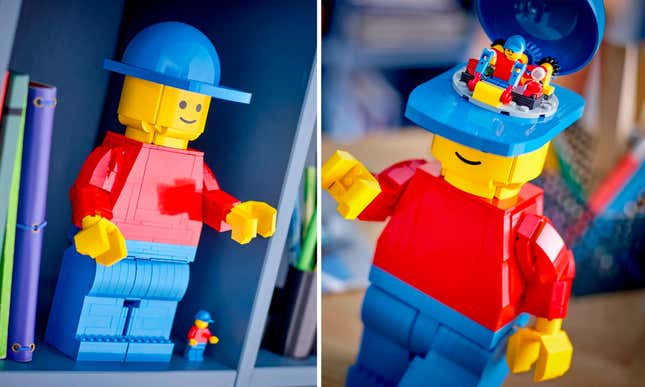 Lego Up-Scaled Lego Minifigure
Earlier this year, Lego revealed a supersized 11.8-inch tall version of its iconic Captain Redbeard minifigure, built from 1,041 bricks. Unfortunately, the set is still exclusively available from the Lego House in Billund, Denmark, but it looks like Lego has created a consolation prize. This 654-piece alternative recreates a more basic minifigure, but turns it into a 10.5-inch tall Lego Kaiju, with not only articulated legs and arms, but a secret cockpit under its hat where you'll find a matching, standard-scale minifigure at the controls. The set will be available starting on June 1 for $50.
---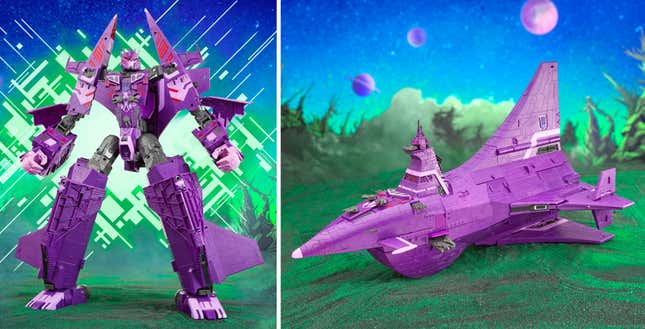 Hasbro Transformers Legacy Evolution Decepticon Nemesis
Two years ago, Hasbro finally delivered a transforming figure version of the Autobot Ark: the spaceship that originally brought the Autobots from a dying Cybertron to planet Earth. Now it's following suit with an even larger, 23.5-inch tall Decepticon Nemesis figure, which is the spaceship the Decepticons used to chase the Autobots to Earth, and eventually cause them to crash there. The figure goes from robot to ship mode (and back) in 36 transformation steps, and includes features like landing gear, a flip-down loading ramp, and four Seeker micro figures that, despite being very small, are definitely not to scale. The Hasbro Transformers Legacy Evolution Decepticon Nemesis is currently available for pre-order through Hasbro Pulse for $200.
---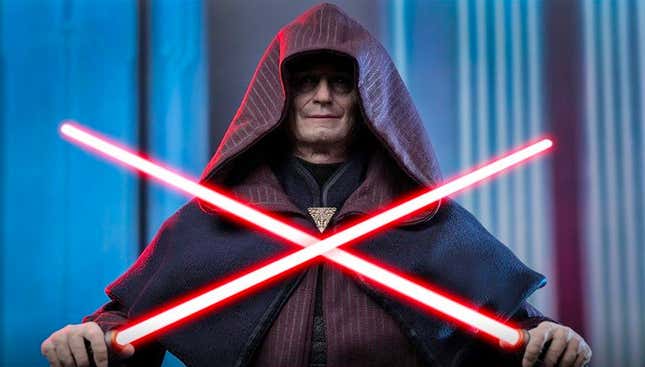 Hot Toys Star Wars: The Clone Wars Darth Sidious Sixth-Scale Figure
Hot Toys' latest trip into the world of Star Wars goes back to the Clone Wars animated series, to recreate Palpatine's memorable appearance in the climax of the show's fifth season storyline around Maul's coup on Mandalore. Recreating Palpatine's look from the animated series, the figure comes with alternate hands including a set of Force Lightning-firing ones, dual lightsabers, and a head with moveable eyeballs for the creepiest Sheev stares imaginable. He's set to come out in the back half of 2024. [Hot Toys]
---

Lego Disney Duos
Imagine if Lego's BrickHeadz collectible figure line was less cartoonish—it would instead look more like this new collection of famous Disney Duos. This 553-piece set includes four pairs of iconic pairings including Lumiere and Cogsworth from Beauty and the Beast, Finding Nemo's Squirt and Nemo, Pua and Hei Hei from Moana, and Meeko and Percy from Pocahontas. Each figure has its own display base that connects to its partners, and while the set won't officially be available until June 1, you can pre-order it now through Lego's website for $45.
---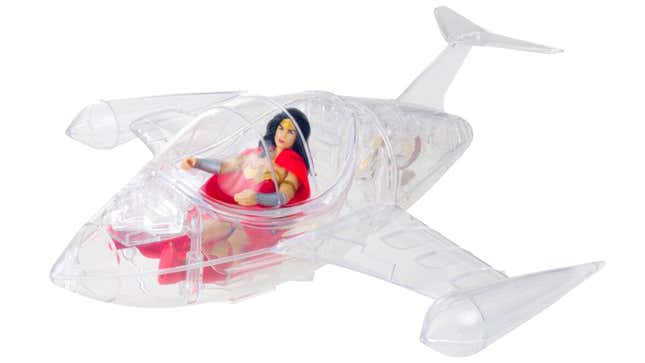 McFarlane Toys DC Super Powers Wonder Woman's Invisible Jet
Unlike Superman, Wonder Woman can't fly without the help of some special winged sandals from her half-brother Hermes, so she instead takes the Batman route with a fancy jet that's invisible to the naked eye, radar, and other technologies that may otherwise make the jet seem less cool. Pre-orders are now available for McFarlane Toys' version of the invisible jet, made from transparent plastic with a cockpit that opens to fit a figure inside, and a retractable capture claw attached to a golden lasso. It's available from online shops like BigBadToyStore for $20, with delivery expected in July.
---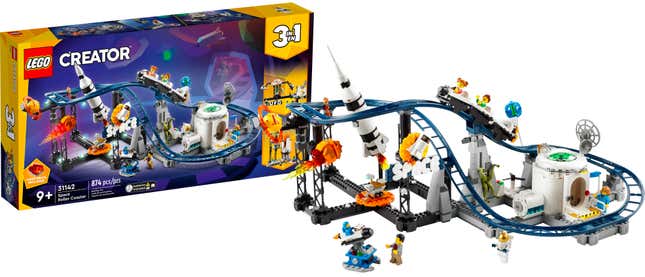 Lego Creators 3-in-1 Space Roller Coaster
Even if it's lacking a three-foot tall drop and double loops, we're still completely enthralled with Lego roller coasters, and while this 874-piece thrill ride is on the smaller side, it still goes above and beyond (and into orbit) with a detailed 'Space' theme. The coaster itself looks like a miniature space shuttle, while the riders whizz past fiery comets, planets, rovers, a miniature Apollo-era rocket, and even a space habitat where they disembark. It's oozing with charm, and will be available starting on August 1 for $110.
---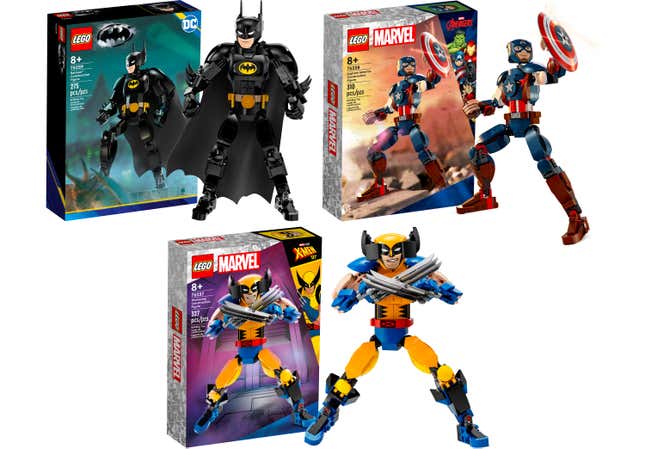 Lego DC Batman, Marvel Captain America, and Wolverine Construction Figures
Lego is slowly but surely replacing our various collectibles with brick-built alternatives. Love Funko Pop!s? Try BrickHeadz instead. Into building model cars? The Speed Champion line doesn't need glue or paint. And if you're into action figures, the Lego Construction Figure line features extensive articulation, and now three more characters arriving on June 1: a 275-piece Batman, a 310-piece Captain America, and a 327-piece Wolverine. For some reason, these three new additions to the Construction Figure line are only listed on Lego's UK website, but we expect them to eventually show up on the US site, too, for $30 each.
---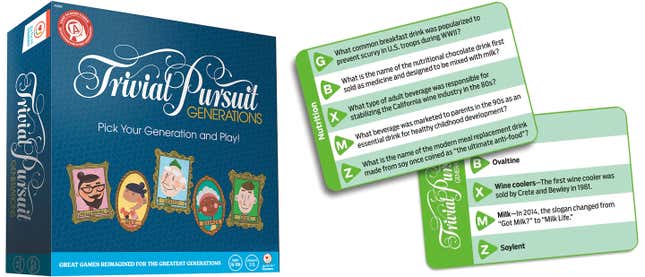 Ageless Innovation Joy for All Trivial Pursuit Generations
Trivial Pursuit has been a popular board game for 42 years now and has spawned many, many versions with questions catering to specific age groups or interests. Trivial Pursuit Generations is the first version of the game that attempts to cater to the knowledge base and expertise of every generation at the same time, so everyone can gather around the table and actually feel like they have a change at winning. The game features "1,500 all new questions" in six different categories tailored for multiple generations: the Greatest Generation, Baby Boomers, Generation X, Millennials, and Generation Z. Players will have to decide whether or not everyone has to show ID to get a question specific to their generation, but everyone can pre-order it now for $45, with availability expected next month.
---
Want more io9 news? Check out when to expect the latest Marvel, Star Wars, and Star Trek releases, what's next for the DC Universe on film and TV, and everything you need to know about the future of Doctor Who.