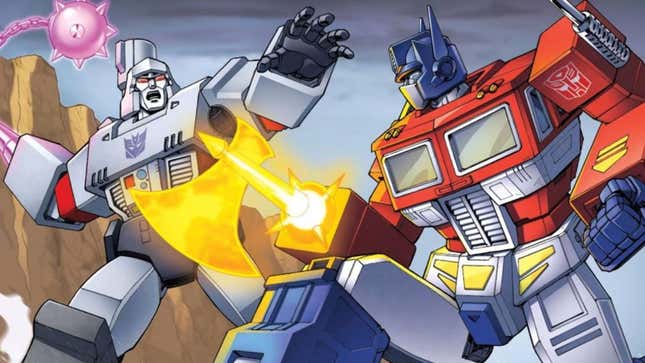 Whether or not this summer's Transformers: Rise of the Beasts brings the franchise back to its glory days, the robots in disguise will be back in theaters next year. That's when a long-in-development animated film will head to theaters, and now we finally know a bit more about its plot.
The film, which is officially untitled at the moment, is being directed by Josh Cooley (Toy Story 4) and will take place on Cybertron, the home planet of the Transformers. That much has been known since 2015. What we now also know is that it'll tell the story of how Optimus Prime and Megatron began as friends and became enemies.
In an interview with Collider, long-time Transformers producer Lorenzo Di Bonaventura said the following: "If you know the origin, they started as friends, and over time things devolved for them and they ended up on two sides. So we're telling the young Optimus and the young Megatron story. We really are telling the origin story of all Transformers, both what they were at the beginning of it, to how they grow, to how they grow apart." The producer said it was an idea they had considered doing in live-action but it just would have been way too expensive.
He says that by telling their story, the hope is fans get a better window into what life was like on Cybertron. "You're going to see a lot of the origins of the society, and what broke it apart," Di Bonaventura said. "The analogy for me is a bit like Krypton when you saw the planet falling apart, and all that. We're not there for a short time, we're there the entire time of the movie, we're on Cybertron, but the challenge of that, if you know the lore, they begin to question the hierarchy of how their society has gotten stratified, and how the common man doesn't have the voice, entirely, that they want to have. We're following very true to the origin story of it, and so it's really fun, too, because I've gotten to see some of it—it's not fully executed by any stretch of the imagination, but hearing Optimus and Megatron not as who we know them as, which we see their maturation in this experience. So, in a sense, you're hearing a different character because you're hearing them before they have matured."
All of this sounds very promising but everyone involved with the Transformers movies can talk a great game. What's most important here is: if that story is worth telling, and how can this animation fit into a franchise that had its origins in animation. There was, if you recall, a pretty fantastic theatrical Transformers animated movie that came out about 40 years ago. Can this come close to that? We'll see.
The current plan is for the animated Transformers film to be in theaters next summer, July 19, 2024.
---
Want more io9 news? Check out when to expect the latest Marvel, Star Wars, and Star Trek releases, what's next for the DC Universe on film and TV, and everything you need to know about the future of Doctor Who.