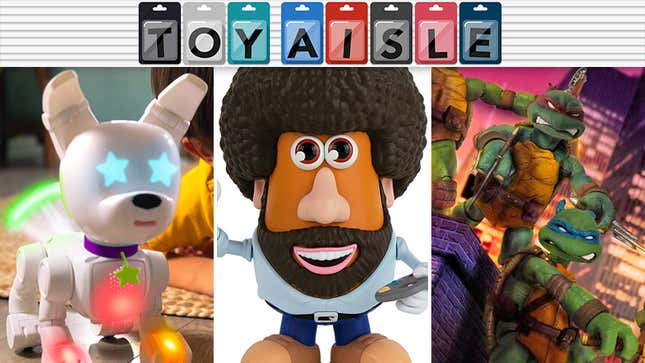 Welcome back to Toy Aisle and welcome to a brand new year. We've already christened 2023 with a mountain of new sets from Lego, but there's still lots more to budget for as we push on through January. This week, some of history's greatest artists and painters are represented as Mezco Toyz brings us a new TMNT box set featuring highly-detailed figures of Leonardo, Donatello, Michelangelo, and Raphael, while Super Impulse immortalizes Bob Ross the way he always wanted: as a potato. Check it out!
Chris Pratt and Bryce Dallas Howard Nerd Out About Jurassic Park's Returning Heroes
---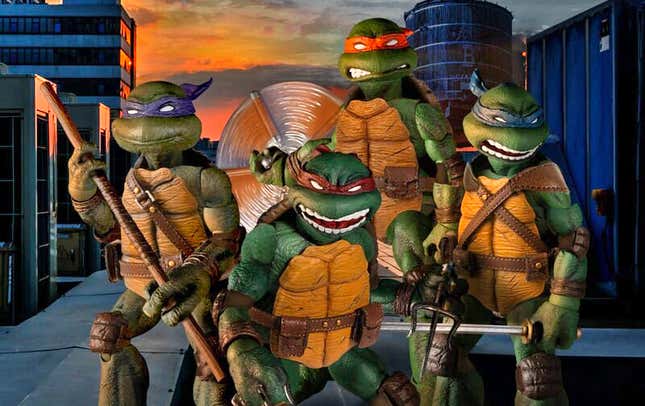 Mezco Toyz One:12 Collective Teenage Mutant Ninja Turtles Collective Deluxe Boxed Set
If you mashed up all the iterations of the Teenage Mutant Ninja Turtles we've gotten over the years—the cartoons, the action figures, the video game characters, the live-action movie versions, and even Kevin Eastman and Peter Laird's original comic book drawings—you'd probably end up with 6.6-inch figures that look exactly like what you'll get in this new TMNT box set from Mezco Toyz. Each turtle includes a very impressive 28 points of articulation, plus three swappable heads with varying expressions, alternate hands, and countless accessories including weapons and costumes. It will set you back a mean, green $400 if you pre-order, plus a wait for delivery until at least October.
---

Lego Technic Firefighter Aircraft
Arriving just a bit too late on Lego's website to make our preview of the company's best 2023 set reveals, this 1,134-piece firefighting plane still deserves a mention. Loosely based on a Canadair CL-415 amphibious firefighting plane, this alternative sports the same iconic red and white livery, plus a bunch of functional features Lego's Technic sets are known for, including retractable landing gear, adjustable flaps, a cargo bay with opening doors to hold water (clear blue Lego bricks), and a lever on the underside that makes the propeller spin. It's not available for pre-order yet, but should go on sale starting on March 1 for $100.
---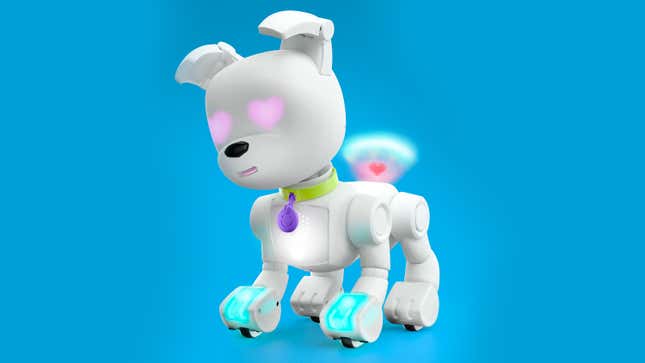 WowWee MINTiD Dog-E
Now that everything from cars to toys are packed full of electronics, the annual Consumer Electronics Show in Las Vegas is about more than TVs, laptops, and smartphones. At this year's show, currently underway in Sin City, WowWee revealed Dog-E, a robot pup that can run around a room, listen to voice commands, and detect pets and hugs using touch sensors on its nose, head, and the sides of its body. WowWee promises that a million possible combinations of color-changing LEDs, sounds, and personality traits will let every Dog-E stand out, while an accompanying mobile app allows the bot's personality to be switched out on the fly, so every member of the family can interact with it the way they want.
---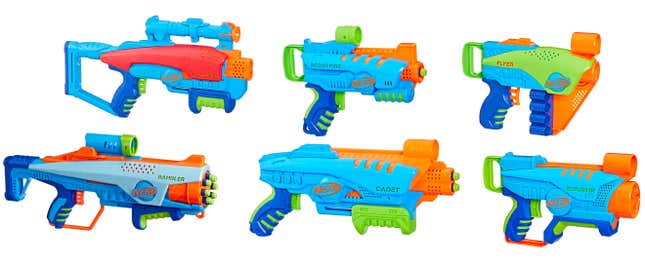 Hasbro Nerf Elite Junior Blasters
There have been lots of blasters in the Nerf line that cater to its younger fan base over the years, but the new Nerf Elite Junior lineup is specifically designed for kids aged six and up who may struggle with handling, loading, and priming larger blasters. The new additions feature designs engineered to fit more comfortably in smaller hands, larger sights, darts exclusively loaded in the front, and handles that are easier to grip and pull back during a reload. There are six new additions available at launch that come in various sets with targets and darts, including the $25 Rookie Pack Blaster, the $18 Voyage Target Set, the $13 Explorer Blaster, the $20 Ultimate Starter Set, and the $10 Flyer Blaster, with the entire lineup becoming available sometime this month.
---

Super Impulse Poptaters
It won't be long before every last pop culture property is eventually turned into some manner of collectible knick-knacks. The latest to fall prey to the trend is Mr. Potato Head, who is now a series of accessorizable figures based on characters including KISS' Gene Simmons, Optimus Prime, painter Bob Ross, and, a real wild card, the Garbage Pail Kid Adam Bomb. The plastic potato at the core of these figs is just four inches in size, but with the added swappable accessories they stand quite a bit taller, which might make the $15-$18 price tags more stomachable.
---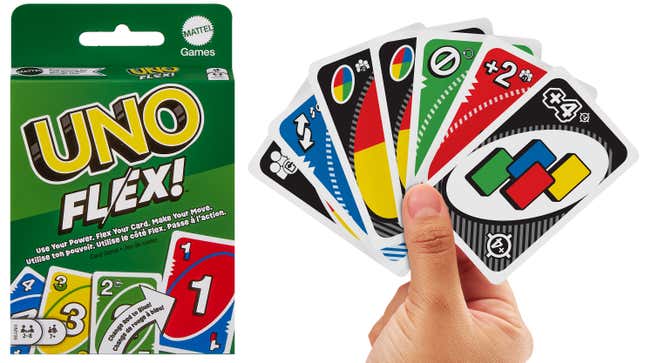 UNO Flex
One of the world's most popular card games is getting yet another update with UNO Flex that adds a bit more chaos to the gameplay with "flex" cards offering two options for players who can choose between a card's primary or secondary color, or the action it performs when played. For example, the "flex" version of the Draw 4 cards gives the player the option to choose who specifically has to draw those extra cards. But to keep that extra power in check, UNO Flex also introduces two-sided power cards, with a green checkmark on one side, and a red X on the other, that flip back and forth during a game and decide whether a player is allowed to use the flex options in their hand. UNO Flex is available now for $6.50.
---
Want more io9 news? Check out when to expect the latest Marvel, Star Wars, and Star Trek releases, what's next for the DC Universe on film and TV, and everything you need to know about the future of Doctor Who.w