It's been nearly three weeks since Force Friday came along and ravaged the wallets of Star Wars fans (myself included). Hot Toys nearly delivered a killing blow with the announcement of their first Force Awakens figures that day, but now they're here to finish your wallet off once and for all with some gorgeous new Snowtroopers!
Just like the First Order Stormtroopers that were revealed on Force Friday, the 1:6 scaled Snowtroopers, based on the new designs from The Force Awakens, come in two flavours: Officer and Standard grunt.
There's not much to differ the figures—the officer comes with a red pauldron to denote his higher status, and a pair of binoculars exclusive to the variant. It's basically the toy equivalent of "hey you need someone to lead those other expensive action figures you just bought, so why not get this one?".
G/O Media may get a commission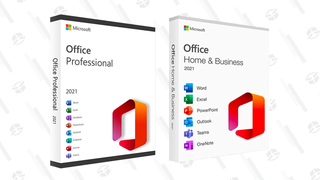 89% off
Microsoft Office Professional 2021 Lifetime License
The standard troopers are much the same, sans those aforementioned extras: like all Hot Toys figures, they come with a bunch of extra hands to pose, and they come with a blaster rifle. This one's slightly different to the new blaster found on the Stormtroopers, because it has a stock added at the back. Maybe the Snowtroopers are trying to improve their aim a little more? A stock would certainly help!
But you can't deny that these are some great looking toys. The design of the First Order soldiers has been great to see in all the teasers for The Force Awakens, but to see them recreated up close in action figure form—especially in the amazing high detail of Hot Toys—you get to really appreciate all the little details that have gone into this new design. These guys (and gals) look fantastic. Wallet-ruinously fantastic!
Speaking of wallet ruining, if you want one (or several) of these figures, you'll have to wait a little while longer—they won't be out until the middle of next year. When they are out, they'll cost you a pretty penny: A standard Snowtrooper will cost $215, an Officer $220, and a bundle of one officer and one Snowtrooper $390. Go on, you know you want two.
[Via Hot Toys]
---
You're reading Toybox, io9's blog for all things pop culture. From merchandise to awesome fan creations, TV recaps and critical commentary on the hot topics of the day, you can find it all here!