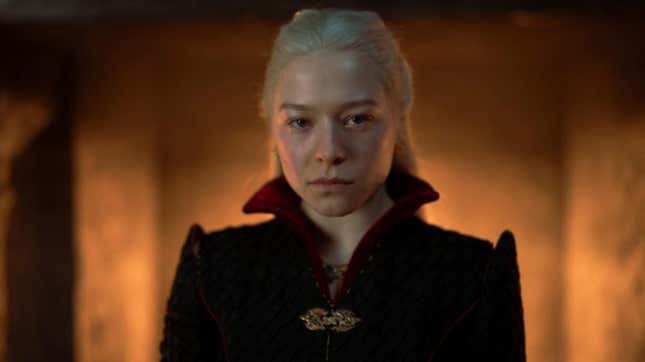 Any time George R.R. Martin gets to write a history of fantasy people being absolutely terrible to each other, you know the man's going to get up to some messed-up murdering at some point, and Fire & Blood, his retelling of House Targaryen's long, messy history, was no exception. Which means, of course, House of the Dragon is getting ready to delve into some of that bloodiness too.

Spoilers of the Week May 16-20
Or rather, some of that cheesiness—as it's not Fire and Blood that particularly chills the heart of anyone familiar with Martin's history of the Targaryens outside of what House of the Dragon covered in its first season, but the phrase "Blood and Cheese." To an outsider it sounds like a particularly nasty amuse bouche, but to Westerosi lore-heads it's a hushed reference to a gruesome moment in the conflict between Rhaenyra and Daemon's Blacks, and Alicent's Greens, in the civil war that will tear House Targaryen apart. And it looks like House of the Dragon is going to be getting into it by the end of season two.
"We are currently writing the finale of season two," writer Sara Hess recently told Variety when asked just when the show might get round to discussing Fire and Blood's most infamous revenge plot. "I don't think you will be disappointed."
But for those unfamiliar with what might be coming in season two's finale, well...

Who Are Blood and Cheese in Fire and Blood?
"Blood and Cheese" is not an event per se like the Red Wedding was in Game of Thrones, but the pseudonyms of two assassins. Blood is a sellsword, a former goldcloak in King's Landing ousted from the force for the drunken murder of a sex worker, while Cheese is a ratcatcher employed by the Targaryens in the Red Keep. They are both hired by Mysaria (played by Sonya Mizuno in House of the Dragon) on behalf of Daemon Targaryen, her lover and Rhaenyra's unofficial spymistress, to enact a revenge plot against the Greens for the death of Lucerys Velaryon, Daemon and Rhaenyra's young son—who we saw perish in the first season's finale, accidentally killed by Aemond Targaryen and his dragon Vhagar.
Using Cheese's knowledge of the passages underneath the Red Keep, the two killers sneak into the private bedchambers of queen dowager Alicent Hightower, gagging her to lie in wait for Alicent's daughter—and the sister-wife of now-King Aegon II—Queen Helaena and her children. After killing Helaena's escort, Blood and Cheese make Helaena an offer on Daemon's behalf: choose which one of her young sons, Jaehaerys or Maelor, will perish to pay for Lucerys' death.
After Helaena offers herself, she eventually choses her younger son Maelor (who is just two at the time), but Blood ignores her and promptly beheads Jaehaerys, the first in line to the Iron Throne, fleeing with Cheese back through the Red Keep's passageways with the six-year-old's severed head to prove their deed.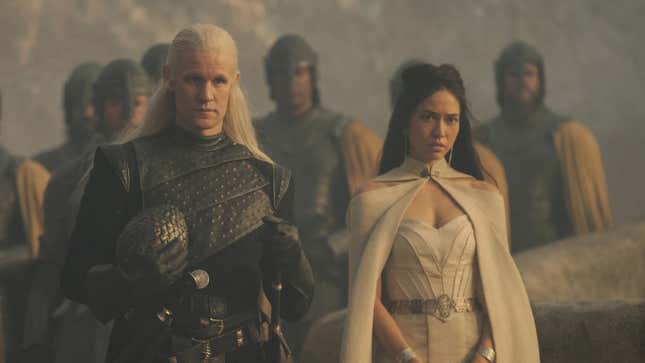 What Happens After Blood and Cheese in Fire and Blood?
Blood is captured days after the assassination while attempting to leave King's Landing, and under torture that eventually kills him, reveals his connection to Mysaria and the Blacks. Cheese is never found, but in a fit of fury Aegon has every ratcatcher employed by the Red Keep executed and replaced with cats. Aegon also wants to directly assault Dragonstone in revenge for his son's death, but on the advice of Criston Cole, backs down. Cole orders Kingsguard Arryk Cargyll (one half of the twins played by Luke and Elliott Tittensor on House of the Dragon) to infiltrate Dragonstone disguised as his brother Erryk, presumably in an attempt to kill Daemon, Rhaenyra, or one of their children. Arryk is instead confronted by Erryk, blowing his cover, and the two duel to the death.
Poor Maelor doesn't last much longer after the assassination of his brother, either. Just a year later he is killed after fleeing King's Landing after Rhaenyra, Daemon, and the Velayron fleet besiege the capital, establishing Rhaenyra as Queen of the Seven Kingdoms.
What Does Blood and Cheese Mean for House of the Dragon Season 2?
If Hess' tease places the death of Prince Jaehaerys in the season finale of House of the Dragon's sophomore showing, it's largely going to mean more things for the eventual third season of the show than anything else. We know that, although HBO has not renewed the series beyond season two so far, House of the Dragon has had a four-season plan in the works since before it debuted, so placing Rhaenyra's eventual rise to power during season three and dedicating a final season to her downfall (is it really a spoiler to say that this show is not going to end well for any of the characters we know at this point?) makes sense. It just means we're going to have to wait a long time for one of the most shocking moments in the story—especially considering we're already waiting until next year for season two in the first place.
---
Want more io9 news? Check out when to expect the latest Marvel, Star Wars, and Star Trek releases, what's next for the DC Universe on film and TV, and everything you need to know about the future of Doctor Who.