You've never seen baseball like this. While HD and slow-motion replays have become old hat for MLB broadcasts, this post-season, FOX Sports is determined to document this year's action in unprecedented detail—capturing at-bats by the microsecond. And this pair of ultra-high-speed Phantom cameras is how they'll do it.
The Vision Research v642 is widely used for MLB broadcasts and a staple in ballparks around the country. It typically captures at 300 - 420 fps, slowing the action down roughly 300 percent—handy when trying to illustrate a curve ball coming toward the plate.
For the NLCS and World Series, however, FOX supplemented its trio of standard v642s with a pair of custom-built rigs from Inertia Unlimited of Jacksonville, VT. Dubbed the X-Mo, this system is comprised of a v642 modified to shoot in full HD up to 5,000 fps. The camera uses a 2.3-foot long, 35-pound, $26,000 Canon Sigma 200-500mm "SigZilla" lens, and a Telecast Copperhead 3400 fiber optic transceiver.
"We were looking for those kinds of things you just can't see at regular speed," Mike Davies, vice president of field operations for FOX Sports, told Wired. In the NLCS, Hunter Pence's bat-breaking double in game 7 was a dramatic example of the cameras' potential. But really, the footage offers such unusual clarity, just a basic swing making contact with the ball looks stunning.
For the World Series, FOX is using several X-mo systems—two each along the first and third-base lines and a fifth positioned at the centerfield wall—as well as 23 Sony 1500 cameras, a Sony Super-Mo 3300, six Fletcher robo-cams, and two Bradley Engineering Cam-Balls. Last, there's the BFG-9000 of broadcasting, the Phantom v1610. The v1610 is the world's fastest 1MP digital high-speed camera. Commonly used to observe high-speed manufacturing processes, the v1610 is captures video up to 1,000,000 fps. For baseball, however, 20,000 fps using a 500 mm lens is sufficient. That allowed home viewers to relive the Panda's epic three-HR night in World Series Game One in stunning 1280x800 clarity.
G/O Media may get a commission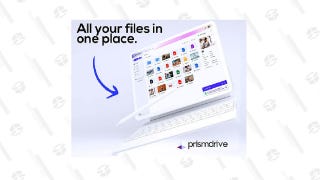 Save 97%
Prism Drive Secure Cloud Storage: Lifetime Subscription
But this new broadcast technique isn't without pitfalls. At its maximum capture rate, the v1610 records less than four seconds of video. "You have to be judicious about how you use those things," explained Davies. "Because just an instant [at 20,000 fps] can last an impossibly long time." Now if only there were a way to make Joe Buck's commentary tolerable.
[Telecast Fiber - Broadcast Engineering - Vision Research 1, 2 - Petapixel - Wired - Sports Video]