Of all the things you might choose to halt in its tracks, the world's fastest—light—might not be at the top your list. Clearly, you don't have the ambition of the team of scientists who just managed to stop it dead—for a whole minute.
Is AI Moving Too Fast? | Future Tech
In a vacuum, light usually travels at just under a bewildering 300 million metres per second. Teams have attempted to stop it in the past: first they slowed it to just 17 metres per second in 1999 and then stopped it for a fraction of a second two years later.
Now, though, a team from University of Darmstadt has managed to stop light for an entire minute. So how'd they do it? Well, not easily, that's for sure. First, they took an opaque crystal and fired lasers into it to disturb the quantum states of the atoms within. By creating two quantum states within those atoms, they were able to make the originally opaque material transparent to a tightly defined frequency range of light.
Then, they shot another laser beam of the right frequency through that newly transparent region, before turning off the disturbing laser beam to make the material once more opaque. The result: a laser beam, halted within the material. The beam was held in place for a whole minute—enough time for it to travel 18 million kilometers, or 20 round trips to the moon, if it had been left unimpeded.
G/O Media may get a commission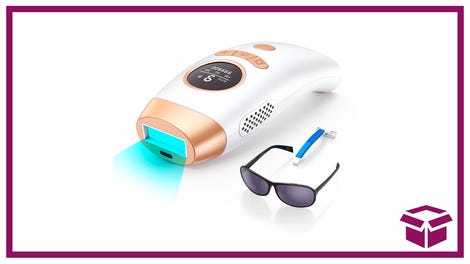 58% Off + Coupon
IPL Hair Removal Device
Interestingly, they were also able to store—and then retrieve—an image using the same technique (OK, three stripes, but still...). That suggests that data can be stored in a stationary light beam, a trick which is required to make something known as a quantum repeater, the missing piece of the puzzle in creating a true quantum internet. If the scientists can use the knowledge to make such a thing, the future of the internet just got super, super quick—unlike some of the light that will be fueling it. [Physical Review Letters via New Scientist]
Image by Reha Mark/Shutterstock