If you've got a suspicion someone else has gained access to your social media accounts, it's not difficult to check—and it could mean you're able to apply a password change before any real damage happens. In fact, it's worth checking these options regularly just to be sure your Facebook and Twitter accounts are completely yours.

Is AI Moving Too Fast? | Future Tech
Maybe you think your partner or housemate has somehow gotten access to your accounts, or maybe it's a more sinister type of attack. If you do discover something unexpected, make sure you're logged out on all other devices and computers, then change your account password on your primary device, which should be enough to kick anyone else out.
---
Facebook
G/O Media may get a commission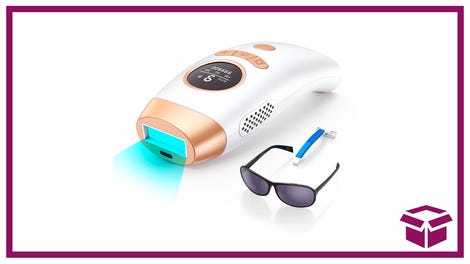 58% Off + Coupon
IPL Hair Removal Device
From the desktop site, head to Settings from the main drop down menu then open up the Security page. Click Edit next to Where You're Logged In and you can see all the browsers and devices linked to your Facebook account.
If something here doesn't make sense then click End Activity to log out remotely (worst-case scenario, you'll need to log in again on a device you've forgotten about). If you're really starting to feel paranoid, click End All Activity to log out everywhere.
Click Edit next to the Your Browsers and Apps heading and you can see the apps and computers you've set up as "trusted" (so you don't need to log into them each time). Again, any of these can be removed with a click.
To get notifications in the future whenever someone logs in as you on Facebook, click Edit next to Login Alerts and change the settings. You can also use the Login Approvals tool to add an extra layer of security on top of your account using your phone, which we'd recommend you do. The same options can be found inside the settings screens for Facebook's mobile apps.
---
Twitter
The process for Twitter is very similar. If you log into the Twitter website, click your avatar on the toolbar and choose Settings, then head into the Your Twitter data page. You'll need to enter your password again to prove you are who you say you are.
Under the Device history and Login history settings you can see the phones, browsers, and apps you've used to connect to your Twitter account. Unfortunately, there's no way to instantly end any of this activity as there is with Facebook, but at least you can see what's going on.
If you're seeing some suspicious logins from a particular third-party app, then you can go to the Apps tab and revoke access from the app in question. It's a good idea to regularly clear out older, unused apps from this list anyway.
As with Facebook, again, there's the option to set up two-step verification for your Twitter account (under Security and privacy) which means someone else can't log into your account on a new device with your password and username alone. The same options aren't available through the Twitter mobile apps—you need to open your account on the web to find them.
---
Other accounts
The available options on other social networks vary, with apps like Snapchat and WhatsApp locking to your mobile number and making it difficult to log in on multiple devices anyway.
Google has one of the most comprehensive activity dashboards out there, which you can find at myaccount.google.com. Follow the Device activity & notifications link to see recently used devices and recent events. You can remove any entries in the list with a click.
If someone else has accessed your accounts, chances are you'll know soon enough anyway, but a breach isn't always immediately apparent. By keeping your eye on these screens, you might avoid the problem before it gets serious.